3 Facebook News Feed Changes: What Marketers Need To Know
Three more Facebook changes to get our arms around this week! Facebook is constantly fine-tuning the super-complex algorithm that determines the highly customized and personalized mix of content displayed in News Feeds. Each of the 1.44 Billion users sees a unique version of News Feed — it's mind-boggling, right?
The latest News Feed tweaks may also have an impact on business pages.
In short, the three changes are:
Users should start to see more posts in News Feed from friends that they might've been missing before.
Stories about friends liking or commenting on posts will have lower priority, appearing lower down in News Feed or not at all.
Facebook is relaxing the rule around seeing multiple posts from the same source in a row (for users that reach the end of their News Feed, they won't run out of content now).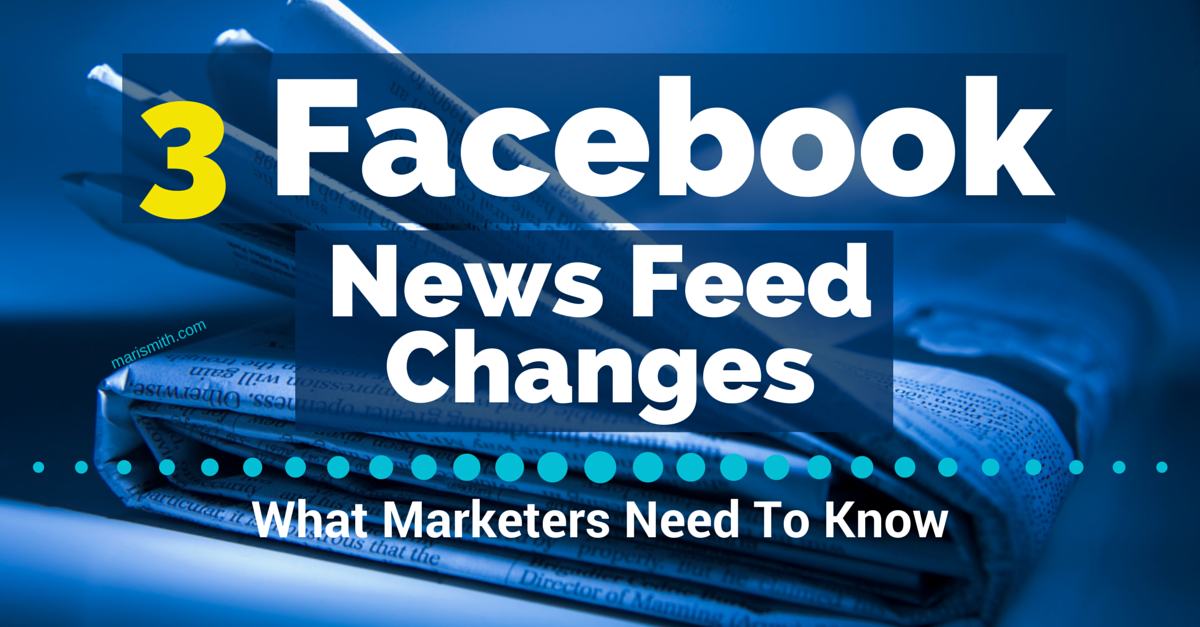 Plus, this week, I read an outstanding article with deep analysis of the state of Facebook, including mobile, video, TV, advertising and Facebook's future as a major media destination for publishers.  See FACEBOOK AND THE FEED by Ben Thompson of Stratechery.com. It's well worth the read – every word – as I mention here.
Big sites like the New York Times and BuzzFeed are reportedly on the verge of placing their content directly on Facebook:
In recent months, Facebook has been quietly holding talks with at least half a dozen media companies about hosting their content inside Facebook rather than making users tap a link to go to an external site.

Facebook intends to begin testing the new format in the next several months, according to two people with knowledge of the discussions. The initial partners are expected to be The New York Times, BuzzFeed and National Geographic, although others may be added since discussions are continuing. Source: NYTimes.com
The blog version of this week's edition of THE SOCIAL SCOOP weekly newsletter follows below! If you're already subscribed, you'll continue to receive The Social Scoop via email on Fridays. If you're not yet signed up and would like to be, please enter your name and email in the box to the right (desktop) or below the post (mobile). Thank you!
Mari's Top Social Media Picks – April 24, 2015
Issue #146
Greetings!
Please enjoy this week's top articles we've picked for you!
via Time.com
Two of the three changes may mean that some pages may see a further decline in organic reach. Sigh, I know! This is due to Facebook going back to favoring content from friends. Ideally, the more your audience engages with your content, the more reach. The goal is finding the right balance between organic (free) and promoted (paid). See also TechCrunch's assessment of the latest algorithm tweaks: Facebook News Feed Reprioritizes Your Real Friends Above Pages.
Your Facebook News Feed is about to get "friendlier!" Today, Facebook announced three fairly major changes to News Feed…

Posted by Mari Smith on Tuesday, April 21, 2015
via MarketingSherpa.com
This article is a great reminder of how to be an effective content marketer (hint: it's not about selling!). "The important thing with a content marketing strategy is providing everyone the type of content they need, when they need it — and ideally in the format they prefer to receive that content." Yes! See also this fabulous infographic: 5 Most Effective Email List Growth Tactics.
via TheContentStop.com
At times you may run out of ideas for what to post on your social channels. You may want to bookmark this excellent list of 20 suggestions to trigger your creativity when needed!
20 Social Media Engagement Ideas http://t.co/vcoi4ZkQFY via @TheContentStop | Helpful tips here!

— Mari Smith (@MariSmith) April 14, 2015
That's all for this weeks' issue of The Social Scoop. Here's wishing you a fabulous weekend and week ahead! On a personal note, I've reached another major milestone in my business growth and am expanding big time. It's super exciting and I can hardly wait to reveal my BIG announcement next week (see the PS below). Meantime, it's a massive discipline, but I am so loving the regular time I make myself take "off the grid" to enjoy my favorite hobbies, music, relaxation, nature, Baby the Bengal… and time with my honey! 😉
Cheers!
Mari
P.S. I've been hinting at some
MEGA exciting announcements coming soon
! Well, next week is the big week! I'll be sharing on my Facebook
page
, Twitter, blog and more. Stay tuned and get ready to celebrate with me! 😉 (So excited, I think I'll burst!)