Top Ten Questions: How To Create The Perfect Social Media Marketing Mix
By the year 2020, more than 85 percent of all buyer-seller interaction will occur online. And not just online, but through video and social media.
This is huge! It's crucial to the success of your business that you stay on top of the ever-changing social media landscape, particularly on Facebook.
By 2020, only 15% of sales interactions will be outside of social, mobile, and video #influencerchat pic.twitter.com/2RnapMtVHr — Vala Afshar (@ValaAfshar) May 6, 2015
In fact, my friend Erik Qualman, author of Socialnomics, says
"The ROI of social media is your business will still exist in 5 years." @equalman
Yes, it's that serious!
First, to help you keep up to date, for our featured article this week, my team and I have selected a wonderful Q&A style post for you by the lovely Rebekah Radice featuring Ann Tran and Diana Adams – where they answer 10 questions about how to create the perfect social media marketing mix.
Second, to help you get on the leading edge of Facebook marketing best practices, I just unveiled my latest Facebook online training course, Facebook Marketing Breakthroughs.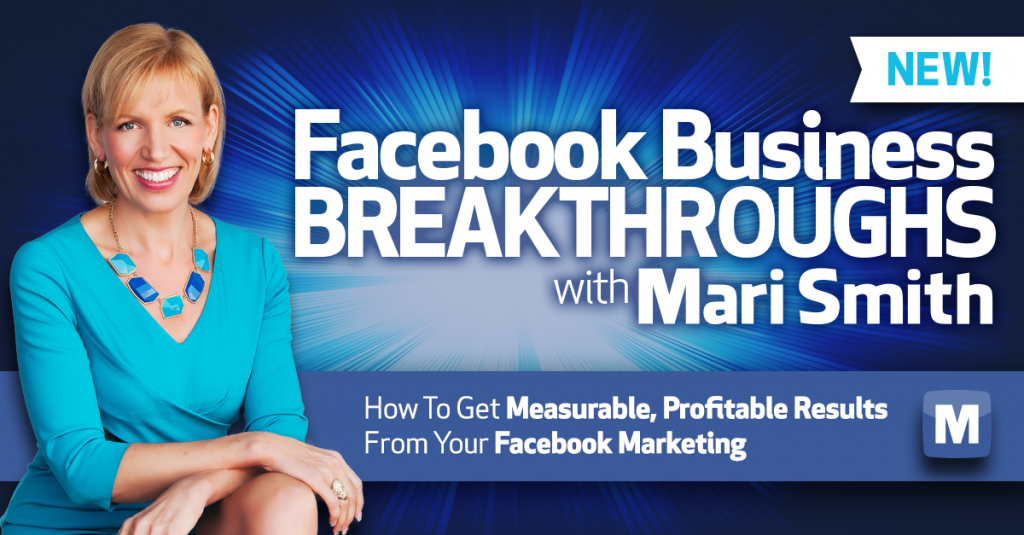 I'm delighted to partner directly with Facebook this year to lead a series of live training events in the U.S. called Boost Your Business. I look forward to meeting so many of my peeps in San Diego, Minneapolis, Nashville and Boston.
With more than 40 million active small business Pages on Facebook, these events are designed to help business owners achieve greater success and growth.
Of course, only so many businesspeople will be able to attend these lives events. Folks all over the country and the world will miss out on attending these live events.
So, by attending my virtual training program, you'll receive the latest insider tips, techniques and strategies for generating real results and revenue on Facebook! (You can save $200 when you register before May 26th, 2015)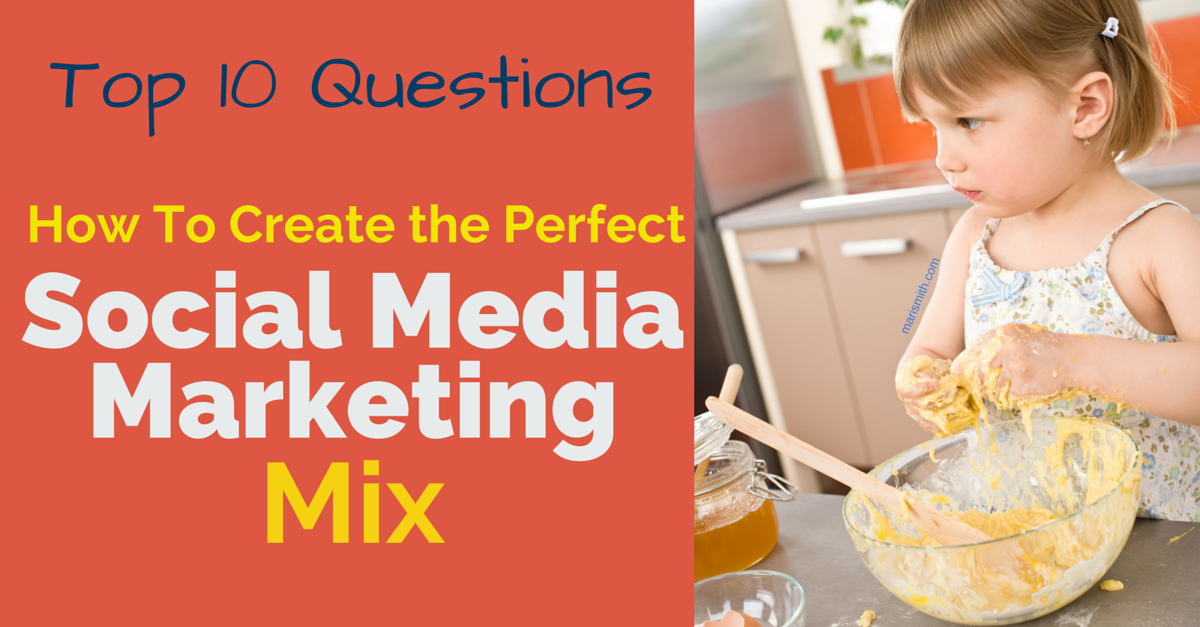 By the way: here's a fun factoid about Mari, pertaining to the playful image for this post…
My father was a master baker all his working life. (He'll be 79 this year and still bakes on a regular basis in Scotland.)
For three years in my early twenties, I attended night school and studied cake decorating and confectionery making. (One of these days, I'll scan and share some of my cake photos! I promised Jay Baer that I would during an interview for an upcoming episode of his podcast!)
When my team and I were compiling this week's issue of The Social Scoop and chose our lead article with the word "mix" in the title, I just had to include this adorable girl and her yummy cake batter. She reminds me of myself as a wee girl. Awwe!
The blog version of this week's edition of THE SOCIAL SCOOP weekly newsletter follows below! If you're already subscribed, you'll continue to receive The Social Scoop via email on Fridays. If you're not yet signed up and would like to be, please enter your name and email in the box to the right (desktop) or below the post (mobile). Thank you!
Mari's Top Social Media Picks – May 22, 2015 Issue #150
Greetings! Please do enjoy this week's top articles we've hand-picked for you!
via RebekahRadice.com With so many social media networks and only a certain amount of time in the day, you need a plan to really be effective with your marketing. The nuggets in this rapid-fire Q&A #InfluencerChat here may help you decide what's best for you and your company.
via SteamFeed.com Effective content writing in today's world is a relatively new skill – one that's vital to your success with online marketing. Check out this awesome list of tools that will help you overcome writer's block, get unstuck, come up with creative ideas and avoid too much jargon! Love that!
10 Tools Content Writers Will Love http://t.co/5ocNdsI8wy via @steamfeedcom | Good to know!

— Mari Smith (@MariSmith) May 21, 2015
via KISSMetrics.com
Wildly popular and continuously growing, Instagram can be very effective as part of your social media marketing mix. But are you using it to its full potential when it comes to promoting your brand? Check out this post and see!
That's a wrap for this issue of The Social Scoop. Here's wishing you a fantastic weekend and especially to all my friends in the U.S. – make it a super enjoyable (and safe) Memorial Day Weekend!
On a personal note, it's been an uber intense week, with quite a few late nights, tbh! We had over 8,500 registrants for my Facebook webinar on Tuesday and a successful launch of a new course. So, this long weekend, my partner and I are treating ourselves to time off the grid in the mountains – yippee!! 🙂
Cheers!
Mari
P.S. Did you know? 90% of Fortune 500 brands are not properly optimizing their Facebook marketing and advertising. Yikes. Thing is, Facebook has rapidly evolved into a big challenge for businesses of all sizes, with several major changes to the News Feed in April this year and also last fall. Organic reach is down to 1-6%. Don't get left behind – stay on the leading edge of Facebook marketing best practices when you attend my newest online training course. I'll be sharing insider secrets from my own business and directly from Facebook on how to attract more fans, leads, and sales! Save $200 when you register today.