23 Facebook, Twitter, LinkedIn & Pinterest Features You Should Know: The Social Scoop Issue 133
Many of the popular social media platforms regularly add helpful new features – but there isn't always a big announcement, so it can be hard to keep up with these additions and changes!
This week's featured article is from HubSpot and details 20 features that you probably didn't know existed on Facebook, Twitter, LinkedIn and Pinterest – but probably should! Plus, I rounded up a further 3 Facebook features to add to the mix. 😉
For instance, did you know you can save links on Facebook to read later? Or, edit photos directly in the Facebook mobile app? How about embedding a SlideShare presentation so your Twitter followers can view it directly in the tweet? You can see who's pinning content from your website on Pinterest, and much more!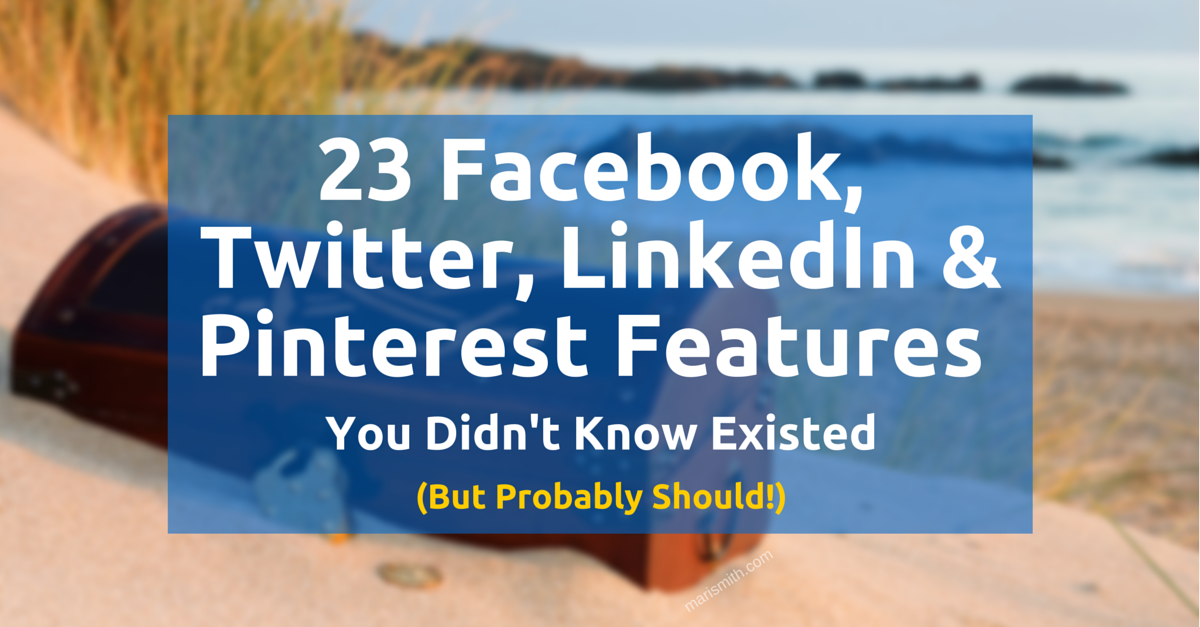 The blog version of this week's edition of THE SOCIAL SCOOP weekly newsletter follows below! If you're already subscribed, you'll continue to receive The Social Scoop via email on Friday mornings. If you're not yet signed up and would like to be, please enter your name and email in the box to the right (desktop) or below the post (mobile). Thank you!
23 Little-Known Social Media Features
We hope you find value in this week's top three main articles:
via HubSpot.com
The first one is a favorite of mine – I have a growing list of saved items to got back and read! And #2 is too cute! #9 looks fun. Hm, not sure about #15 (insofar as just how private those notes are?!) Check out HubSpot's article for the full list of 20 little-known social media features.
Along with the HubSpot article above, here are three more (fairly new) Facebook features to add to the list:
#21 – Feature Facebook Videos & Create Playlists
Page owners can now display a FEATURED VIDEO (shows on the left side of your Page, as well as on mobile), plus PLAYLISTS! See this quick (1 minute 16 second) video tour:
#22 – Add a Call-To-Action Button on Facebook Pages
Page owners can choose from one of 7 "CTA" buttons; the button sits on top of your cover image to the left of the "Like" button. (See it in action on the Dollar Shave Club's Facebook Page.) This feature was also mentioned in The Social Scoop issue #131 and on this Facebook post. 
#23 – See Why A Facebook Advertiser Is Targeting You
You can check to see the main reason why any Facebook ad – on desktop or mobile – is showing up in your News Feed (or right hand column on desktop). As a fellow marketer, it's very informative to research other advertisers! And, as a user, you can manage your ad preferences. See more in the post and video tutorial embedded below:
via Socialbakers.com
I'm a big fan of Socialbakers – both their platform and their blog content. This post contains a great list of practical advice for attracting more fans and followers, which you can then convert into leads and customers.
via Wyzowl.com
We live in a world of content marketing: 93% of organizations now use content to market their brand.These eye-opening stats should help inspire your content strategy this year. Check this out: 70% of consumers want to get to know a company through articles, rather than ads. Hm! And, visual content generates 94% more views than text based posts.
That's all for for today. Please do share this post with your peeps – thanks!
I hope you have a blessed weekend and enjoyable week ahead.
On a personal note, this weekend I'm very honored to be a special guest at the Global Women's Summit, where I'm going to be presented with an Outstanding Leadership Award! How exciting! (I have my acceptance speech ready – thanking my fans, agent and mom. Ha! Kidding. I do have a few inspiring words to share with the audience, though.)
Cheers!
Mari

P.S. Will I see you in California on March 25th to 27th? I sure hope so. Come attend the world's largest and most awesome social media conference LIVE and in person here in gorgeous, sunny San Diego! Click here to find out more about Social Media Marketing World and get your ticket ($350 savings!).
To receive THE SOCIAL SCOOP by email each week, pop your name and email address in the box below! 🙂
JOIN over 97,000 beautiful peeps! 🙂 Each week, we sort through the huge pile of new social media blog posts, resources, articles, tools, tips and more … and Mari hand picks just three of them to send you via email. Enter your name and email below to start receiving our weekly top selections in The Social Scoop email newsletter, published every Friday.
We respect your email privacy. Your address is safe with us.
Feedback?
Got comments, questions, ideas? Feel free to let us know your feedback in the comments below. I always love to hear from my peeps.