Two-Person Facebook Live, The Effect of Facebook Ad Campaigns & More: The Social Scoop 4/10/17
Greetings from Dublin, Ireland!
I just enjoyed a wonderful week with my family in Scotland. Then, this morning, I hopped over to Ireland to keynote at the Social Media Summit here. Whee!!
Of course, this has been a 'working vacation' and I've been tuning in to all the latest Facebook updates.
NEW: Two-person Facebook Live!
Just starting to roll out to more users is the ability to do Live video and invite guests to join you on camera!
Facebook first tested this feature last year but it just wasn't ready for primetime. Now, more and more users are gaining access to two-person live!
To see if you have access, swipe left on the comments/reactions on your Live video broadcast and, if you do have the 2-person feature, you'll see profile pictures of your live viewers. Those who can be invited to join you live on camera will have little green camera icons.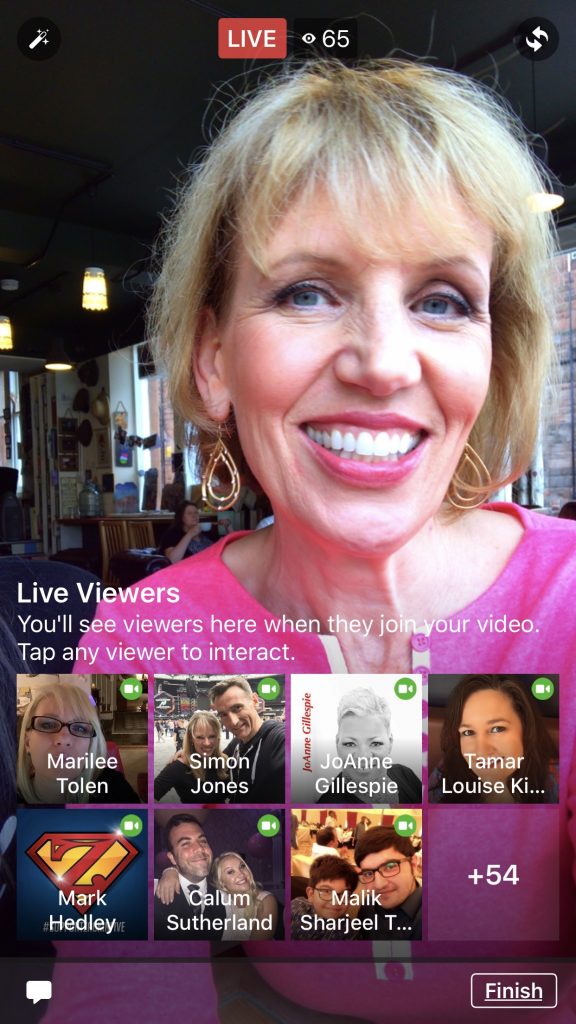 The two-person live can be portrait/vertical (picture-in-picture, PIP) or landscape/horizontal (split-screen). See screenshots below. The feature is rolling out to more users slowly, although Facebook tells me it's still quite buggy.

The screenshot above shows the portrait style 2-person Facebook Live with PIP (picture-in-picture). I'm broadcasting live from a café in Perth, Scotland with my friend and Team Mari member, Chloë Forbes-Kindlen.
Here's the actual Facebook Live video of the above broadcast. (For some reason, embedding portrait Facebook videos does not seem to work on my WP blog, hm! #facebugs)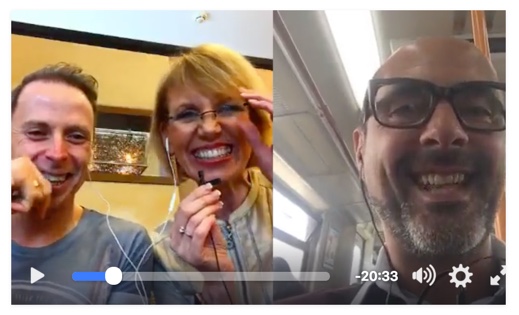 Then, this screenshot above shows the landscape style 2-person Facebook Live with split-screen.
Here's the actual Facebook Live video embedded below:
This Week's Top 3 Articles
1. The Real Effect of Running a Facebook Ad Campaign in 5 Charts via Wordstream.com
This in-depth post shows how effective investing even a small amount in Facebook Ads can be. Because of the relationship between paid and organic performance, investing in paid has a positive effect on organic. The numbers are impressive to say the least: Facebook advertisers outperform businesses that aren't advertising to the average tune of 77% more page fans, 96% more page clicks, 225% more post impressions and the list goes on.
2. The State of Social Media Marketing in 21 Instagram Posts via Spark.Adobe.com
I love these visual notes from the recent Social Media Marketing World 2017 conference! Visual communication is becoming more and more important and posts like the ones shared here make your message quick and easy to understand. Given that we only have a split second to stop someone from scrolling past, this post is packed with excellent tips and inspiration.
3. Secrets Facebook Insights Can Uncover for Your Small Business via NCRsilver.com
Do you know which metrics to watch on your Facebook page? There's a lot of information available and knowing what to look for and what it means can really benefit your business and help you get more out of your page. Lots of great tips from my good friend Andrea Vahl here!
That's all for this week's issue of The Social Scoop. I hope your week is off to a wonderful start!
P.S. Thank you so much to everyone who read and replied to my postscript last week– your kind comments meant a lot to me!!!