On Facebook, Profiles are personal. PAGES are for Business
The CORRECT way to register an account on Facebook is in your personal name. To register an account in your business name is against Facebook's Terms of Use.
I'm going on a wee rant here! Sure, it's true you don't know what you don't know. But sometimes I think people are chancing their luck.
See, I just received my umpteenth friend request… from someone who set up a Facebook Profile in their business name. Actually, worse, it's in the name of a huge international MLM company. I'll bet you a dime to a dollar this account has been set up by an independent rep. BIG no-no. Probably in breach of the company rules too, not just Facebook's.
I totally get it's not all that clear!!! However, Facebook PROFILES are for your own personal account in your first and last name. In order to represent your business on its own "profile" in Facebook, you must set up a Facebook PAGE. Yep, confusing! However, that's why I'm writing this post – to hopefully educate those folks who aren't clear.
See Facebook's Terms of Use – emphasis added by me: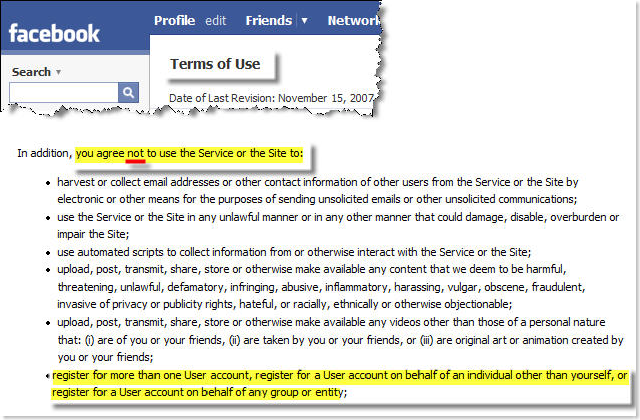 If you're in business for yourself, I highly recommend you set up a Facebook PAGE. You may already have a Group as well. And, that's okay. One of the primary reasons I recommend getting started with a Facebook Page is you'll enjoy high Google ranking! Facebook currently has an Alexa ranking of 7.
Facebook used to create Page URL's with your Page ID#. Now, they include the keywords from the title of your business. Good or good?
That way, more people can find you online. You're welcome to be a Fan of my Page.
By the way, if you receive friend requests from Businesses, I recommend you ignore them. If you're feeling helpful, you could take the time to send them a message and point them to the Facebook Terms of Service (or my blog post here!).
And, in case it's not obvious, you don't want to do something against Facebook's Terms of Use, and build up an active high-trafficked Profile in the name of your business… only to have it torn down by Facebook, right? May as well start on the right footing with a business Page.
Got a Facebook Page? Include the URL in your comment here!