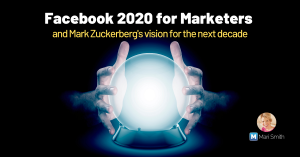 While everyone was celebrating a new year and the start of a new decade on January 1st, 2020, Facebook CEO Mark Zuckerberg was already on to the year 2030. For the previous ten years, Zuckerberg gave himself personal challenges. This year is different. He's laying out a ten year plan that is broader than the…
Read More
THE SOCIAL SCOOP NEWSLETTER & FACEBOOK GROUP
Get Mari's Best Tips In Your Inbox… and on Facebook!
There's a reason Mari earned the moniker, 'The Queen of Facebook!' Make sure you stay on the cutting edge of what's working and what's not when it comes to the Facebook family of apps, including Instagram, Messenger and WhatsApp.
Join Mari's Social Scoop Group on Facebook + receive Mari's weekly inside scoop email newsletter.