How To Convert Your In-Person Events To Live Streaming Video Events
Don't cancel your event. Make it virtual.
Our new reality is that we cannot gather audiences together in person, at least for the foreseeable future. However, there is a way through this challenge and that is to create virtual events. Specifically, online streaming video events—either live or recorded.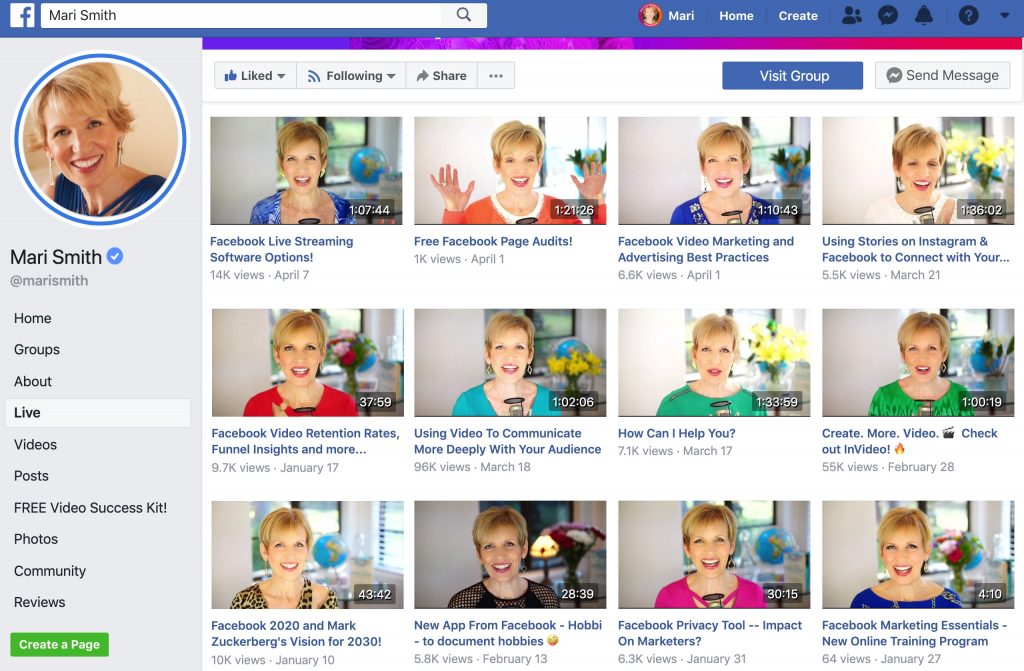 While there is no amount of sophisticated technology that will ever take the place of live, in-person events, the next best thing will always be video. Especially LIVE video!
I definitely understand that video can be intimidating for many people. Not everyone wants to be on camera. Even so, I do encourage you to push through all those fears and go for it. You'll find that your audience wants to connect with you, they want you to win, they will love seeing you, and will enjoy connecting with you virtually.
See my Facebook Page for examples of Live streaming trainings
Step 1: Make A Plan
Take your current in-person event and turn it into a series of online streaming events, webinars or summits. By taking what you've typically present at your in-person events and breaking it down into lessons, you can create a virtual event. If you had guest speakers at your live event, invite them to be a part of the virtual event.
Always start with the end in mind.
What do you want to achieve from hosting an online event?
Will this be a one-off webinar?
Or, a private training just for clients?
Will you be on camera?
Is the event free or paid?
Do you have help to handle the tech?
Answering these questions, as well as others that will come to mind as you map out your event, will determine how you set it up.
Step 2: Select Your Tech
Consider what tech you'll use to record. You'll find my list of resources below.
If this is your first time going online, then keep it super simple. Do a Facebook Live with your cell phone into a private Facebook Group in order to practice. Or, try a video conference/webinar platform like Zoom or BlueJeans Network.
If you're a bit more tech savvy and want to build a simply in-home studio, I've got a list of recommended video gear available for you here. You can also consider using your webcam or a DSLR camera connected to your computer for streaming via a third party app (details below). This is my preferred option as you'll see on my Facebook Page.
See this recent broadcast below where I review several top choices for third party Facebook Live streaming apps.
Every time I stream via Facebook Live, people ask me what camera I'm using and what lighting set up I have. I've even been a guest on BBC Newsnight—streamed in via Skype at the time—and the engineers literally stopped in the 'virtual green room' to ask me about the quality of my set up as they couldn't believe I was coming from my home studio. 😉
Depending on where you're starting, you can use what gear you have. Then, add on hardware and software over time. Unfortunately, at the moment, there seems to be a shortage on streaming video gear, delayed delivery times, and huge price increases. Ugh.
Step 3: Promote!
Make good use of all the digital ways to effectively promote your online event. It can take a bit of refining and testing to get optimal results, even in the best of times. Suggestions include:
Create a registration page on your website. Or, set up registration through Eventbrite.
Create a Facebook Event on your Facebook Page and send people to your registration page. (Facebook syncs easily with Eventbrite).
If you plan to use Zoom, for example, set up standard Zoom Webinar registration link and add to your website and/or Facebook Event.
Share your registration page/link (whether your website, Eventbrite, Zoom, etc.) across ALL your social channels, and send to your email subscribers.
Don't just promote one time across your channels. It's okay to publish multiple posts spaced out over days … but create messaging that feels sensitive to the current world situation. Share 'sneak peeks' of your content, explain what attendees will be able to learn, be very clear on the benefits/what's in it for them.
Consider also adding a paid campaign with Facebook and Instagram ads.
Make sure your webinar/livestream topic is of great relevance to your audience right now. Ultimately, you'll have to look at the content as a whole in order to decide if it makes sense to do it now or wait a month or so.
Emotions are running high right now, so the more organized you can be and communicate clearly with your audience, the more smoothly everything will go. Aim to give your audience a nice, clear path forward to learning from you.
Step 4: Build Community
People are craving connection now, more than we ever have before. By offering a sense of community through a webinar and/or live streaming video, you are giving people a way to build connections during this time of isolation and challenge.
This is the time to create a new Facebook Group, or revive one if you started it before and let it go by the wayside.
Facebook groups are a wonderful way to build connections and add extra value to what you offer.
Ever since Facebook first launched the Groups features many years back, I've included separate, private Facebook groups for participants of every course I launch.
Plus, I run an even larger group that is open to the public and is used to provide value and periodic offers—this is my 'Social Scoop' group, which is the same name as my email newsletter I've been publishing for over a decade.

Do come join my dynamic Social Scoop group for plenty support from peers, my team and myself on all things social media marketing, particularly Facebook. It's a safe, respectful and highly supportive tribe.
Step 5: Follow up
You've gone to all that effort before and during your live virtual event to make it a success. Now, to set yourself apart even more, there are a number of post-event activities you can do that will make all the difference!
Email your registrants as promptly as possible with your webinar/livestream replay.
Continue connecting with your Facebook Group members and encourage peer support.
Make your audience feel seen, heard and acknowledged by answering all their questions and providing encouraging words of support.
Consider a live follow-up webinar/broadcast to address FAQ's.
Conduct a post-webinar survey to invite feedback.
Run a poll inside your Facebook Group (and/or via email using a survey tool like SurveyMonkey) to find out what your audience wants to learn from you next.
And, make good use of the Facebook Watch Party feature to host an 'encore' for your group members (or public audience on your Page).
By continuing the conversation, you are adding value and building tremendous 'social equity.'
---
Next, here is a variety of software platforms to consider. You just need one! The benefit of an app like Zoom or BlueJeans is you can do both private virtual meetings and private/public webinars, and/or you can choose to stream live to Facebook. My personal preferences are
Zoom for everyday team and client meetings;
BlueJeans for private group coaching streamed into my private Facebook Groups;
Ecamm Live for Macs for all my Facebook Live videos on my Page;
InVideo for creating video clips, video ads, and repurposing existing video content.
Virtual Meeting Tools
Facebook (and other Social Platform) Live Streaming Tools
Be sure to watch this Facebook Live as I discuss each of these tools above, as well as Facebook Live Producer. A note about Facebook Live Producer: its features are very limited and it really is not intended as a standalone broadcasting tool. For instance, you can't bring on guests or switch between camera and desktop sharing. It's best to choose a third party live streaming tool.
Video Tools
InVideo.io — special 50% offer for friends of Mari (full disclosure: Mari Smith is a paid brand ambassador for InVideo.io)
Helpful Articles