Facebook 2020 for marketers and Mark Zuckerberg's vision for the next decade
While everyone was celebrating a new year and the start of a new decade on January 1st, 2020, Facebook CEO Mark Zuckerberg was already on to the year 2030. For the previous ten years, Zuckerberg gave himself personal challenges. This year is different. He's laying out a ten year plan that is broader than the company's ten year (product) roadmap from 2016: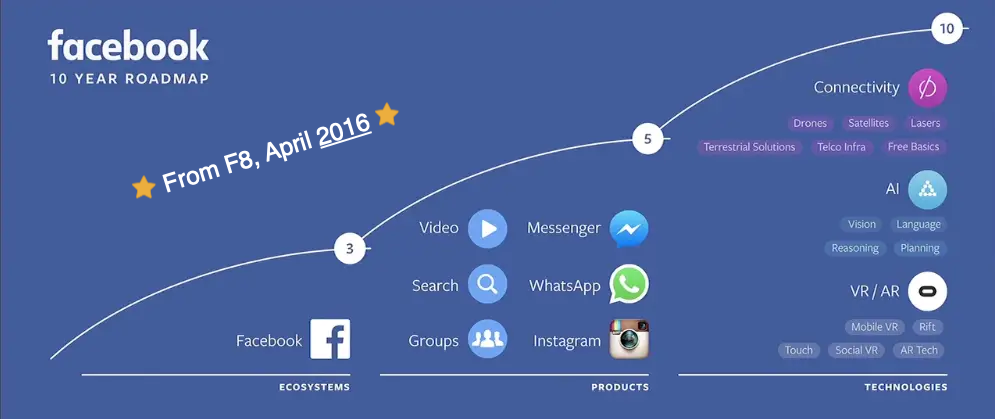 Mark Zuckerberg's annual vision post
The one key area of Zuckerberg's vision statement that impacts marketers the most today is the following:
A New Private Social Platform
This isn't new as of January this year. Zuck first announced that "the future is private" at the F8 annual developers conference on April 30th, 2019. And shortly after, published his epic 3,200-word privacy manifesto on March 6th, 2019.
There are many reasons for Facebook's PIVOT TO PRIVACY. I believe the main one of which is a response to all the data privacy debacles spanning several years.
Another reason is certainly that the totality of the Facebook app has gotten too unwieldy to create true connection and community. Therefore the answer is smaller, more intimate communities – a la Facebook Groups. (Speaking of which, Facebook will air its first ever Super Bowl television commercial on February 2nd, 2020 starring Chris Rock and Sylvester Stallone directly promoting the benefits of the Groups product).
But being part of such a large community creates its own challenges and makes us crave intimacy. When I grew up in a small town, it was easy to have a niche and sense of purpose. But with billions of people, it's harder to find your unique role. For the next decade, some of the most important social infrastructure will help us reconstruct all kinds of smaller communities to give us that sense of intimacy again.

Mark Zuckerberg – Facebook post – 1.9.20
What should marketers expect with this pivot to privacy?
These three key areas should definitely be a major part of your marketing mix:
Messaging + Messenger automation via chatbots (+ email + SMS!) for lead generation, pre and post sales communication, improved customer service and so much more. Messenger messages can get open rates as high as 80-90% and CTRs significantly higher than email. But, ideally, you want to combine chatbots with email (and potentially SMS as well).
Currently, chatbot platforms such as ManyChat and MobileMonkey, integrate with Facebook Messenger + email + SMS. Look out for both Instagram Direct and WhatsApp opening up their respective APIs for chatbot integration. This is bound to be rolled out sooner or later. (As to whether the complete messaging interoperability will actually roll out remains to be seen.)
If the future is private, messaging apps are an extremely powerful and effective channel for B2C or B2B communication. It's all P2P: people to people.
Facebook Messenger is the #1 messaging app inside the US, and WhatsApp is the #1 messaging app outside the US. (See also Apple Business Chat).
Private groups – building community among your devoted fans, prospects and customers.
SMBs would do well to create and manage one or more Facebook Groups as your Facebook Business Page. If you have a group that is for business purposes already but it's created/run from your or another admin's personal profile, you can convert it over to be a Page-owned Group. First, be sure to enable the setting in your Group to allow Pages to join your Group. Then, join the Group as the Page you want to own the Group, and go back to your Page and look for the Groups section and Link your Group. (You can always disable the option afterwards to let Pages join your Group if you wish. Personally, I'm fine with it on).
This is one of the areas of innovation I'm most excited about. Our digital social environments will feel very different over the next 5+ years, re-emphasizing private interactions and helping us build the smaller communities we all need in our lives.

Mark Zuckerberg – Facebook post – 1.9.20
Stories (and potentially other ephemeral/micro-content) – Zuckerberg has also said in the past that 'Stories are the future.'
Interestingly, despite a lot of pushback around hiding public-facing like counts on Instagram and Facebook posts, the engagement on Stories has never been public.
People tend to be more open and willing to share more when they know their content "won't be seen by everyone" (read: it's 'private') and it won't "stick around forever,' Zuckerberg has said on many occasions!
[From a data standpoint, the more intimate details users share, the more information Facebook's family of apps is able to garner for ad targeting purposes. Of course, from a user perspective, if you feel comfortable sharing more openly in private ways and have community and connection, you're more likely to keep coming back to the apps.]
I review and break down Mark Zuckerberg's ten year statement further in this Facebook Live video broadcast:
Plus, I'll be breaking down the full scope of what marketers should be focusing on for success this year in my free online training coming up on January 21st.
FREE WEBINAR! The Future of Facebook: What Marketers Need To Know
Tuesday, January 21st, 2020 @ 11am PT / 2pm ET — click to for more details and to save your seat. A recording will be sent to those who are unable to attend live.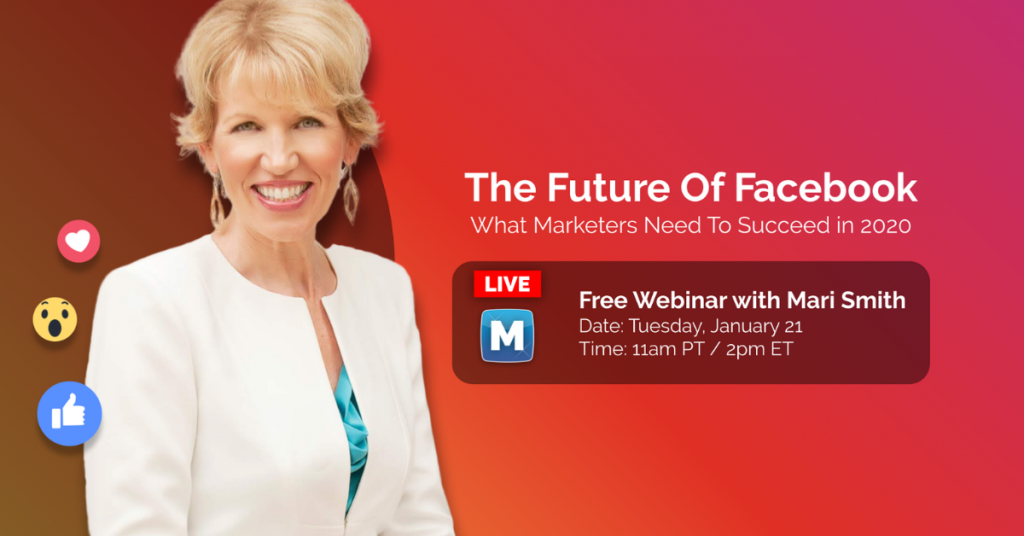 In this free online training, I'll share:

The biggest changes across the Facebook family of apps for 2020 and what they mean to marketers
Planning for a future with a diminished News Feed
The 3 key areas Facebook is prioritizing today
How to improve your ORGANIC reach, engagement and results
Proven ways marketers can optimize Groups
How to cut through the noise, get noticed and make the right people take action
Plus, we'll touch on the biggest problems advertisers face + Mari's solutions
---
NEW: Facebook Retention Metrics
In Facebook's continued quest to become a major player in the next generation digital streaming television arena—competing with Netflix, Amazon Prime Video, Apple TV+, Hulu, etc.—the company recently started rolling out deeper video metrics.
Navigate to your Creator Studio on your Facebook Business Page, click on Insights then Retention. If you have this feature now, you'll see Facebook's focus on one-minute or longer views on videos that are three-minutes or longer. This is what Facebook especially wants creators to publish. A video of three minutes or more is considered 'long form' content, and is the length Facebook uses for inserting ad breaks (in-stream ads: pre-roll or mid-roll).
Also of note, in the same announcement, Facebook encourages creators to publish 1-2 VIDEOS PER DAY at minimum.
Posting at least 1-2 videos per day helps with reach. (Although for larger publishers looking to maximize their total views and watch time, more frequent posting is recommended.)

Facebook for Media – 1.8.2020
Frankly, this may be very ambitious for most SMBs! Depending on where you're at currently with video publishing, I recommend aiming for two videos per week, building up to one a day. These don't have to be live. Aim for a mix of recorded and live.
I demonstrate and review these new video metrics on this Facebook Live video broadcast:
Mari Smith on Social Media Examiner's Show
One more resource for you on this topic of Facebook 2020 and Mark Zuckerberg's vision statement: I was just a guest on Social Media Examiner's Social Media Marketing Talk Show. See the replay below and/or read the companion post here.
powered by Crowdcast