Do Stickers Improve Your Facebook Video Ad Performance? A $300 Experiment by Wave.video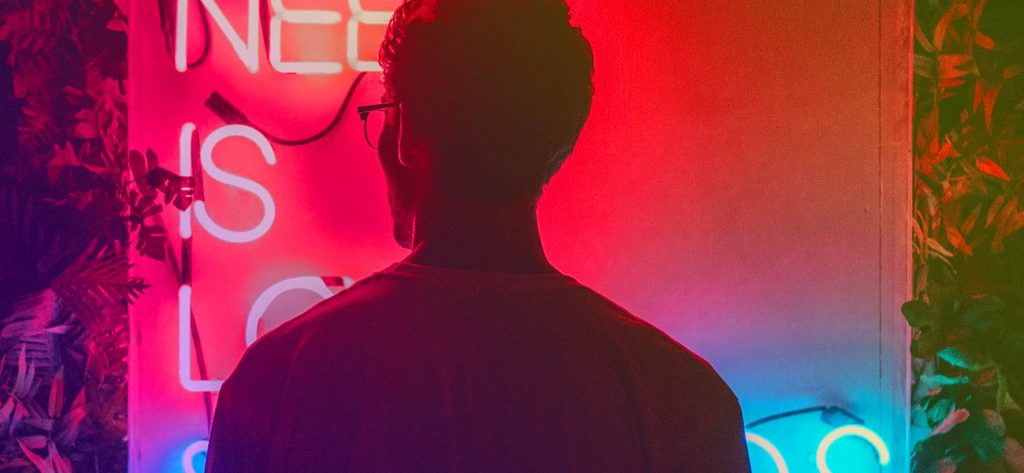 Stickers and GIFs make your videos more engaging. Ever since Instagram introduced this feature, people have grasped the opportunity to add a special touch to their videos.
But here's a question: however lively and engaging the videos with stickers might be, can they really improve valuable metrics for your business?
In other words: do they work well for key indicators, specifically in video ads?
We decided to find out for ourselves how much more "engaging" a video with stickers might be. We tested out a video on Facebook ads with the only difference: one had stickers and another one didn't.
Pre-test context
We decided to drive traffic to our recent roundup post on video marketing trends and predictions with "Landing page views" chosen as the goal in Facebook Ads. We made a short video and added subtitles.
The video was intentionally simple and had no special effects. This way, we wanted to make sure that anyone can create similar footage without any design skills.
For the version with stickers, we used the same video and added a few gifs from GIPHY for simplicity. Here are the two versions we created for the experiment.
The version without stickers
The version with stickers
Both ads were accompanied by the same short ad text.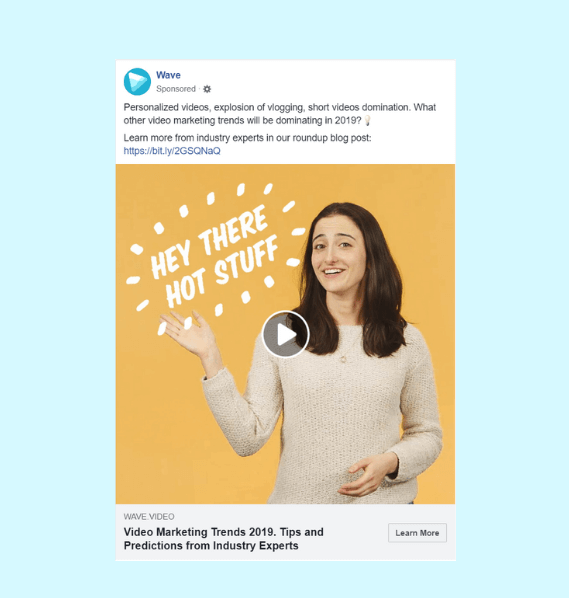 Technical details
Time schedule: 7 days
Budget: For this test, we had two A/B test campaigns: for desktop and mobile devices separately, as separating placements in campaigns typically gives us better results. We split the budget for this test evenly between them: $150 for each video ad.
Target audiences: Besides targeting the people who hadn't seen the roundup post up to that moment, we also targeted Lookalike audience on those who had seen the post.
For our two campaigns with mobile and desktop placements we got this structure: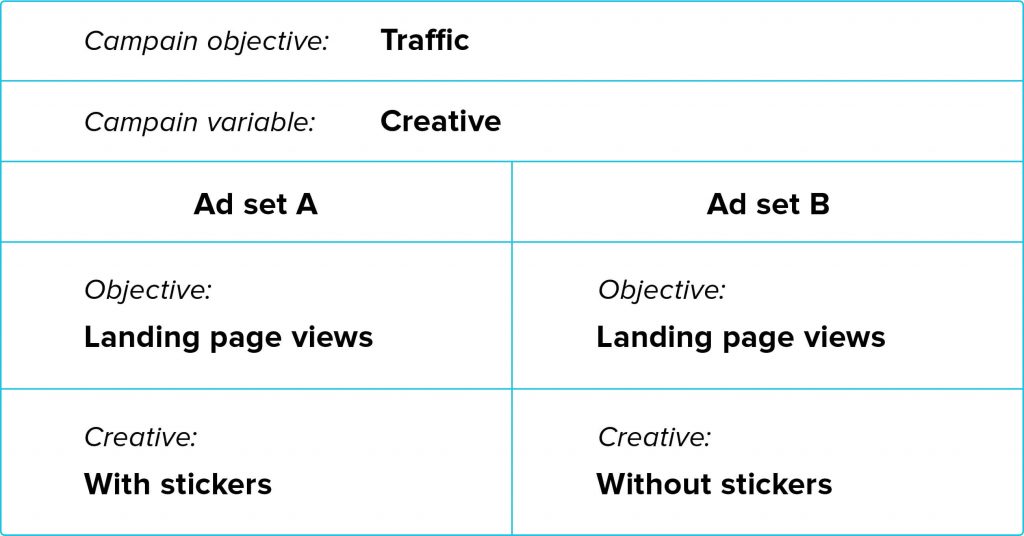 Hypothesis
Our hypothesis was the following: "Video with stickers will be more efficient for the advertisement".
Hypothesis: Video with stickers is more efficient for the advertisement.

To check this statement, we used several metrics:
Cost per result — the main metric for our experiment. For this campaign, the target result was Landing page view or, simply saying, opening the page with our Roundup post.
Conversion rate — in our case this was the number of blog post views divided by the number of link clicks.
CTR — we also thought it was useful to assess the overall engagement with ads with the help of click-through-rate.
NB: Keep in mind, that CTR on Facebook is measured not only by link clicks but also by all other clicks on the ad post (e.g. profile page click, "read full text" click, etc.). This is the difference between conversion rate and CTR.
Desktop campaign
Winner: Video with stickers.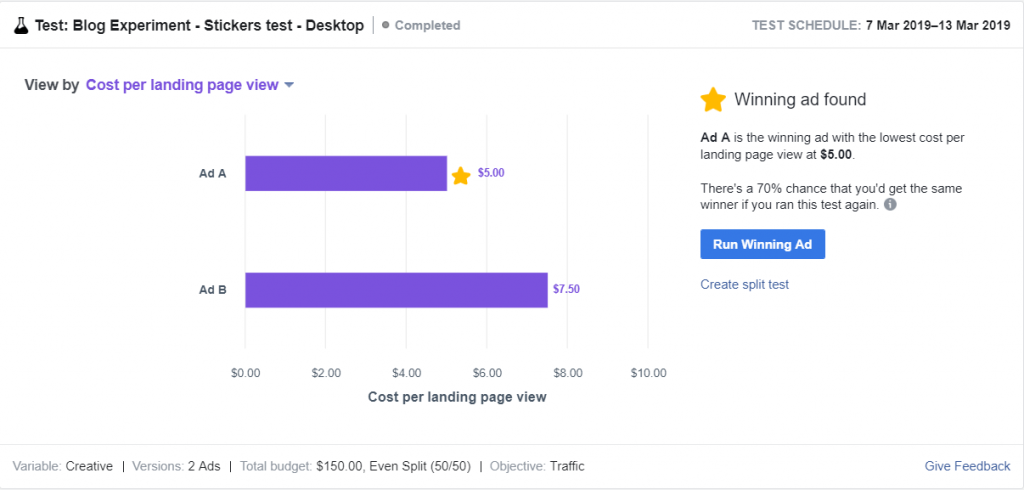 (Ad A – video ad with stickers; Ad B – video ad without stickers)
Video with stickers became the absolute leader with 33% lower cost per result ($5 vs. $7.5 of video without stickers).
The conversion rate for the ad with stickers was impressive — 100%. Wow! The ad with the basic version of the video got 71%, which is also quite good but still could do better ?
The ad with stickers also got higher CTR (0,85%) than that without stickers (0,71%).
Stickers on video can help you lower your cost per result by as much as 33%.
The table below shows the comparison:

NB: We got this extra high conversion rate 100% because among all 15 clicks we got on this ad, all 15 were on our website link.
A quick reminder: to calculate conversion rate we divided website link clicks by the number of total clicks made on the ad (including profile page click, etc.)
Mobile campaign
Winner: Video with stickers, but there are some nuances.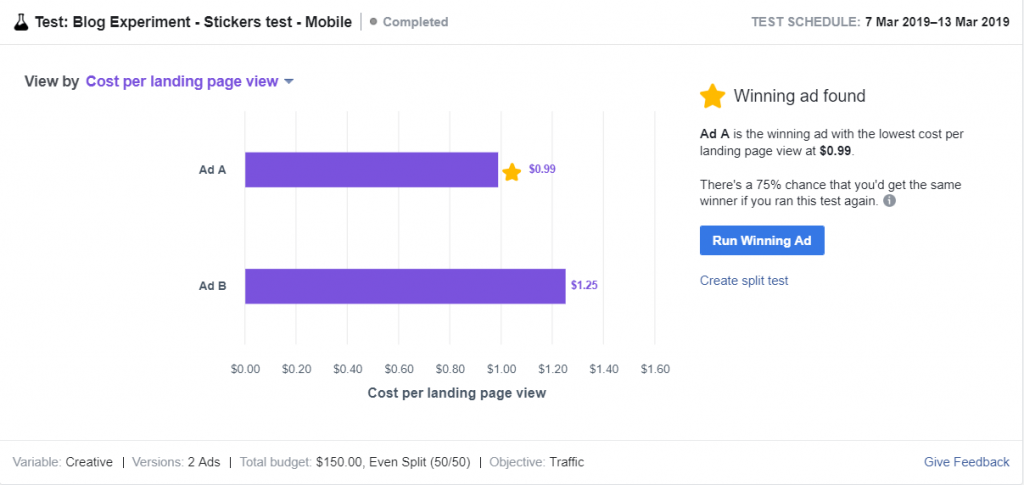 Ad A – video ad with stickers; Ad B – video ad without stickers)
The results of the mobile placement experiment were a bit different:
We paid $0,9 for each blog post view from the ad with stickers and that was 21% cheaper for us than paying for page views from basic video version ad.
The difference in conversion rates was 11%: the ad with stickers had a higher conversion rate than the ad without stickers (75% vs. 66%).
CTR results surprised us: it was higher for the videos without stickers.
Here is the summary of the results of our A/B test:


Average results for two placements
Despite the small loss in CTR we saw for sticker ad on mobiles, we can say firmly that the sticker ads win.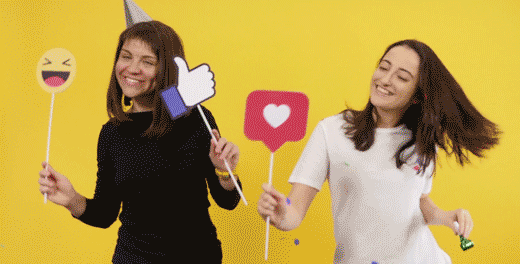 On average, cost per result for ads with stickers was almost 33% lower. Assuming that it is one of the main metrics for businesses doing ads on Facebook, this result is quite reassuring. We think it is the most powerful outcome we got from this experiment.

But we also remember two other metrics tested in this experiment: both Conversion rate and CTR were higher for ads with stickers. Interestingly, the difference in CTR for the ads is really tiny, though the sticker ads win. Stickers don't impact interest in the ad copy so much as generate interest in the advertised product.
Check the numbers for desktop and mobile campaigns in total for the big picture view:
Curious insights
We also got one interesting insight, which is not connected with the main goal of our experiment. Men were more willing to click the link to the blog post, that's why cost per result for men was 57% lower ($10.49 for women vs. $4.50 for men)! This is true for both placements, especially for the desktop:

Perhaps men are more susceptible to stickers? ?
Major takeaway
As you see, stickers on videos can significantly improve the performance of your Facebook ads, some of which are especially critical for business (e.g. cost per result).
Despite the fact that sticker ads were more successful than ads without stickers, we recommend that you apply this information to your business with a grain of salt. While we are hands in for making videos more engaging by adding stickers and GIFs, make sure they will actually be relevant to a particular video.
Use stickers on your videos, but with a grain of salt.




Besides, pay attention to the number of stickers you add. We are pretty sure that "overstickerness" will only harm your advertising.
Aside from it, feel free to upgrade your video ads with lively stickers like we did this month. Till the next cool experiment!
---
This blog post was republished with permission from Wave.video.
Mari Smith is Chief Brand Ambassador for Wave.video – the easiest platform to create professional videos using your own assets and/or a mix of stock assets. Wave.video provides access to over 200M royalty-free assets, the largest in the universe!
Check out Wave.video's new FREE FOREVER plan where you can quickly create 15-second videos and publish straight to Facebook, YouTube or Twitter. Upgrade to the Creator Plan for only $10/mo or $99/yr and create videos of up to 1 minute in multiple formats and download the mp4 file. See also Wave.video's Pro Plan and Agency Plan. Mobile app coming later this year.
Plus — come join our two special Facebook Groups for support, inspiration and community: 1) Wave.video's Community Group and 2) Video Challenge Group.