Holiday Specials, Events and More from Mari Smith and Friends
It's the most wonderful time of year again and how exciting it is! 2019 seems to have gone flying by so fast with so many trips and events; we packed a TON in. Now, the buzz and excitement is building for 2020 – can you feel it?! I'm super pumped myself, so much goodness in the hopper.
Did you score any Black Friday specials? I do love to support Small Business Saturday and now we have Cyber Monday followed by one of my personal faves, GIVING TUESDAY.
KINDRED APP – NEW Charity Fundraiser Marketplace App
On that note, I'm pumped to share about a brand NEW charity fundraiser marketplace app, called KINDRED. Find out more here. Earn money for yourself and the charities you care about by sharing offers from brands you LOVE!
Perfect timing for #GivingTuesday! I am working with the the founder of the Kindred app, Aaron Simpson and his team, to help get the word out, especially during the holiday season. Aaron is a very successful businessman based in the UK. He's an angel investor and founder of Quintessentially. I've met with Aaron and his team, done my research on the company and it is all totally legit. Let me know what you think once you've checked out the Kindred app!
Mari Smith is a Kindred Global Brand Ambassador.
---
WAVE.VIDEO – Holiday Specials and New Video Funnels!
Do you have an account with online video making tool Wave.video yet?
I've been working with this fantastic company for the past 2.5 years and always love it when they keep improving the product.
Wave.video just announced many new features, including HOSTED videos which means you can EMBED on landing pages. You can easily create video landing pages and even add CLICKABLE call-to-action buttons on the video! Wowzers!
Check out these holiday specials (you'll need to boogie – the codes expire on December 4th):
Creator Plan — save 50%! Just $49 for the first year. (Reg. $99)
Use code: WCA_Black49
Pro Plan — save 62%! Only $150 for the first year. (Reg. $396)
Use code: WPA_BlackFridaySale (good through Dec. 4th)
Agency monthly plan for only $60 per month, forever! (Reg. $79/mo)
Use code: WBM_BFAGENCY60
Pick your savings, go to Wave and enter your code!
Affiliate link.
---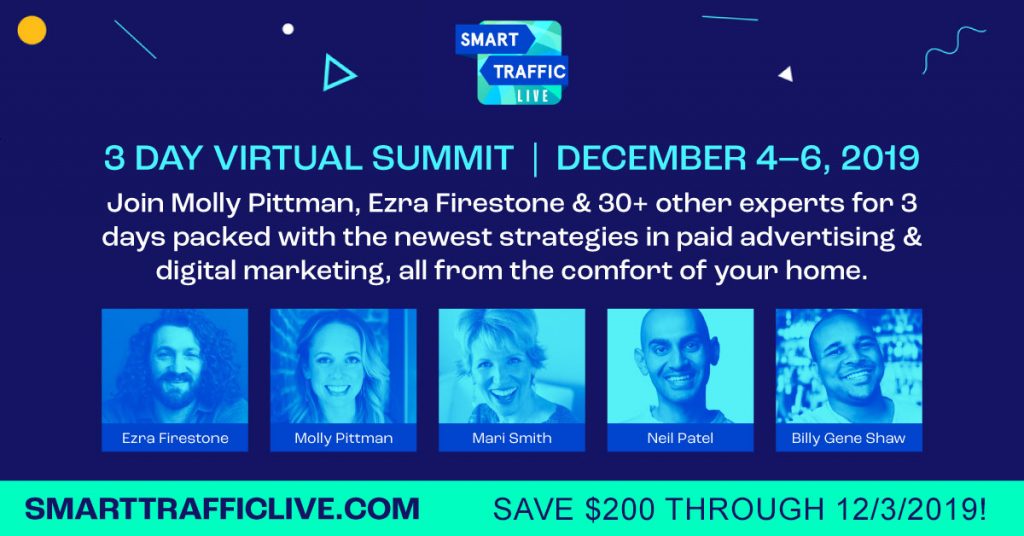 Digital marketers and advertisers will face a ton of new challenges in 2020. Do you have a traffic plan ready?
Join me and 30 leading ad experts for Smart Marketer's Smart Traffic LIVE: a 3-day virtual summit hosted by my longtime friends, EZRA FIRESTONE and MOLLY PITTMAN.
The summit is packed with in-depth trainings, guest interviews, roundtable discussions and audience Q&A. You'll walk away with new strategies for all the top ad platforms and a detailed plan for how to leverage them in your business.
I'm delighted to lead a session on Facebook's Future: What Forward-Thinking Marketers Already Know. Get your ticket here and use coupon code MARISMITH for an additional $100 off the already discounted price!!
Affiliate link.
---
CHAT MARKETING 2019 – Free Online Summit by MobileMonkey, Dec 12
Remember back in March this year, Mark Zuckerberg declared, "The future is private" and he penned his 3,200 word privacy manifesto?
Well, savvy businesses are clued in now. It's time for us to communicate with customers in the messaging apps they are already using! The future of customer communication is here.
I've partnered with MobileMonkey to help spread the word on their free, online chat marketing bootcamp on December 12th that will equip businesses with all the data, strategies, tactics and tools to upgrade the entire organization with instant, 24/7 automated chat agents. It's totally FREE! Get your free ticket here.
Brand Ambassador; tracking link.
---
Are you coming to #SMMW20? I've been honored to speak every year since my longtime friend Mike Stelzner launched this epic industry conference in 2013. I was thrilled to give the opening keynote on Friday at the 2019 event!
I'll be back again to lead another epic Facebook marketing session for 2020: How to Use Organic Facebook Content and Deliver Epic Results. Instagram Stories, Facebook ads, live video–it's a sea of options. How do you make sure you're not wasting your time on the wrong things?
Attend Social Media Marketing World in glorious sunny San Diego and learn from myself and my fellow expert speakers–people who are real practitioners. Let us help you navigate the changing social landscape.
Affiliate link.
---
I'm delighted to come back to speak at another favorite industry conference in my home town. This time, T&C will be even BIGGER and better than ever. An expected 10,000 attendees will gather at the San Diego Convention Center. T&C is the best at delivering actionable content. No big concepts or theoretical strategies –only tested, proven tactics that are working RIGHT NOW. It's all about increasing traffic, conversion, and sales. You don't want to miss T&C, especially if you want to learn from and talk to experts (and a few celebrities!) who have already built and scaled their businesses.
Friends of Mari can get $200 off any T&C ticket type with this link. Or just use code MariSmith200.
Not an affiliate link. Just a T&C tracking link and the $200 savings passed along to you.
---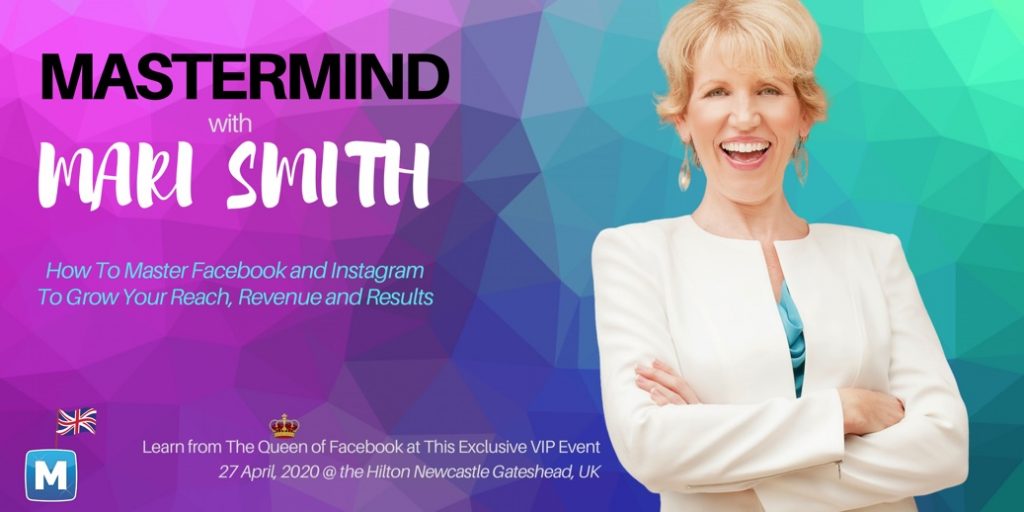 Friends in the UK / Europe: You're invited! Come Mastermind with the Queen of Facebook on 27 April, 2020 in England!
I'm so happy to be coming back to the UK and would love to meet you there! (As you may know, I am Scottish. Although born in Canada, I then lived in Edinburgh for 20 years before emigrating to California!)
I'm keynoting Andrew & Pete's annual ATOMICON event on 28 April, 2020. And the day before is the Atomicon Fringe day. For all my friends in the UK (or Europe, or anywhere if you want to travel in!), as part of this 'Fringe' day, I'm delighted to host a half-day Mastermind on 27 April, 2020. Tickets are on a super Holiday sale right now.
In this exclusive 3-hour mastermind, I'll take you on a deep dive into my best strategies for using Facebook and Instagram to grow your business. Plus, I'm also including a few of my best secrets on how to attract top speaking engagements and secure lucrative brand ambassador contracts!
Atomicon = not an affiliate link. My own mastermind = my own direct link.
---
NOTE: As stated in each section above, many of the links in this post are affiliate tracking links and/or I have a Brand Ambassador arrangement with the company. This means I may receive a commission when purchases are made through the links on this post.