Imagine Real-Time Shopping on Your Facebook and Instagram Live Videos! It's coming…
Facebook CEO Mark Zuckerberg recently streamed an exciting live update: new-and-improved Facebook Shops launched across Facebook, Instagram and soon Messenger and WhatsApp.
"Wait, didn't we already have shops on Facebook and Instagram," I hear you saying! 🙂
Yes, it's true, Facebook Page Shops and Instagram Profile Shops were both already in use by many brands and SMBs.
However, what's NEW is businesses will be able to set up a single online store that provides a unified presence for customers to have a fully seamless experience across Facebook + Instagram + Stories + ads (+ soon also Messenger + WhatsApp).
(I believe WhatsApp shopping will be particularly huge in developing countries when it launches. And, I'm sure Facebook's timing of this new shops product has a connection to the company's recent $5.7Bn investment for a 9.99% stake in India's Reliance Jio Platforms. Time will tell!)
Real-Time Shopping While You Stream Live on Facebook or Instagram
Plus, something I am personally most excited about is LIVE shopping that will allow your viewers to shop real-time while you stream live on Facebook or Instagram!
Live Shopping Features: People have been using live video on our apps to showcase products for years, from shoe stores announcing new sneakers to beauty influencers trying on different lipsticks. Now, we're making it easier to shop for products in real time. Soon, sellers, brands and creators will be able to tag products from their Facebook Shop or catalog before going live and those products will be shown at the bottom of the video so people can easily tap to learn more and purchase. We're starting to test this with businesses on Facebook and Instagram, and we'll roll it out more broadly in the coming months.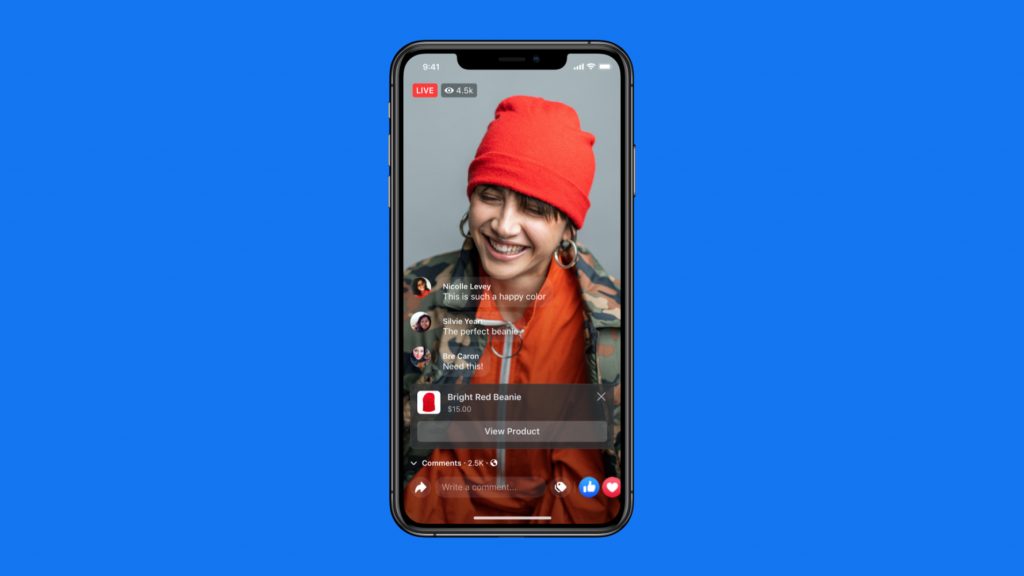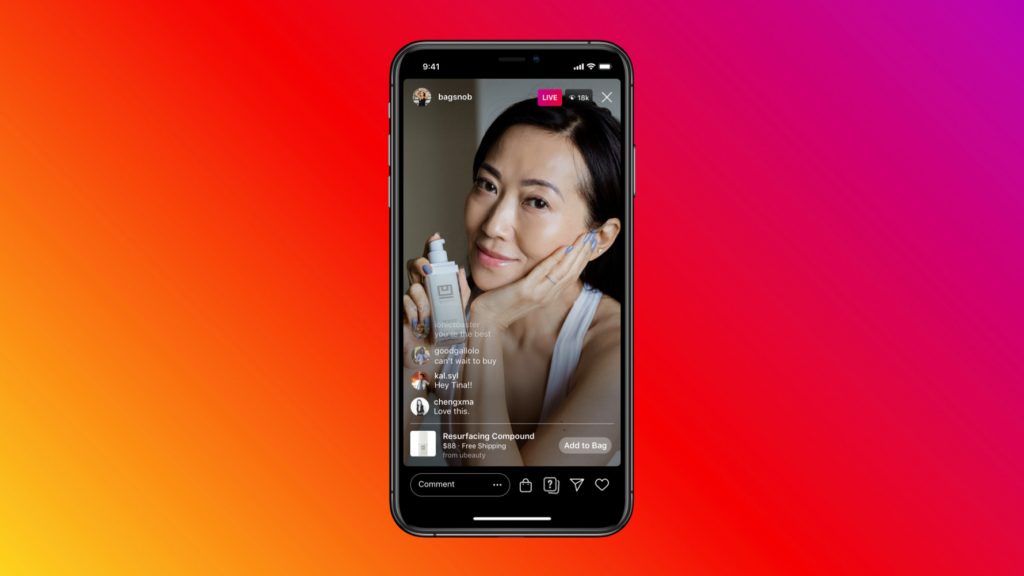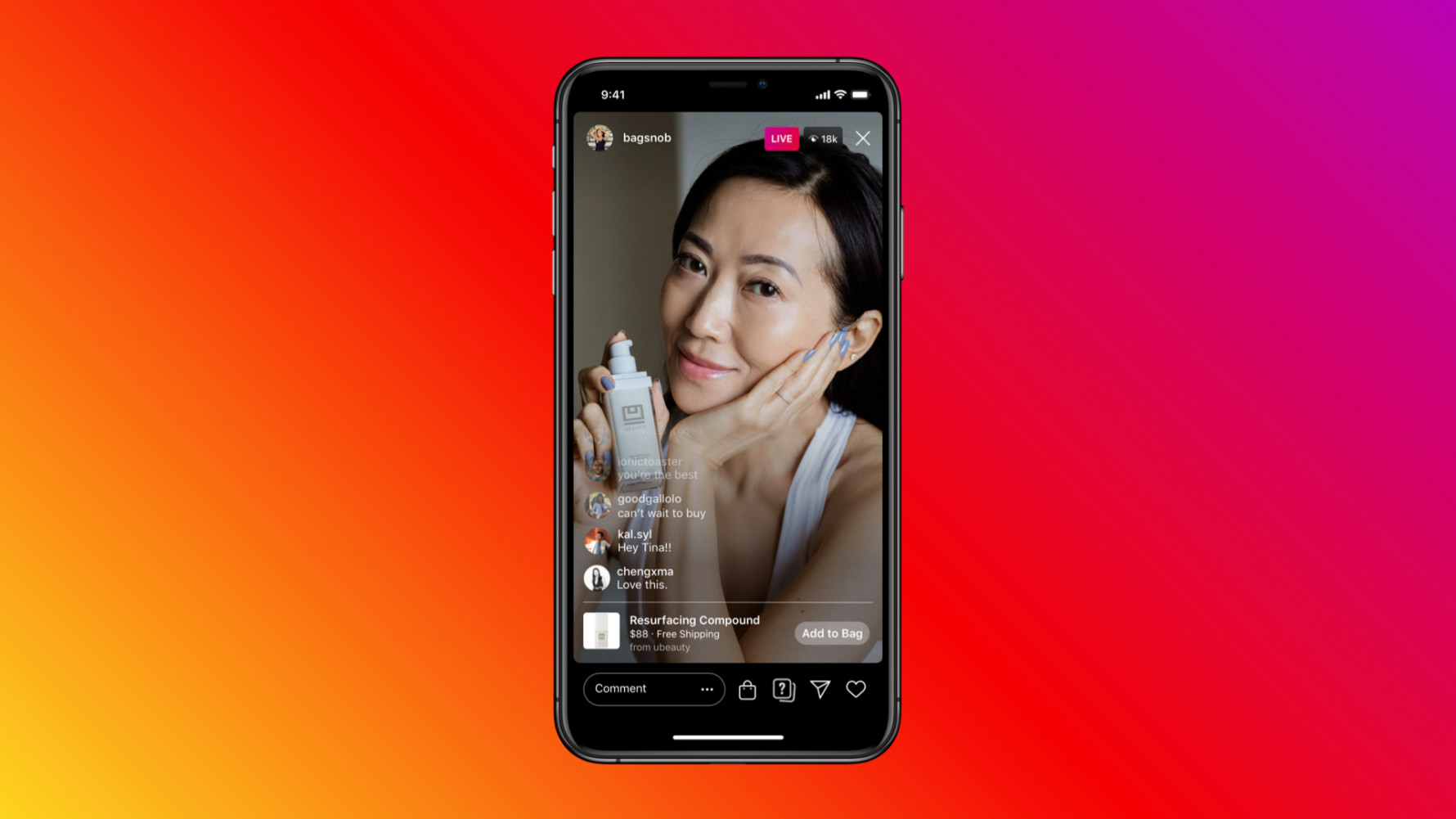 Guess what?
This live shopping feature was actually first in beta test mode clear back in 2017! I spoke about it in my Social Media Marketing World 2017 Facebook marketing session with a real example back then! I'm not sure what took Facebook so long to finally bring this awesome feature to market. Think HSN/QVC meets Facebook Live!
Check out my own Facebook Shops update (embedded below).
I also hosted this video in a Watch Party in my Social Scoop group on Facebook with Q&A.
The new Facebook Shops include both AI and AR:
AI systems will automatically identify and tag products in photos so people can link to the product photos. The AI will also personalize product suggestions for users.
Augmented Reality allows customers to get a preview of items in their home or try on makeup, sunglasses, etc. (This feature has already been out for a bit with some major brands testing it.)
Facebook is partnering with Shopify, BigCommerce, WooCommerce and several more third-party tools.
If you already have a Shopify store, for example, you'll be able to import your inventory/collections into Facebook Shops.
BUT, I would strongly recommend you still keep your website/Shopify store landing pages. As much as I love the platform, I never recommend SMBs put all their eggs into one Facebook basket!
Ideally, you want both/and because the Facebook Shops experience is native, quick, easy and users have their credit card information stored on the platform already. Plus, you'll be able to send instant order updates, customer service and package tracking, etc. via Messenger, Instagram Direct or WhatsApp!
What About Digital Products?
Facebook Shops is aimed at businesses that primarily sell physical goods.
However, according to a recent live Q&A with Layla Amjadi, Product Lead for Shopping on Instagram, she stated that Facebook is "working on a new set of tools for all types of businesses."
Q. What about those of us who have digital products such as design services?

A. With Shops, we're focusing on physical products. But we're working on a new set of tools for all types of businesses. Stay tuned.
NOTE: Your Instagram Profile Shop and/or Facebook Page Shop will automatically convert to a shop. You'll get an email when ready.
Shops have now started rolling out on Facebook in the United States and are coming to Instagram sometime this summer. Presumably, other countries will follow at a later date.
Introducing Facebook Shops: Helping Small Businesses Sell Online
See also Facebook's official announcement.