Friend Requests: Make yourself Visible on Facebook!
I recently saw a comment go by from one of my Twitter friends about how annoyed she gets when people invite her to connect on Facebook, yet they limit her view of their profile. I'm paraphrasing, because the language was a bit stronger! 🙂
In my experience, most Facebook members don't know how to properly adjust their privacy settings. Or they don't understand the implications of all the settings.
For me, I choose to have most all of my profile page viewable by anyone for the very reason my Twitter friend is pointing out: how will you know you'd like to connect with me unless I let you see at least some information about me?!
HOW TO PROPERLY ADJUST YOUR PRIVACY SETTINGS.
First, know that the navigation on Facebook is the same on every single page. The top, left, and bottom links ALL relate to your account.
So, click on privacy at the very top right (also appears at the very bottom right), and on the page that comes up click on Profile as shown in the screenshot below: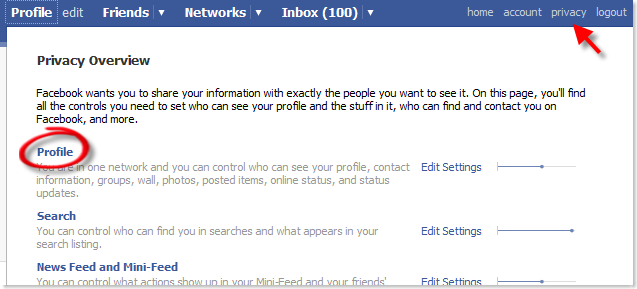 On the next page, click on the dropdown menu next to Profile and make sure the setting is All my networks and all my friends. This should hopefully be self-explanatory.

However, you also need to tweak the settings to override this one for everyone outside of your network. Otherwise, you're not visible to millions of potential new friends in all the other networks.
So return to the privacy page and click on Poke, Message, and Friend Request, as shown in the screenshot below: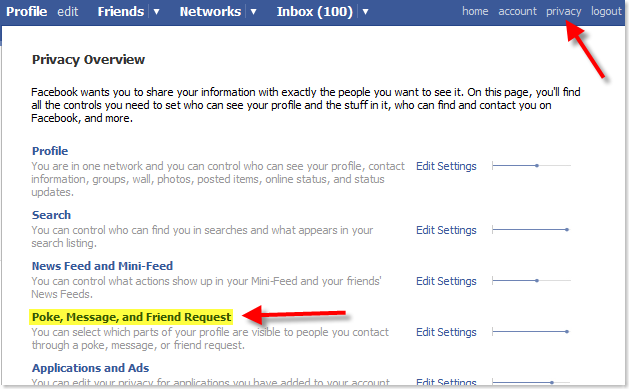 On the next page, you now have the option of selecting any or all of the various portions of your profile that you'd like to temporarily allow anyone to view.
As I've highlighted in turquoise for you below, you'll see what this does is help people identify who you are before they respond.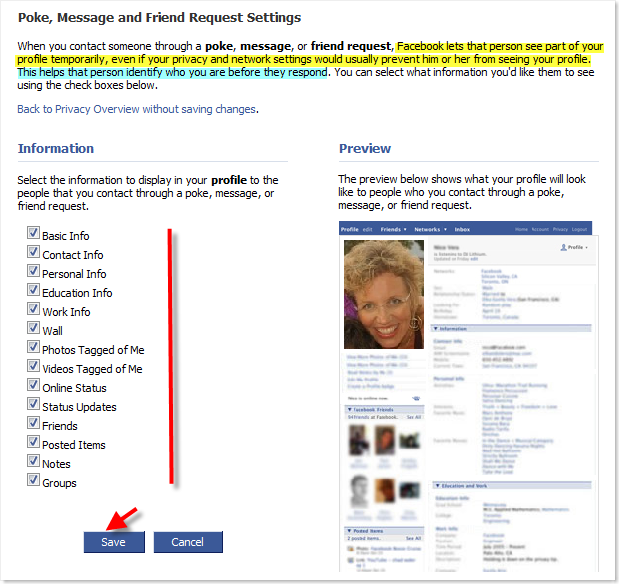 As you can see, I've chosen to select all the categories. If you deselect all of them on your settings, people who are not your friends and who are outside your network (depending on which setting you chose under Profile), will NOT be able to see anything about you except your name and profile picture. That's it. (I actually helped my mom set up her profile like that so she could feel confident with the highest level of privacy).