2015 Year In Review – A Magical Year of Travel, Speaking and Partnerships
Wow, 2015 was truly an exceptional year for me! At the beginning of each year, I love to select one word as my overarching theme for my professional and personal life. The word helps guide most all of my goals and decisions throughout the year. I've done this practice since 2007, and it's always amazing how powerfully the word serves me throughout the entire year.
Partnership
2015 was no exception. My word was PARTNERSHIP.
At the time I chose this word, I don't think I could have envisioned all that would unfold in the name of partnership!! Take a look at this fun video montage, showcasing the highlights of my magical year of travel, speaking and partnerships. 🙂
2015 Year In ReviewMy one-word theme for 2015 was PARTNERSHIP and, whew, it sure did come true in *so* many ways!!! Check out the blog post: http://www.marismith.com/2015-year-in-review-magical-year-of-travel-speaking-and-partnerships/(I'll be sharing my 2016 word very shortly! Do you have yours yet?)Video created using the awesome Animoto app.

Posted by Mari Smith on Thursday, December 31, 2015
Video created with Animoto.
Facebook
First, Facebook hired me to go on tour with the company and help teach and consult at a series of Boost Your Business events for small and medium size business owners across the United States. Facebook used the word "partner" when referring to our relationship. Love that – great manifestation!
After being a raving evangelist for Facebook – specifically for business use – since May 2007, this was truly a dream come true to be able to work directly with the company and help more businesses really understand the power of Facebook and Instagram marketing to grow their businesses.
Several thousand people attend the Boost Your Business events. In addition to presenting and moderating a panel of successful local business owners, I also provided 1:1 consultations for hundreds of attendees, answering their most pressing questions about building their business using Facebook!
I plan to write additional blog posts in the coming weeks with highlights from the tour, as well as spotlighting the incredible 16 featured small business panelists. Stay tuned!
Speaking
The first half of my 2015 was fairly light with travels… then I sure made up for it from June through November with a flight almost every other week.
Along with touring with Facebook to speak at the four marquee Boost Your Business events in San Diego, Minneapolis, Nashville, and Boston, I spoke at the annual Social Media Marketing World* in San Diego for the fourth year in a row! (*Come to Social Media Marketing World 2016 and find out how you can also attend my Facebook workshop for free!)
Plus, my travels took me overseas to England to keynote The Big Social Media Conference (followed by a lovely visit with family in Scotland!)
My favorite destination this year was Puerto Rico where we got to indulge in the most decadent luxury at the St. Regis Bahia Beach and the Dorado Beach, a Ritz-Carlton Reserve.
I taught Facebook marketing at The Bridal Circle's Inner Circle Experience for wedding professionals and luxury brands.
Interestingly, I got to visit three cities two times each this year: Nashville, TN + Minneapolis, MN + Boston, MA. All cities have their magic, but I must say, I took a particular liking to Boston, especially the Harvard area (where I taught Facebook marketing at Harvard University!).
I also really enjoyed leading a packed breakout session at HubSpot's annual INBOUND conference in Boston, with 15,000 attendees – wowee! (Watch a segment of my session by my friend Peg Fitzpatrick via Facebook Live stream.)
And, one of my favorite stages on which to speak was Christ Church Nashville for Dave Ramsey personality, Christy Wright's inaugural Business Boutique event with 1,200 women.
Adobe
Another fabulous partnership: I'm honored to be a Brand Ambassador for Adobe Post – an awesome new mobile app for creating stunning social graphics in seconds – it's like Canva for mobile!
The Post app is very easy to use, works seamlessly with Lightroom, and has a number of unique features rolling out, such as video backgrounds. Stay tuned for even more nifty features coming soon.
Business.com
I also formed a partnership with Business.com; I'm delighted to be an official Marketing Expert, contributing helpful Facebook marketing and social media blog posts each month. In addition, we will soon publish a series of short #MariMinute Facebook marketing video tips.
In August, I ran my first Makeover with Mari contest and our lucky winner was Leah Tremain, CEO and Founder of Tremain Media in Campbell River, BC, Canada. Leah enjoyed a wonderful two-day visit in San Diego, where we also conducted some of the makeover process at Business.com's offices!
Animoto
As I'm sure you know, video is on the rise when it comes to content marketing, especially on Facebook! I'm delighted to team up with Animoto to create fabulous videos for business use. Animoto lets you create professional quality videos with your photos and video clips in minutes. I love how easy the drag and drop interface is to use.
I created the video montage for my 2015 Year In Review using Animoto and had so much fun, I need to create a screencast showing exactly how I put it together. 😉
More Partners
Other partners that I'm blessed to work closely with in 2015 and 2016 include LeadPages, Infusionsoft, Vionic, 22Social, BuzzSumo, Cision, WordStream, AdEspresso, AgoraPulse and many more to come, such as Shopify.
Plus, as one of the original fire starters that helped launch Social Media Examiner, I'm thrilled to be back blogging regularly for this mega online magazine.
…and cars!
Thanks to my friend Guy Kawasaki, I got to fly up to Sunnyvale, CA and take the Mercedes' autonomous (self-driving) car for a test drive!
Okay, I got to sit in the back seat (with my friend, Mike Stelzner) while we were taken for a drive by a trained Mercedes self-driver! It was a fabulous day, and Mercedes sure rolled out the red carpet.
"Our success has really been based on partnerships from the very beginning." Bill Gates
Wowee. What an AWESOME year of Partnership.
And, guess what? It's been an amazing year for personal partnership, too. (I got to travel with my wonderful partner, Christopher, for most all of my trips this year!) Yay! 🙂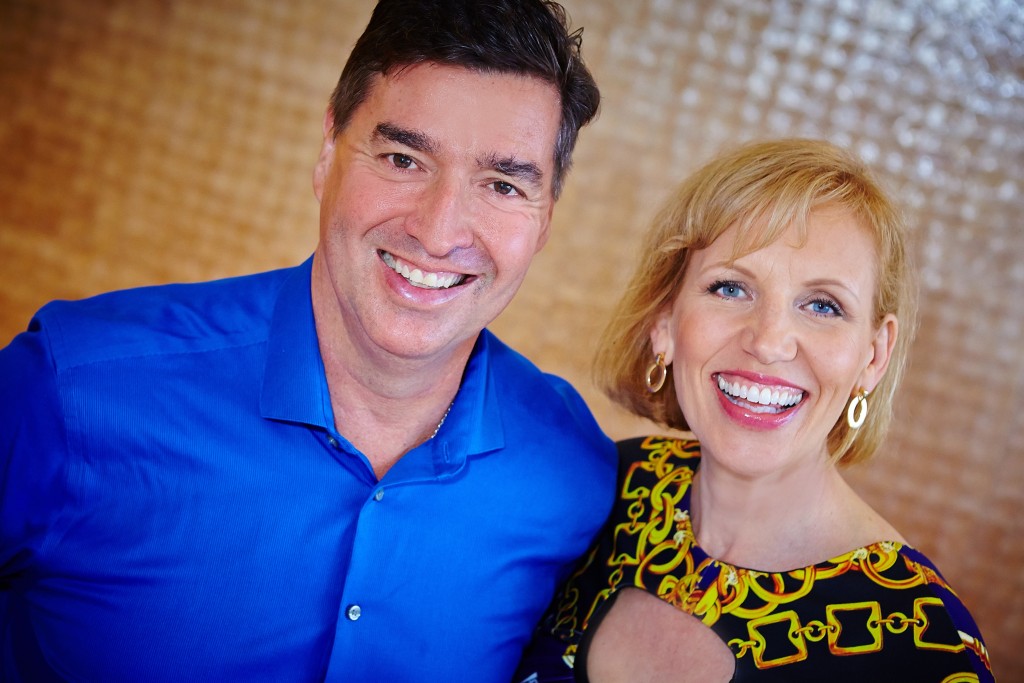 How about you? What did you love about your 2015? If you could choose a one word theme for your 2016, what would it be? I'll be sharing my own 2016 word in the next post, hehee!!