10 Awesome Instagram Posts To Boost Your Business
I'm always raving about Facebook (especially with the exciting news lately!). However, for this week's issue of The Social Scoop, I thought I'd put the spotlight on a different platform: INSTAGRAM!
Instagram is one of the fastest growing social networks this year, with over 300 Million monthly active users. (Yes, it's owned by Facebook!)
At first glance, Instagram does have a more informal nature. (I tend to share much more personal posts on my own IG profile @mari_smith, but there's always a strategic intent!)
This fun video montage was created using the Flipagram app – one of my faves! Featuring photos taken at my friend Darren Hardy (publisher of SUCCESS Magazine) book launch event for his newest book, The Entrepreneur Rollercoaster. 🙂 
Many savvy businesses and brands are getting in on the action with awesome Instagram content that's creating real results.
Our featured article, written by the fabulous Peg Fitzpatrick, contains plenty inspiration to help make Instagram work for you.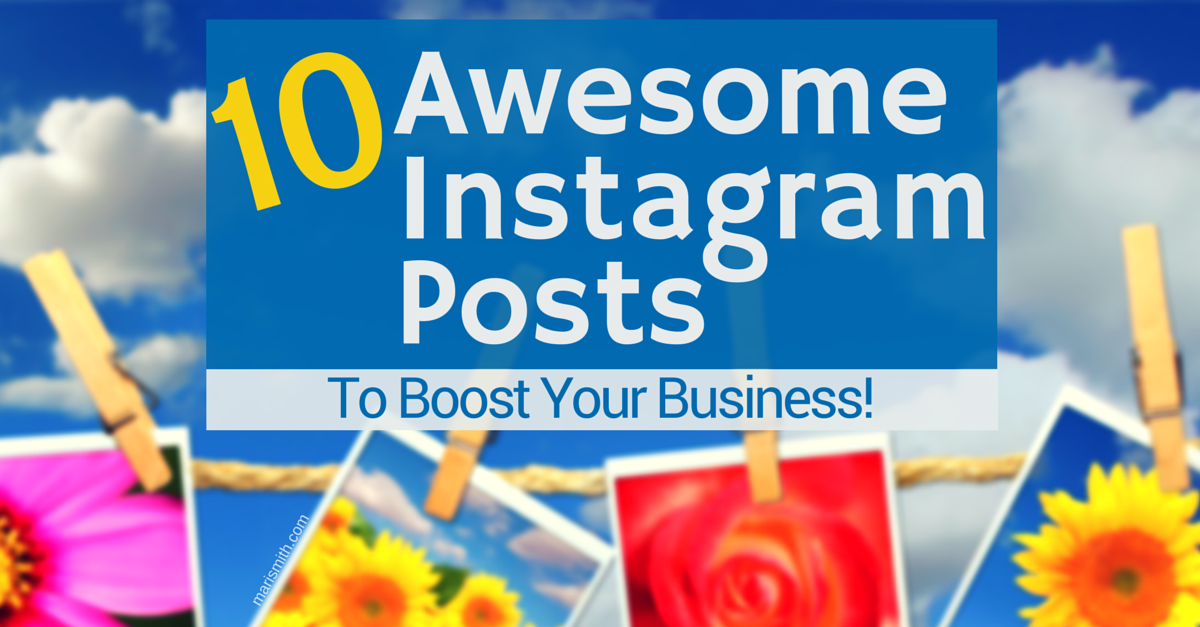 The blog version of this week's edition of THE SOCIAL SCOOP weekly newsletter follows below! If you're already subscribed, you'll continue to receive The Social Scoop via email on Fridays. If you're not yet signed up and would like to be, please enter your name and email in the box to the right (desktop) or below the post (mobile). Thank you!
Mari's Top Social Media Picks – May 8, 2015 Issue #148
Greetings! Please enjoy this week's top articles we've picked for you!
by Peg Fitzpatrick on MaximizeSocialBusiness.com
Need help figuring out what to post on Instagram? Check out these 10 great post ideas and explanations on why they work. Number 6, for example, is a great way to show the personality of your brand.
via HubSpot.com
It can be challenging for corporations to make that personal connection with their audience, and really demonstrate the P2P factor. That is, People to People. Whether you service the B2C or B2B sector, it's really all P2P. I love the ideas in this article, especially my fave in #2 by the Dollar Shave Club!
Humanizing Your Brand: 8 Tips for Making Your Voice Real (and Heard) http://t.co/LlE2LKVjMt via @hubspot | Great post! — Mari Smith (@MariSmith) April 28, 2015
via Fundbox.com
Public speaking is one of my all time favorite ways to share knowledge and get out there to meet people IRL (in real life!). It also ranks high on the list of people's biggest fears. So, the better prepared you are when speaking, the more comfortable you'll feel. Make sure you shine in your next presentation with the tips in this article!
That's a wrap for this issue of The Social Scoop. Here's wishing you a wonderful weekend and super special week ahead!
On a personal note, this weekend, I'm looking forward to meeting up with an awesome colleague in town from France as well as enjoying some much-needed R&R! Mari Smith International is expanding … and hiring! Exciting times for sure, but also must pace myself and keep that balance right.
Cheers!
Mari

Free webinar – May 19th
Just announced! My next FREE Facebook marketing webinar is coming up on Tuesday, May 19th at 12pm PT / 3pm ET. I'll be sharing the Top Ten Mistakes Businesses Are Making On Facebook… and How To Fix Them! Plus, you'll get instant access to my latest Facebook Marketing Guidebook – 10 pages packed with helpful tips you can implement right away. Register here to get the Guidebook and save your spot on the webinar.