Win A Facebook Marketing Makeover: New Facebook Contest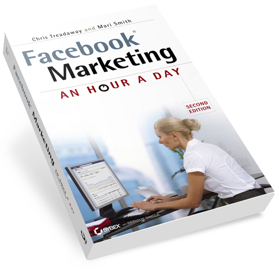 To celebrate the release of my newest Facebook marketing book – Facebook Marketing: An Hour A Day, Second Edition – coauthored with Chris Treadaway, I just launched a fun contest on my Facebook fan page! The grand prize is a "Facebook Marketing Makeover" worth $1,000.
Complying with Facebook's Contest Rules
As you may know, Facebook has strict rules around running contests on fan pages. The Promotions Guidelines have changed over the years and have, in fact, become more simplified. The main thing to know is that you must use a third party app when administering any type of promotion (contest, drawing, competition, or sweepstakes) on your fan page. Fortunately, there are several excellent Facebook contest apps to choose from – two of my favorites are Strutta and Wildfire. For a list of other apps plus more on the rules, see my popular guest post here on SocialMediaExaminer.com
How do you know if your promotion needs to abide by Facebook's terms? ANY time you are selecting one or more winners, your promotion falls into the category to which Facebook's rules apply. If, however, you're doing a giveaway such as a free ebook or coupon code and EVERYONE gets one, then that's just fine and you can promote that on your wall or a tab.
My first Facebook Contest – "The Great Facebook Timeline Cover Image Contest!"
I've been active on Facebook for exactly five years now. And, this is my FIRST ever contest – how exciting! Like millions of other business owners out there, I had great ideas for contests over the years but always got stopped at four things: 1) selecting the right app with the right elements, 2) creating the right look and feel and all the brand assets, 3) crafting a compelling contest with a great prize, and 4) ensuring the entry requirements are simple, and easily understood. Plus, as I'm sure you know, it's never a case of "if you build it, they will come." We need to get out there and let people know about the contest!
Facebook contest app, Strutta
I've had a great relationship with the good peeps at Strutta for several years. So, now that I finally decided to launch my first Facebook contest, I teamed up with Strutta and they have provided spectacular customer support and guidance! Each step of the way, in short order, CEO Ben Pickering and his dynamite team worked with my team to create a striking campaign. My team and I have learned a LOT along the way and I'll be publishing a follow up post with results and recommendations for running your own successful Facebook promotion.
Meantime, my first contest is underway now and entry is real simple: users upload a Timeline cover image from their personal profile, but ideally from their fan page. Anyone can vote for their favorite entry. I will be selecting the winner from the top ten entries with the most votes.
The grand prize is a free ticket to my next online training course: Facebook Money Mastery which starts on June 5th plus a personal social media critique – we're calling the combo package a Facebook Marketing Makeover and it's worth $1,000! Three runner up prizes include personalized signed copies of Facebook Marketing: An Hour A Day – Second Edition.
Go submit your entry now – and good luck!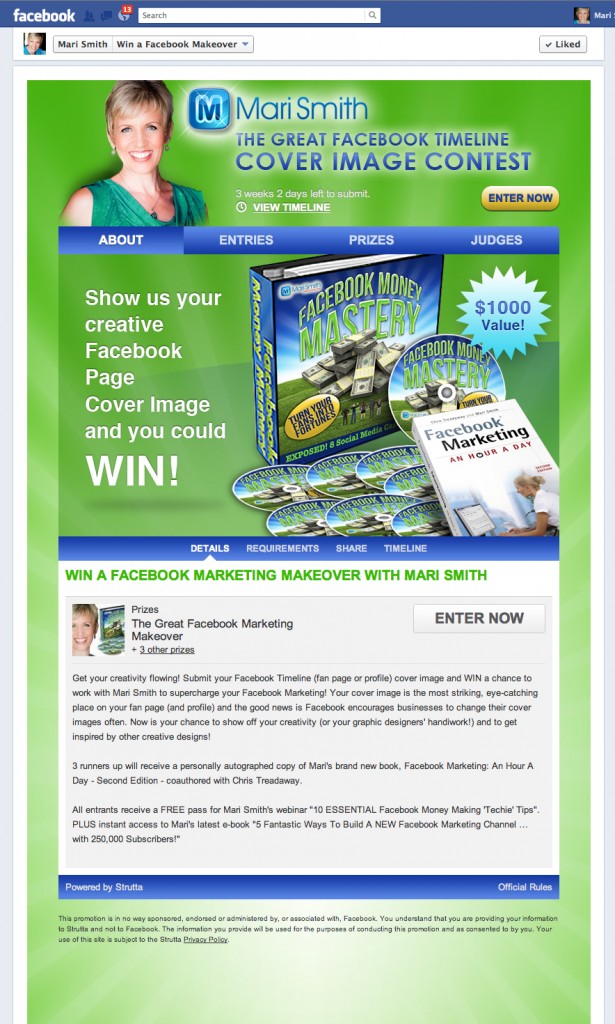 Important notes for entrants:
I needed to add in the following points after the contest was live – it's amazing what happens when you launch something and think it's crystal clear… then things come up that need to be addressed. It's all good though, like I say, I'll be sharing a follow up post with my blog readers on all the do's and dont's on how to create a killer Facebook contest! 😉
Your cover image *must* comply with Facebook's guidelines: No contact information, no calls to action, and no arrows pointing to Facebook features such as the Like button. If you submit an entry that does not comply with Facebook's terms, we may contact you privately and suggest that you revise your cover image and re-submit. (This one just makes sense; several of my fans brought it up on a wall post so I added this line in. Obviously, I cannot select a winning cover image that clearly breaks Facebook's cover image rules!)
You *can* submit cover images from your profile and/or fan page. We are looking for cover images that are creative, striking, different, unusual, clever, or bold, and/or that creatively workaround Facebook's terms but still comply.
If your cover image has been designed to incorporate the profile picture as well, you can take a screenshot of the combined cover image + profile image and then upload that combo image as your entry. (This was another point that a fan brought up. Some cover images have been cleverly designed with a seamless combo image where the cover image by itself doesn't quite make sense, e.g. Fanta's fan page.)
When selecting an image to enter, the contest app gives you the option to choose a photo from your Facebook album. The way Facebook works is you can only choose from your personal profile photo albums. To select an image you've previously uploaded to your fan page, you'll need to submit by uploading from your computer. (I had to add this one in, because the way the Strutta photo contest is set up by default, users can select photos from their photo albums… BUT that means their personal profile photos load up from which to select images, not their fan page albums. To submit a fan page cover image, users need to upload from their computer.)
NEWSFLASH! My last Facebook marketing webinar back in January was a huge hit with over 15,000 registrants. It's time for an update with all the myriad changes on Facebook in the past four months! I'm offering another free Facebook marketing webinar coming up on May 15 at noon PST – 10 ESSENTIAL Facebook Money-Making 'Techie' Tips. PLUS, it includes my latest 20-page special report 5 Fantastic Ways To Build A NEW Facebook Marketing Channel … with 250,000 Subscribers! Just pop your name and email below if you'd like instant access to the report and I'll save you a seat on the webinar (if you can't join us live, I'll send you the replay anyway!)