How to Use Facebook Ad Targeting, Split Testing & More: The Social Scoop 4/3/17
As usual, just one week goes by and there are a ton of new Facebook features and changes. I attended a 'News On Facebook' event in San Diego, California last Thursday as part of the Facebook Journalism Project. It was well worth investing a day to learn directly from the Facebook team; they rolled out the red carpet for us. (The journalism event is coming to Denver & Chicago next and more US cities TBA.)
What's New In Facebook-land?
It's really fascinating to see how quickly Facebook's tools for the traditional media industry are shifting: from live video, two person, multi-person, 360 live, live audio, Instant Articles and now Facebook Stories – pretty much the same as the very popular Instagram Stories!
And, continuing the crusade against 'fake news,' CUNY just announced a $14M News Integrity Initiative to Increase Trust in Journalism, with Facebook as one of the key founding funders. This is very heartening! By the way, I recently partnered with theMaven an invite-only, expert-driven, group media network called theMaven…and can hardly wait to share more with my community. We officially launch mid May at a fab event in Seattle, WA. Stay tuned!
6 New Facebook Updates
I created this video with six of the newest Facebook updates in the past week or so, including all profiles and Pages can now stream LIVE video in 360 + Facebook is testing the ability for Pages to create groups and engage in groups. Yay, long awaited! Btw, I made this particular video in the new Wave online video editing tool by Animatron – just debuted at the recent Social Media Marketing World 2017.

This Week's Top 3 Articles
1. 6 Ways I Use Facebook Ad Targeting via JonLoomer.com
Targeting your Facebook ads to the right people at the right time can make a massive difference. Thing is, there is such an array of options available for targeting and, for most busy business owners, it can feel overwhelming knowing where to start. In this article, my long time friend and fellow Facebook expert Jon Loomer walks you through both how and when he uses ad targeting. 
2. Facebook Advertisers Can Now Optimize Their Campaigns With Split Testing via Adweek.com
While we're on the topic of Facebook Ads, Facebook announced that advertisers will now have the ability to test ad variations. This is great news! Split testing allows you to refine ad campaigns to see what wording, visuals and calls to action work best. According to Facebook split testing leads to a median 14% improvement in cost per acquisition. Love that!
3. 7 Effective Techniques for Better Email Marketing via Buzzsumo.com
Do your emails get good results? Some of the most effective email marketing techniques are the opposite of what you'd expect. Subject lines, closing lines, length, and more, all make a difference and by making a few small changes you could see significant improvements. Check out this great article by one of my favorite companies! 
Meet Mari Around The World!
I'm SO excited today… I'm jetting off to Scotland to spend a fabulous week with my family. A bit of a 'working vacation' hehee! I always love visiting my sweet father – he's 80 and in a care home. I treasure our moments of connection. Then, next week, I'm heading over to Ireland to keynote the Social Media Summit Ireland – see you there if you're going. Woohoo!
I'm delighted to be booked to speak at so many fabulous events around the country and the world. Several more events are now confirmed since last week; I'd love to meet you in person at any of these events!!
Social Media Summit, Dublin, Ireland – April 11-12 #SMSummitIRL
Facebook's Annual F8 Developer Conference – San Francisco, CA – tune in online or find a local meetup
Arbonne's Global Training Conference, Las Vegas, NV – April 20-22
Marketo's Marketing Nation Summit, San Francisco, CA – April 23-26 (featuring Queen Latifah & James Corden!)
International Bowl Expo, Nashville, TN – June 18-20 (featuring Shaquille O'Neal!)
Unbounce's Call To Action Conference, Vancouver, BC, Canada – June 25-27
Mayo Clinic Social Media Network Member Conference, Scottsdale, AZ – Dec 11-12
…more dates and cities to follow!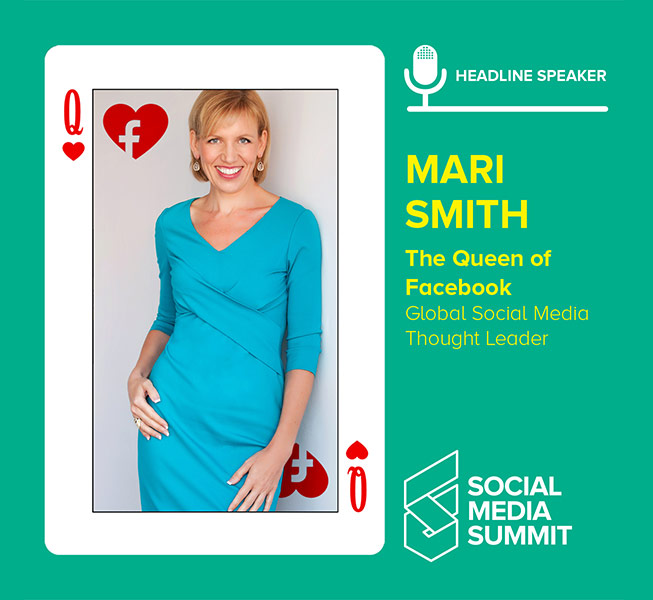 That's all for this week's issue of The Social Scoop. I hope you have an amazing weekend and week ahead!
Cheers,
Mari
P.S. Hey Friend, I'm just adding a wee personal note down here, let's see who reads it. Hehee. As you may know, I've been sending out my weekly newsletter The Social Scoop for many years, never missing an issue. I typically always send on Friday mornings PST. I do have a fabulous team and have help curating content and creating drafts. 
I really love to sift through the latest news and bring the best highlights to you. Ultimately, I'm always the only one who crafts my newsletter and social posts in my voice.
But, these past several weeks, due to back-to-back events and travels, I have not been able to send my newsletter out on my usual Fridays. Some weeks it's been Sunday or Monday or Tuesday! Yikes. Oh, the judgemental thoughts I've had… making myself wrong, worrying that the world will stop spinning. Haha, kidding on that one… a bit. I had been thinking lately to change up the publication date to a Tuesday, Wednesday or Thursday… I should do a survey. 
Even so, my point is, sometimes we set goals and milestones and deadlines and such for ourselves… then worry about what people will think if we don't achieve those. As a busy business owner, maybe you can relate. I was actually heartened to receive messages from many of my wonderful, loyal subscribers the other week asking where The Social Scoop was and just making sure everything was okay!! 
Just some musings from me. Bottom line, all is well in Mari-land and the world keeps spinning no matter what. I believe we're all doing our best in this fast-moving life. It's good to have regular schedules and stick to publication dates, of course. But it's also okay to cut ourselves some slack now and then. (Unless you're a major publication, in which case you likely have a giant team!)