The Top Facebook Content of 2017, Facebook Custom Audiences 3x More Effective, & More: The Social Scoop 12/17/17
Facebook recently announced that VIDEOS will get (more) PRIORITY in the News Feed when they meet one or both of these two criteria:
Videos that people proactively SEARCH for and/or visit a Page to find, and
Videos that people RETURN to watch from the same publisher or creator week after week.
What does Facebook's latest News Feed algorithm change mean for marketers?
It means, to be successful on Facebook today, we must focus on creating and publishing regular video content in a show-like format and/or with episodes.
Facebook is absolutely on a mission to become a leader in the digital streaming television industry with its Watch platform. The advertising revenue from mid-roll and now pre-roll video ads will help Facebook (oh, and businesses!) to continue growing.
I share more about how this latest News Feed ranking algorithm change impacts businesses and what you can do about it in this video.
Is your Facebook reach down? Here's what to do…
Given the meme currently doing the rounds on personal profiles about Facebook 'choosing' what and who you see, I explain the real story in this video. (Spoiler alert: Facebook has always chosen posts for us since the invention of News Feed!)
This Week's Top 3 Articles
1. The Most Shared Facebook Content 2017. The Top Viral Posts, Videos and Articles by Steve Rayson on BuzzSumo.com
What content types perform best on Facebook? My good friends at BuzzSumo have outdone themselves in this epic post! They analyzed a whopping two billion Facebook posts from 2017. At first glance, the results could make it seem like only celebrities or companies with big marketing budgets get the viral hits. But, there's a lot more to BuzzSumo's detailed analysis here. Read on to see how you can dramatically improve your content in 2018, and be sure to check out my own expert contribution and recommendations toward the end of the article!
2. 3 Strategies to Make Your Facebook Custom Audiences 3X More Effective by Larry Kim on Wordstream.com
Here's a funny question: Are your custom audiences on Facebook "unicorns or donkeys?" Teehee! My brilliant friend, Larry Kim (CEO of MobileMonkey, Founder of WordStream and top columnist for Inc Magazine), shows you how to use Facebook's ad and Audience Insights tools to clearly identify the best-performing target audience segment for your ads, and eliminate or reduce the segment that won't yield the best ROI. The result? Your ads' performance will definitely improve!
3. Four Tips for Using Video Content in Social Media by Shachar Orren on MarketingProfs.com
Video is really dominating social media marketing now, across pretty much every platform. (It won't be long before LinkedIn introduces live video broadcasting, in keeping with Facebook, YouTube and Twitter!) Be sure to review and refine your video content strategy, e.g. consider viewers' short attention spans, and take into account how their point of view is affected by your camera angle. Good tips here.
Get Results With Facebook Video… FAST!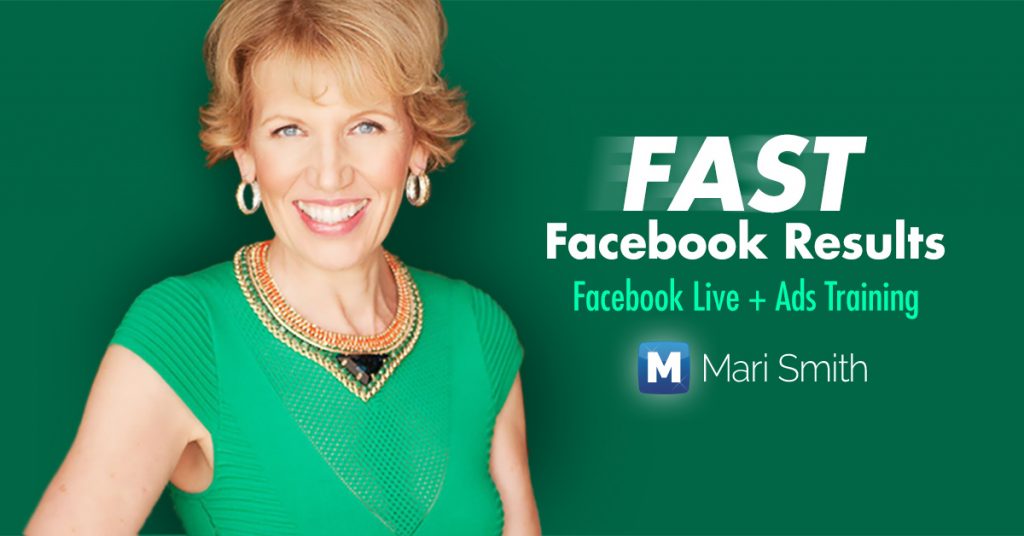 My newest online Facebook training program is under way — and there's still time to quickly catch up with the two Modules:
MODULE #1 – GETTING STARTED…FAST!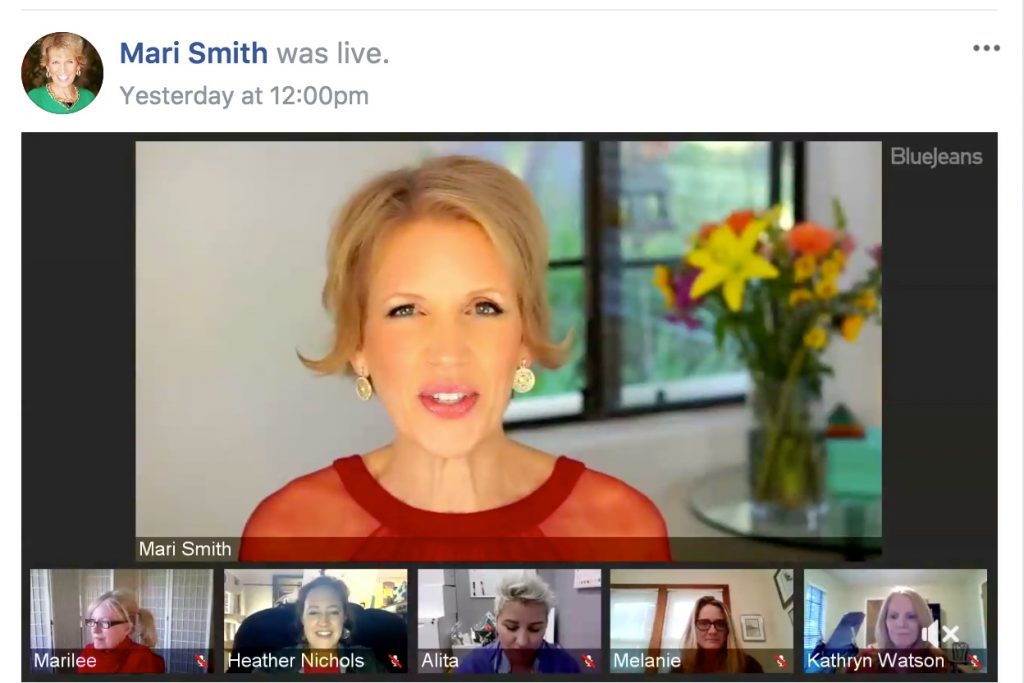 MODULE #2 – THE BEST VIDEO APPS & TOOLS TO USE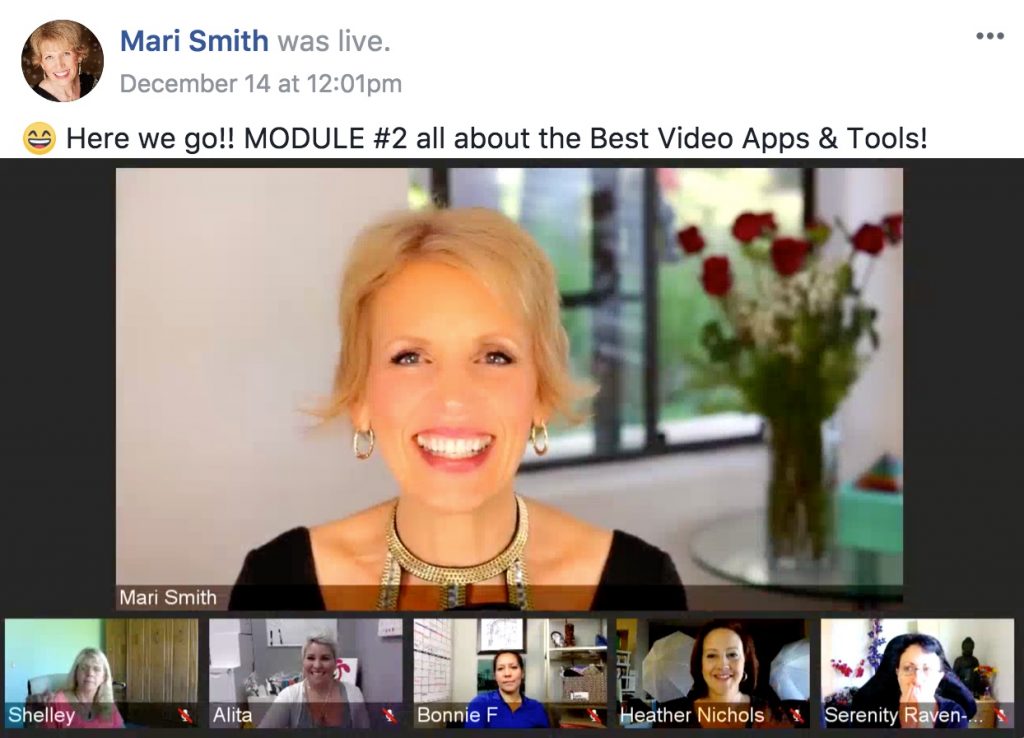 Want to learn how to increase your reach, results and revenue on Facebook? There's still time to join my FAST Facebook Results program! Most businesses struggle to optimize and monetize video. My new program is designed to help you quickly grow your reach, results and revenue using video on Facebook. SAVE $300 before December 26th!
Free Resource: VIDEO GEAR LIST
P.S. Did you download my VIDEO GEAR LIST yet? I designed this fabulous free resource to help you get started with professional equipment for quality Facebook Live video broadcasts! You'll find 3 important sections: Lighting, Microphones and Cameras. I know you'll find it super valuable.
 Download the Video Gear List here + find out more about my brand new FAST Facebook Results Program!
Get instant access to my new VIDEO GEAR LIST. This fabulous free PDF is packed with my own list of equipment that I use in my professional home-office studio and everything I take on the road for a professional mobile studio! Tap/click the button below.