Study: Facebook Native Videos Perform Better, Content First Marketing and More: The Social Scoop 3/17/17
Greetings!
I just shared this amazing compilation of the latest Facebook Live & Video Streaming Stats & Facts on my Facebook Page, including:
Facebook users gaze 5x longer at video content than static content
90% of Facebook viewers think video quality is the most important aspect of Facebook Live videos.
85% of Facebook videos are viewed without sound

.

(All the more reason to design your videos for sound-off. Use captions & lower thirds. Check out the fabulous app Animoto.com & enter code 'marchgladness' for 20% off!)
Mobile and tablet shoppers are 300% more likely to view a video than laptop/desktop users. (Woa!)

Facebook Live Video Stats, Facts & Resources from Mari Smith
The Most Effective Ways to Use Facebook Live
Did you catch the Facebook live show I did with Wirecast this week? We had a great turnout and pushed the envelope with tech! Here's the instant replay:

Meet Me In San Diego? Special Facebook Event, March 25th
If you're coming to Social Media Marketing World 2017 on April 22-24 (and/or you live in the So.Cal. area!)… come join me the day after for a fabulous half-day event with a small group, Facebook Business Briefing & Brunch with Mari Smith & Friends – March 25th, San Diego, CA. Tickets are going fast, we'd love to see you there.
Meet me in America's finest city, San Diego, California – and get the very latest inside scoop on Facebook marketing, ads, campaigns & social media marketing techniques.
Come learn what's working today on Facebook ….discover what Facebook insiders know and the very best performing businesses recommend to skyrocket your success on Facebook and Instagram.

This Week's Top 3 Articles
1. Study Proves: 1055% Higher Share Rate on Facebook Native Videos via Quntly.com
If there was ever any doubt about whether to post YouTube or other video links vs. native Facebook uploads on Facebook, this in-depth study shows you hands-down that you need to be uploading native videos! You'll get way more reach, higher engagement rates and more shares. (Along with Facebook Live, remember you can create amazing professional quality videos using Animoto!)
2. Joe Pulizzi: A 'Content-First Business' Is The Future Of Marketing via CMO.com
My friend Joe is one of the sharpest minds in the marketing arena. Check out this highly informative interview with Joe Pulizzi, founder of The Content Marketing Institute, where he talks about how content marketing is at the top of the 2017 CMO agenda, it's forecast to be a $300-plus billion industry by 2019, and why publishing is the future of marketing.
3. 5 Brand Building Best Practices to Focus on in 2017 via JustCreative.com
A strong brand communicates trust and credibility to customers. Check out this post for five top branding tactics for getting your branding strategy right. With millions of businesses striving for brand recognition, it's important to invest proper resources and efforts to really stand out.
Meet Mari Around The World!
I'm delighted to be booked to speak at so many fabulous events around the country and the world. Several more events are now confirmed since last week; I'd love to meet you in person at any of these events!! ?
Social Media Examiner's Social Media Marketing World 2017, San Diego, CA March 22-24 (Virtual Tickets also available)
NEW!!! FACEBOOK BUSINESS BRIEFING + BRUNCH with Mari Smith & Friends, San Diego, CA – March 25 (Immediately following SMMW17, limited to 35 attendees)
Social Media Summit, Dublin, Ireland – April 11-12 #SMSummitIRL
Special Facebook Event in San Francisco – April 18-19
Arbonne's Global Training Conference, Las Vegas, NV – April 20-22
Marketo's Marketing Nation Summit, San Francisco, CA – April 23-26 (featuring Queen Latifah & James Corden!)
International Bowl Expo, Nashville, TN – June 18-20 (featuring Shaquille O'Neal!)
Unbounce's Call To Action Conference, Vancouver, BC, Canada – June 25-27
Mayo Clinic Social Media Network Member Conference, Scottsdale, AZ – Dec 11-12
…more dates and cities to follow!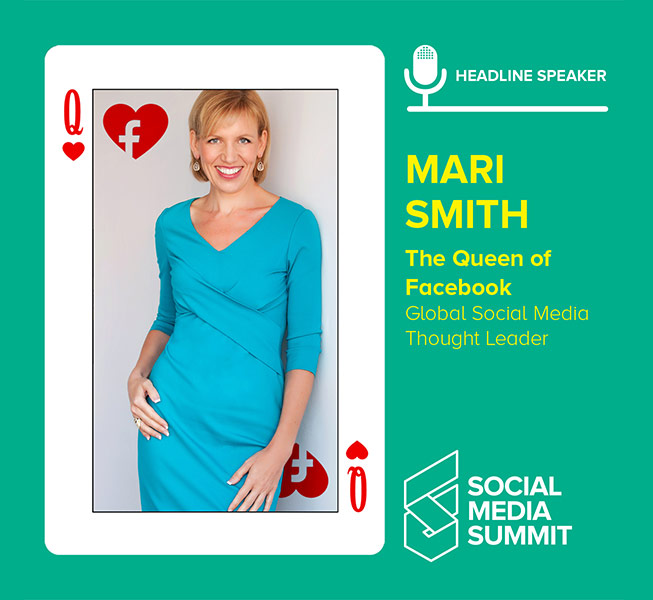 That's all for this week's issue of The Social Scoop. I hope you have an amazing weekend and week ahead!
Cheers,
Mari
Save