Should You Merge Your Facebook Place Page and Business Page?
Facebook launched many great new products this year, not least of which was Facebook Places – which went live on August 18, 2010. Facebook Places is a terrific product for both local businesses and Facebook users alike, especially since the launch of Deals.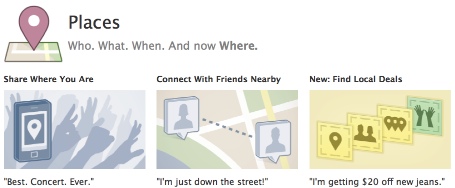 When a Facebook user checks in to a location using their iPhone, Android, BlackBerry or via touch.facebook.com, they are automatically connected to what's called a "Place Page" for that local business on Facebook.
Claim your Place Page
Place Pages look similar to a Business (Fan) Page, with emphasis on an interactive map from Bing at the very top. Just like a Business Page, there is a wall and you can also see your check-ins plus the total check-ins per this screenshot of my own chiropractor: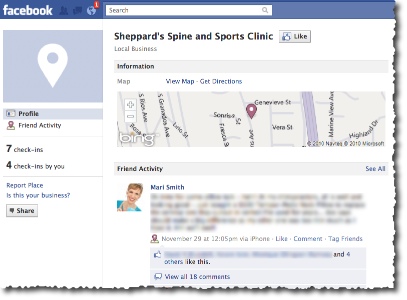 The first time a venue gets "checked-in" to by any Facebook user, Facebook instantly creates a Place Page for their business. The owner of that business then has the burden of searching and finding the Place Page on Facebook and claiming the business. (Scroll to the foot of the Place Page and click on the link, Is this your business?). Once claimed, you have some editing control in terms of the profile picture and ability to publish content to anyone who has Liked your Place Page.

To merge or not to merge?
With these new Place Pages, at first local businesses were justified in feeling overwhelmed at yet another piece of logistical management, on top of their regular Business Page, Community Page(s), Events, and possibly Groups. However, before long, Facebook offered the ability to MERGE your Place Page with your Business Page – assuming you had an obvious connection between the two. (In other words, if you have multiple locations with multiple Place Pages, you can't merge all of them into one Business Page).
For some small businesses, this new merged Page might be ideal. But, from what I'm seeing, many business owners are extremely dissatisfied and confused by the merge. Here's why:
Just like the new Profile layout, all your tabs disappear along the top and are now links down the left hand column.
You cannot set a default landing tab – so all that work (and money) you put into having a beautiful custom landing tab and testing your conversion has gone to waste.
The central focus is the Bing map plus links that were previously on your Info tab.
Even for Facebook users who have liked the page, it's not easy or obvious where to write on the wall. The page lands on "Profile" by default and users have to click "Wall" to be able to make a post.
For the past several weeks, The Ellen DeGeneres Show's Facebook Page is the new merged style – and somehow her 4M+ fans are managing just fine to engage on the Page: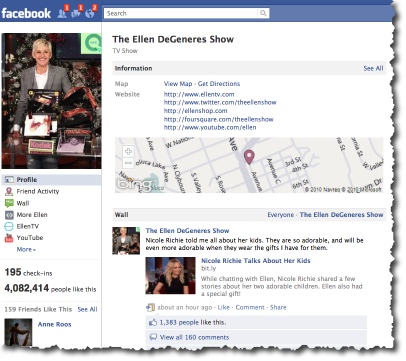 Does the option to unmerge make sense?
For close to 700 – and growing – small business Facebook users, they are not happy at all with the new layout. The "Unmerge Places & My Business Page" fan page sprung up and users are posting their concerns about the merged Pages on the wall, along with adding to this lengthy discussion thread on Mark Zuckerberg's fan page. Many users are choosing to abandon their merged Page and start from scratch. [UPDATE: 12.23.10 – Facebook have now added the option to UNMERGE your Place Page and Fan Page. Scroll to the lower left and you'll see the new link to "Unmerge all Merged Places."]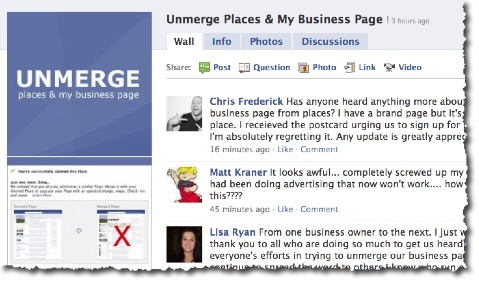 I asked my Twitter followers for their input, and the response was mixed – some don't mind the merged Page, others are in the same frustrated camp as the members of the Unmerge fan page. @ChadRichards made a great point about fans being happy once they had access to Deals:

Facebook's Guide to Facebook Places
Take a look through Facebook's guide to Places – page five clearly states that the user is at choice as to whether they merge or not. There is a notification that comes up with a preview of what your new merged place will look like.
Advantages to merging?
For some businesses with a physical location – especially those taking advantage of the new Deals – a merged Page may prove to be more advantageous. Iron Horse Vineyards had their Place Page and Business Page automatically merged by Facebook, with no notice or option to do so.  Iron Horse now offer Deals and are managing to train their fans to navigate and engage on the new merged Page.
The benefits of a merged Page include:
You have one central location to manage your Facebook fans and activity.
You can promote Deals to entice more fans to come to your premises.
You can appeal to those early adopters who are all into location based services and love to check-in (or you can educate them how to do so!).
I'd like to hear from you! Let me know in the comments below your thoughts on the merging of Place Pages and Business Pages. Have you merged? If so, what feedback are you getting from your fans? Would you like Facebook to add the ability to unmerge?
Related articles