How To Attract and Engage Quality Customers With Social Media
Are you satisfied with the results you're currently getting from all your social media efforts? Would you say there is room for improvement? 😉
Though we're clearly reaching critical mass point with social media market penetration, there's still a morass of confusing information as to what works, and what doesn't.
There are social media policies, and which sites to use, and the right content and engagement strategies. And whether to automate, delegate, ghostwrite. or not. It can all be very overwhelming and many people are stuck in a place of sheer inertia for lack of proper knowledge, training and experience.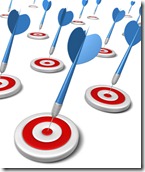 When it comes to social media marketing, most businesses begin with no clear objectives or strategy. They jump in with the technology piece first: they set up a Twitter account, usually due to peer and media pressure. But they don't really know how to listen or engage effectively.
Then they throw together a Facebook fan page and it sits there gathering virtual dust. Next comes the blog, YouTube channel, LinkedIn account, Ning site, live video with Ustream, and whatever new-fangled tool comes along.
But, in order to be effective in attracting and engaging quality customers using social media, you must have the following components:
Clarity on your exact target market and which social networks they prefer to use most often
Knowledge of what online and mobile tools are available to you (apps, widgets, plugins, clients, etc.)
Knowledge of the cultures, best practices and etiquette of the various social networks (there are vast schools of thought on the right and wrong way to use social media)
Clear objectives (such as: drive traffic to your blog, enhance customer service, grow your email list, sell more widgets, gain targeted media attention, crowdsource new products, etc.)
A strategy to achieve those objectives
A social media implementation plan
Resources to pay for training and ongoing social media management, whether third party or in-house
A company social media policy
An ongoing engagement plan
Systems to track and measure results
Strategies for reputation management, and
A scalability plan.
Whew, is it any wonder business people feel overwhelmed and stuck. I hope this list is of value to you. However, if you'd like some help – if you're ready to ramp up your social media marketing and gain tremendous measurable results – I have good news for you: it's almost time for my favorite online event of the year.
The Social Media Success Summit 2010 is the brains of my dear friend, Mike Stelzner.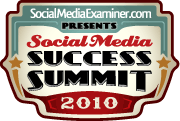 Mike gathered together twenty-four of the world's leading social media experts, practitioners and leading brand representatives to be Summit instructors.
Each session is a LIVE webinar with visuals; no fluff, just deep useful content that you'll be able to apply to your business right away and see results.
Some of the Social Media Success Summit 2010 sessions include:
Effective ways to market your company with Facebook, Twitter, LinkedIn, YouTube, social bookmarking sites, mobile marketing and more
How to track and measure the return on investment for social media programs
A step-by-step method for creating a smart social media marketing plan
How to build a loyal social media following
How to bring more customers into your local business with social media techniques
See all the sessions here.
Just check out this incredible lineup, each of whom will share their proven social media tactics, strategies, techniques and tools. (Names hyperlinked to each presenter's Twitter page so you can go follow them! Links open in a new window.)

This entirely VIRTUAL event starts May 5 and sessions run during the month of May. SAVE 34% on your ticket through April 20th!
Last year, nearly 1000 marketers and small business owners from around the world attended the Social Media Success Summit.  It was a huge hit.  Businesses were transformed.  In fact, 97% of attendees said they'd attend again!
This year's focus is to empower attendees to build social media marketing plans, track your social media results and learn from other successful businesses. This is more than just an event. It's also a way for people just like you to come together, share their experiences, meet the experts and network.
Remember, the Social Media Success Summit is a live ONLINE conference that you can attend from your home or office. PLUS, *all* sessions are recorded and you get access to every single replay, just in case you can't attend a session live or wish to go back and review!
(By the way, whether you get a ticket or not, you can access a free online training session called "How to Grow and Engage an Audience).
Will you be attending this exciting virtual event?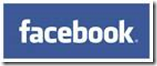 If you already have your ticket, congrats!! Come on over to the Facebook Event page and begin your pre-networking. Feel free to add photos of you with any of the 24 speakers to the Event page – you're welcome to create valuable visibility for yourself and, in turn, let others know about the Summit! I look forward to "seeing" you on the sessions and my hope for you is this too will fast become your favorite event of the year too!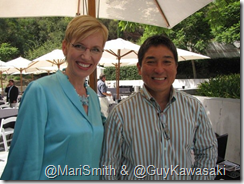 Guy Kawasaki, one of my favorite peeps in the socialmediasphere, will be giving the opening keynote.
Any questions, just let me know in the Comments below: