Facebook Launches 'Facebook Offers' For Businesses
A few select brands on Facebook are currently running tests of a new Facebook product for businesses called "Offers." The most recent Offer, which generated a fair amount of buzz in the past week, was posted by Macy's. Macy's first posted the Offer on Thursday, February 23rd at 7:11am Pacific with an expiration date of February 26th. The Offer was: "Get 25% off your purchase of $100 or more."
The Offer jumped out at me in my News Feed last Thursday when a friend of mine (plus six others!) claimed the Offer. Then I saw the Offer repeatedly in my News Feed, so clicked through to Macy's to check it out on their wall too.
Simple, one-click claim – INCLUDING on mobile!
What's super exciting about this new Facebook product for businesses, is the absolute simplicity and ease with which users can claim the Offer. Literally ONE click and Facebook lets you know the Offer is in your email inbox!
Users can claim the Offer from the wall of the brand's fan page.
Or, users can claim the Offer from their News Feed. Including MOBILE. Hello? Yes, mobile. Now that is thrilling.
More than half of Facebook's 845 Million active users access the site via their mobile devices. Imagine the possibilities of Offers for your business! For local businesses. Wow. I haven't been this excited about a new Facebook product since…. well, since last September when Subscribe came out. 😉
On that note, feel free to Subscribe to my Timeline public updates! Click the button below:
Einstein Bros Bagels Offer
By way of example on how super easy it is to claim an Offer on mobile, check out this recent Offer by Einstein Bros Bagels (claimed over 25,000 times so far!). I didn't see this in my News Feed, per se. I just pulled up Einstein Bros Bagels on my iPhone and did the uber easy one-click claim:
And after the one-click (or one-touch, really, on iPhone!):
Credit to AK Stout and this post on SayingItSocial.com where a commenter pointed out the Einstein Bros Bagels offer.
Redeem by email, share from email
Not only can users easily claim the offer from their News Feed – on any computer or mobile device – the actual offer can be redeemed simply by showing the coupon on your phone to Macy's staff. See the email below:
And, notice the big "Share Offer" button in the email. LOVE that. Boom – one-click claim. Instant gratification. And another one-click to share with friends!
Key takeaways from Macy's Offer
Some points to note about Macy's offer:
The offer was clean, simple, obvious and used a "%" sign and a "$dollar" amount.
Macy's chose an extremely eye-catching image of a red shoe and a blue shoe on a white background, clearly chosen very strategically (red, white and blue = power color combo!). Plus, the fact it's shoes – I don't know any female out there who doesn't love shoes. (Of course, many men claimed the Offer too!)
The choice of verbiage in the Offer was compelling: starting with "Get" (mirrored with the "Get Offer"), and the use of "save" and "BIG." Clever!
Macy's first posted the Offer on February 23rd, and posted it again on February 25th (Saturday morning at 7am Pacific) with the the description "Just two days left to get a head start on spring shopping!" (Einstein Bros Bagels did the same repeating of the Offer on its fan page wall, which of course goes into the fans' News Feed again).

Ultimately, 41,602 people claimed the Macy's Offer. And the original Offer post was shared a total of 2,491 times and the reminder of the Offer shared 374 times. Awesome social proof!
See also Build-A-Bear Workshop's Facebook page for this Offer. (Credit to AK Stout for spotting it).
Will Facebook unveil Offers at the FMC today? [Update: Yes!]
Congrats, Facebook. I do believe you've found simplicity on the other side of complexity with this new Offers product.
Will Offers be one of the BIG new product launches announced at the Facebook Marketing Conference today? Rumor has it Facebook is unveiling a whopping 7 new changes/products/upgrades. We know that one will be Timeline for Pages. Another is new Premium Ads. And a third surely has to be these Offers—well, in fact I understand that Offers is part of the new Premium Ads product. [Update: turns out Offers are a standalone product and appear to be FREE to create and share! Select Pages only, so far.] And, I heard last Friday from a reliable source that currently only around 25 big brands even know about Offers. Hm, still, I sure hope the product is imminent for the rest of us.
Stay tuned for more. I'll be watching the Livestream of the FMC and tweeting and posting my thoughts on my Facebook page and profile.

Meantime, leave me a comment below with your thoughts on this hot new product, OFFERS!
UPDATE [2/29/12 1:30PM PST] – at the Facebook Marketing Conference, Offers were indeed one of the many new product announcements! See this new Help section for a review of the new Offers – currently only available to select brand pages. Plus, see this tutorial on Facebook for a review of the new Timelines for Pages.
Facebook 2012 Fan Page Checklist
To download my 14-page Facebook 2012 Fan Page Checklist, just pop your name and email below and I'll give you instant access to this popular document (over 17,900 downloads!). The checklist part is the first five pages; the rest is all endnotes explaining the elements of your page and how best to set up and optimize for marketing and engagement.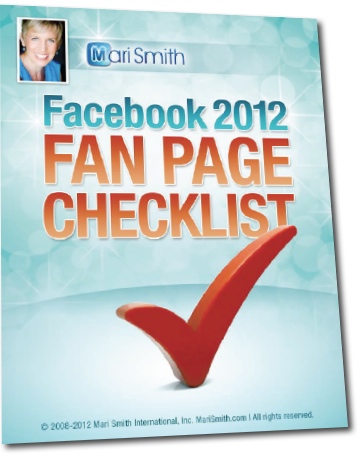 This version is hot off the presses, and includes all the latest Facebook Timeline features.