Facebook Announces Live Events for Small Businesses, Featuring Mari Smith
Super exciting news! Facebook just announced a series of educational events called Boost Your Business, comprised of both half-day and 2-hour pop-up events, across the United States. With more than 40 million active small business Pages on Facebook, these events are designed to help business owners achieve greater success and growth.
I am greatly honored to be hired by Facebook to co-facilitate the four half-day events, contributing my own Facebook marketing expertise and business development knowledge at each event.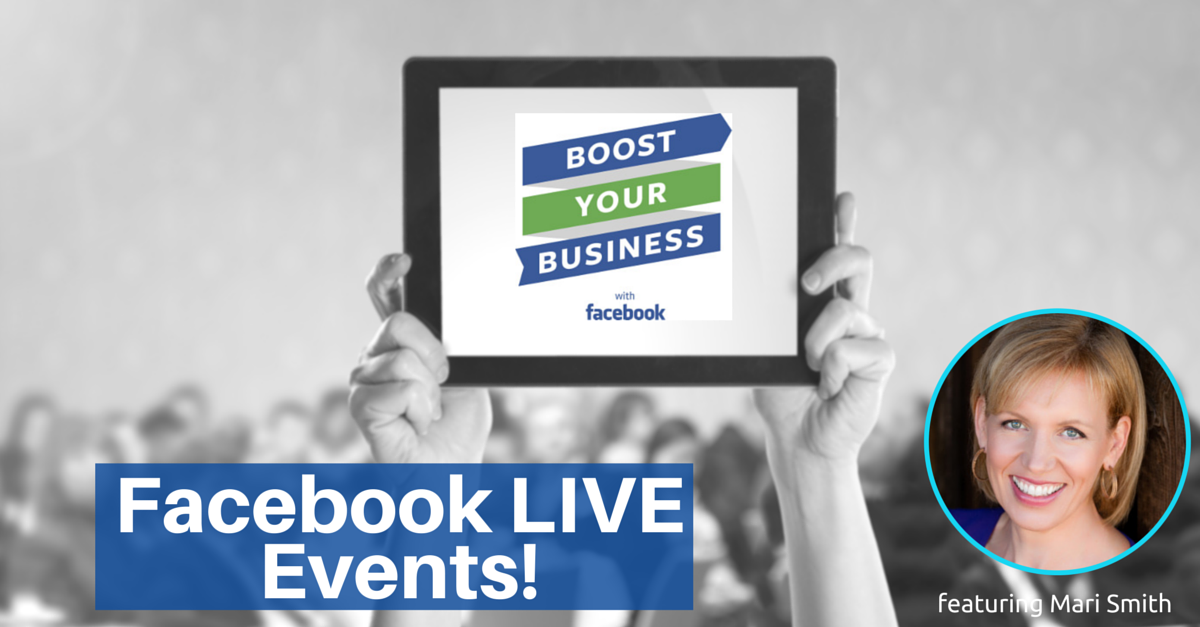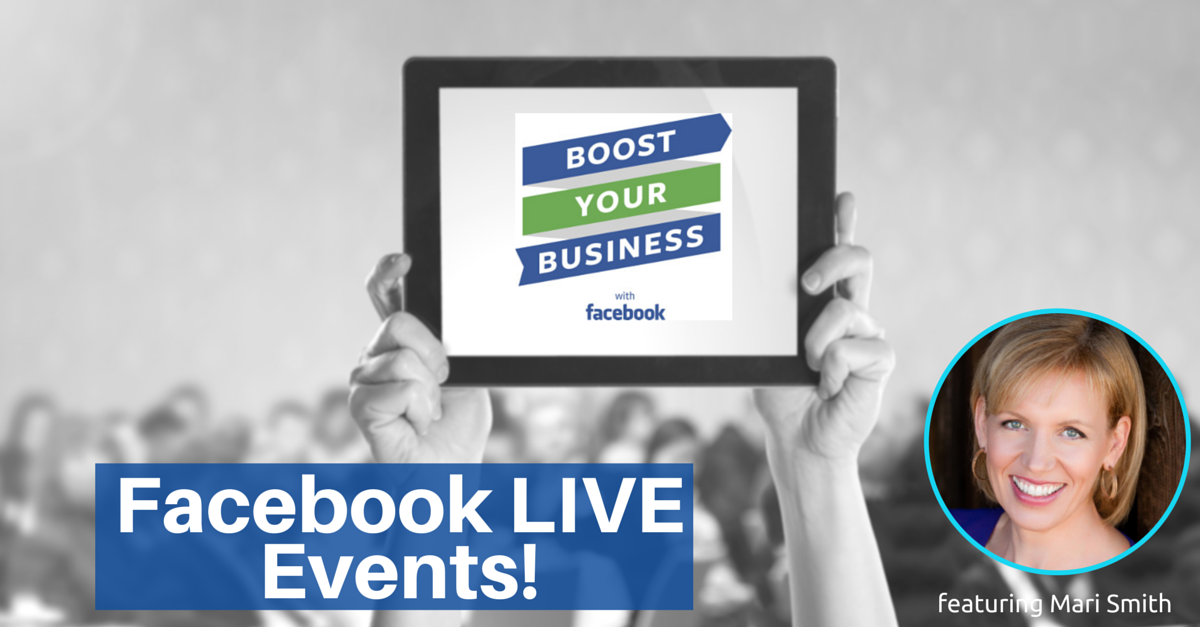 The 2015 Boost Your Business half-day events run from June through October this year. The Facebook tour lands in the following cities – I'd love to meet you!
San Diego, CA on June 4th
Minneapolis, MN on July 30th
Nashville, TN on August 27th
Boston, MA on October 15th
Each of the four cities features two half-day programs; you can sign up to attend the morning or afternoon session. The fee is only $25. And, you'll even get twice that amount back as a $50 Facebook ad credit – love that!
Learn more about the BOOST YOUR BUSINESS events across the U.S. and sign up to attend at a city near you here.
Or, find out when the next two-hour Boost Your Business pop-up event is coming to your area.
What to expect
Here's a quick look at what you'll learn at each event:
How to properly optimize Facebook's products and tools for your business – Facebook head of SMB North America, Jonathan Czaja, will deliver an information-packed keynote speech
Live panel and Q&A session with real local businesses who will share what's working for them from a business perspective – panel sessions moderated by Facebook expert and author Mari Smith
Plus, a chance to schedule a 1:1 consultation with Mari and also meet with Facebook partners
A small business networking center with moderated introductions, industry specific meet-ups and "Ask the Panelist" roundtables
Plus more!
Whatever level you're currently at with your business development and Facebook marketing knowledge, these events will be invaluable! We'd love to meet you and support you in better understanding the Facebook products and how you can grow your business this year and beyond.
Facebook and small business passion
I've been a raving evangelist of the power of Facebook – specifically for business use – since I first joined the platform on May 4th, 2007. My 8th anniversary of being on Facebook (my 'Faceversary'!) is coming up. This is truly the perfect timing for me to work directly with Facebook to support the deeper education of small and medium sized businesses – something I'm very passionate about, having lead numerous Facebook marketing live and virtual trainings for many years.
As you know, there's been innumerable changes to Facebook's business pages, ads and News Feed algorithm over the years. What works for businesses in today's Facebook world is very different to what worked even last year.
I have long believed that the best antidote to lackluster results on Facebook is education. And, not just training on how to use the Facebook (ad) products; but a full-on integrated online marketing approach that includes optimized landing pages, lead generation, email marketing and customer relationship and retention strategies.
My background includes over 12 years in the online marketing world, including business development, information products, email marketing and social media marketing. I'm thrilled to have an opportunity to meet so many wonderful business owners in person around the country this year and offer as much help and guidance as I can.
As author of The New Relationship Marketing and co-author of Facebook Marketing: An Hour A Day, I'm delighted to partner with Facebook and support business owners even further this year.
For more about my personal story of arriving in the United States in 1999 with a mere $50 in my pocket, knowing one person, check out this wonderful interview on Buffer's blog.
Lessons from @MariSmith: How to Go from $50 in Your Pocket to 500K followers http://t.co/wkvmGC1Gjh via @buffer pic.twitter.com/Qd6OvWhVJl

— Kristen Vaughn (@kristen_vaughn) February 20, 2015
Help spread the word
Please share this special announcement about the upcoming Facebook events with your friends, colleagues, fans and followers — you can simply use the social share buttons on this post. Thanks heaps!! Or, you can also use this short link to share the Boost Your Business page directly with your peeps: http://fb.me/boost The hashtag to use across various social channels for these events is: #fbboost
Media interviews
I would love to provide a short or in-depth interview for your publication, TV or radio show.
Please contact us at mari @ marismith.com. Or call 858-215-3001 to leave a voicemail. In addition, feel free to PM me directly on Facebook or DM on Twitter.
Media mentions
Free Facebook resources
Get instant access to my FREE Facebook marketing on-demand webinar where I share the Top Ten Mistakes Businesses Are Making On Facebook… and How To Fix Them! PLUS, you'll get instant access to my latest Facebook Marketing Guidebook (10-page PDF download) packed with helpful tips on how best to fix the top Facebook marketing mistakes. Click the button below:
Get Your Facebook Resources Now!
Got questions?
Please leave us a comment below. If you're not able to attend one of the four U.S.-based live training events, there are other opportunities to learn Facebook marketing directly. I'd love to support you.
FULL DISCLOSURE: Mari Smith is an independent contractor and not an employee of Facebook. Facebook has retained the services of Mari Smith as Emcee and Facebook marketing expert speaker for the Boost Your Business half-day series of events detailed above.