Six Important Facebook Updates: What Marketers Need To Know Now
Should businesses abandon Facebook and use other social media platforms instead? One of my audience members asked this very question on a recent Facebook Live broadcast on my Page. My answer is, absolutely not! For SAVVY MARKETERS it is "Business as usual." You are foolish if you abandon Facebook right now.
Granted, if you are a personal user only, and Facebook no longer floats your boat, then sure go for it — delete your account.
BUT, if you manage a business Page on Facebook, you still have *the* most granular ad targeting parameters available to you and the ability to reach the largest online audience ever.
As much as Facebook has had a ton of challenging media attention in the past few weeks—primarily due to the Cambridge Analytica data breach debacle—there is simply NO solid reason for businesses to abandon Facebook right now. As for the impact of Mark Zuckerberg testifying before Congress this week, well, it remains to be seen what will happen from here.
I was honored to be a featured guest expert on BBC Newsnight. As a Brit, (I'm a Canadian-born Scot, lived in Edinburgh for 20 years before emigrating to the US in 1999), I've been particularly impressed by the leadership of The Guardian and other British media outlets in bringing Facebook's faux pas to light.
Legislators came across "as clueless about how Facebook works" says @MariSmith #newsnight pic.twitter.com/kTqenD8Amt

— BBC Newsnight (@BBCNewsnight) April 10, 2018
Marketers: Do not abandon Facebook
Here's my 'soap box' #MariRant message about not abandoning Facebook!
The above video is a five minute excerpt of this longer Facebook Live broadcast I did on April 4th, reviewing many important updates that Facebook rolled out:
Six Important Facebook Updates
In the past few weeks, Facebook has been pushing out update after update in a concerted effort to  the build up to Mark Zuckerberg's appearance before Congress this week. Following is a list of the most pertinent changes that impact business users in particular:
1. Removal of Partner Categories in ad targeting (over the next six months)
Facebook is shutting down Partner Categories, which allowed third-party data aggregators like Experian and Acxiom to provide Facebook advertisers with additional valuable offline demographic data such as home ownership or purchase behavior. Facebook will wind down Partner Categories over the next six months.
This move will certainly impact advertisers. However, it's time to dig in and get more creative with your own uploaded Custom Audiences, and test various other targeting parameters, along with Website Custom Audiences using the Facebook Pixel. Meantime, so long as you have access to Partner Categories, this is a good time to keep going with your Facebook ad campaigns, test and iterate and build Custom and Lookalike Audiences for future use.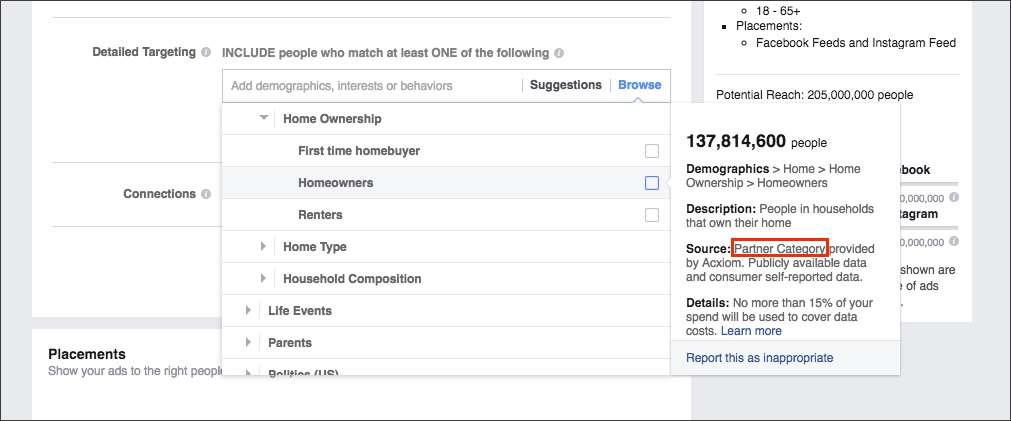 2. New email address list certification tool
Facebook is working on a certification tool that will demand marketers guarantee that email addresses used for ad targeting were rightfully attained. The tool will aim to safeguard against advertisers misusing user data in uploaded lists for ad targeting.
The tool is still in development and it's not clear exactly what the 'certification' process will entail. Other than checking a box? Hm. Perhaps advertisers will have to show proof of where and how they obtained the email addresses, e.g. the URL of the landing page with the opt-in form, or the Messenger Bot, along with which CRM system the business uses.
3. Major changes for apps using Facebook API's
Facebook announced nine important changes to restrict data access. Those changes include
Events API: All apps using this API will no longer be able to access the guest list or posts on Facebook Event walls.
Groups API: All apps using the Groups API will need approval from Facebook and an admin. Plus, apps will no longer be able to access the member list of a group, or personal information attached to posts or comments in groups. This is surely a good thing from a user standpoint. However, I imagine there are many Group apps out there a bit upset about this change.
Pages API: Going forward, all apps accessing data through the Pages API will need to be approved by Facebook.
Facebook Login: In addition to the changes Mark Zuckerberg announced on March 21, 2018, Facebook is further imposing strict requirements on apps before they can access data. For any app you've not used in the last 3 months, Facebook will remove that app developer's ability to request your data.
Instagram Platform API: Facebook accelerated the deprecation of the Instagram API, choking off developers' access to numerous capabilities.
For the full list of the nine changes, see this post.
4. No more reach estimates for Custom Audiences
Facebook no longer shows reach estimates for Custom Audiences. After a research team from Northeastern University discovered a potential privacy vulnerability with this ad feature, Facebook stopped showing audience reach estimates in any campaign using Custom Audience targeting.
Custom Audiences are created using customer information that advertisers upload—such as a list of opt-in email subscribers, phone numbers or addresses—or website visitors based on the Facebook pixel.
Potential Reach numbers will not be provided in any campaign set up that uses Custom Audiences, including to build lookalike audiences from an uploaded list, until a fix has been developed. Let's hope that's fairly soon! Nonetheless, you can certainly still run your ad campaigns without the reach estimates.
5. New rules for political or issue ads
Every advertiser on Facebook that wants to run political or issue ads will need to be verified by confirming their identity and location.
Political/issue ads will be labeled and will clearly show who paid for the ad.
Plus, for political ads in the US, you'll be able to search an archive that shows how much the advertiser spent, the types of people who saw the ads, and the number of times the ad was seen.
6. People managing large pages need to be verified
Facebook is also going to require people who manage large pages to be verified as well. Zuck states, "This will make it much harder for people to run pages using fake accounts, or to grow virally and spread misinformation or divisive content that way." 
It is not clear yet what constitutes a 'large page,' or exactly what the verification process entails, or even whether the verification will be the publicly displayed blue check badge.
For more on #5 and 6 above, see Zuck's full statement made last Friday. Sheryl Sandberg, Facebook's COO, made a very similar statement with slightly different wording.
What to do now
Many of these changes will have some impact on business Page owners and Facebook advertisers. However, each of the changes is specifically to address protecting user data.
Over time, it's likely Facebook will make some adjustments to these changes. We'll see.
Meantime, as I mentioned at the top of this article, it's "Business as usual."
Do your best to speak with good purpose and strive to become a part of the SOLUTION, not a part of the problem.
Don't "pile on," and add to the negativity that's already swirling out there.
Keep posting great content on your Facebook Page that resonates with your audience and sparks meaningful engagement.
Amplify your reach and engagement with at least a nominal ad budget on your posts.
Keep using all Facebook's tools and ad products you were before.
Be sure to create and run an engaged group, linked to your Facebook Page.
Got questions? Message me.
Need help improving your Facebook marketing results? Come check out my FAST Facebook Results training program – next live training is on April 19th, 2018. Go here, or message me the word 'fast.'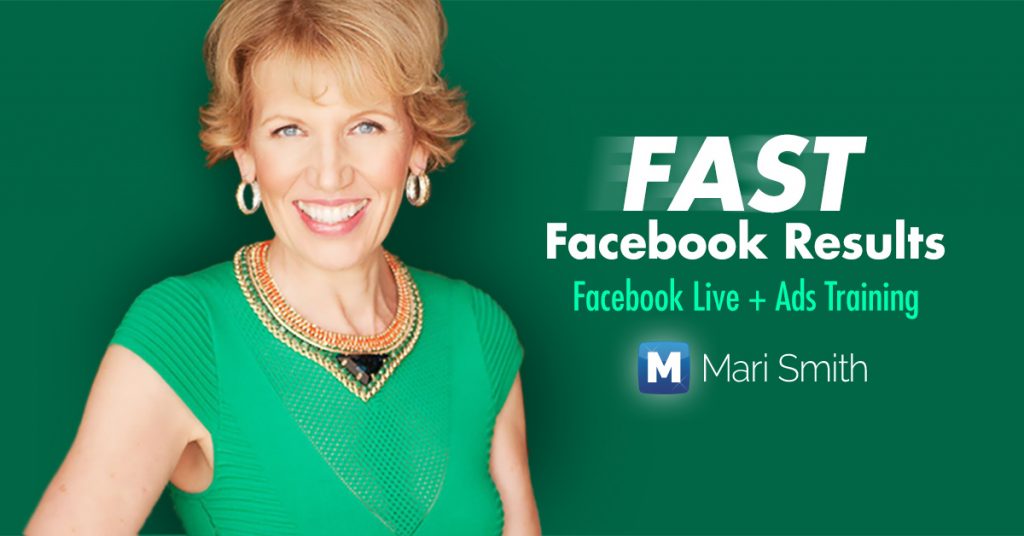 P.S. …
The header image for this blog post is a photo taken at Facebook's European Headquarters in Dublin, Ireland in April 2017 when I was there to keynote a conference. I also took this photo below of the signs on the wall…
"Move fast and break things" is still on the walls in Facebook's Ireland offices!
"What would you do if you weren't afraid?"
"Proceed and be bold"
"Done is better than perfect" [note to self, Mari, ha!]