Facebook Marketing Hidden Gems, Awesome Instagram Stories & More: The Social Scoop 8/16/17
I tested out the new Facebook Live Stories today. If you haven't tried it yet – or don't yet have access – Live Stories on Facebook is available only on personal profiles and as soon as you end the Live broadcast, the video disappears. Hm, what's the point, right?
Well, that's how Instagram Stories first started out and then they added the ability to view for 24 hours and save. Also, with Facebook, you have the option to simultaneously broadcast the same Live Story to your wall as a regular post so at least it's saved, if you wish! Some folks may tune in on mobile to the Live Story, while others may see the regular Live broadcast in their mobile feed or on desktop.
Plus, Facebook just rolled out a bunch of cosmetic changes to the News Feed this week. They are not exactly huge updates, but added up, it's all designed to improve user experience and keep people more engaged. Look out for circular profile pictures coming to both personal profiles and Pages.
FREE Video Training Series – Part 2 of 3
Join me LIVE on my Facebook Page for this exciting 3-part series brought to you in partnership with the new Wave Video App made by Animatron. Easily create professional videos in six different formats (Landscape, Square, Mobile portrait 2:3, Standard 4:3 Landscape, Facebook Cover Video, & Instagram Story!).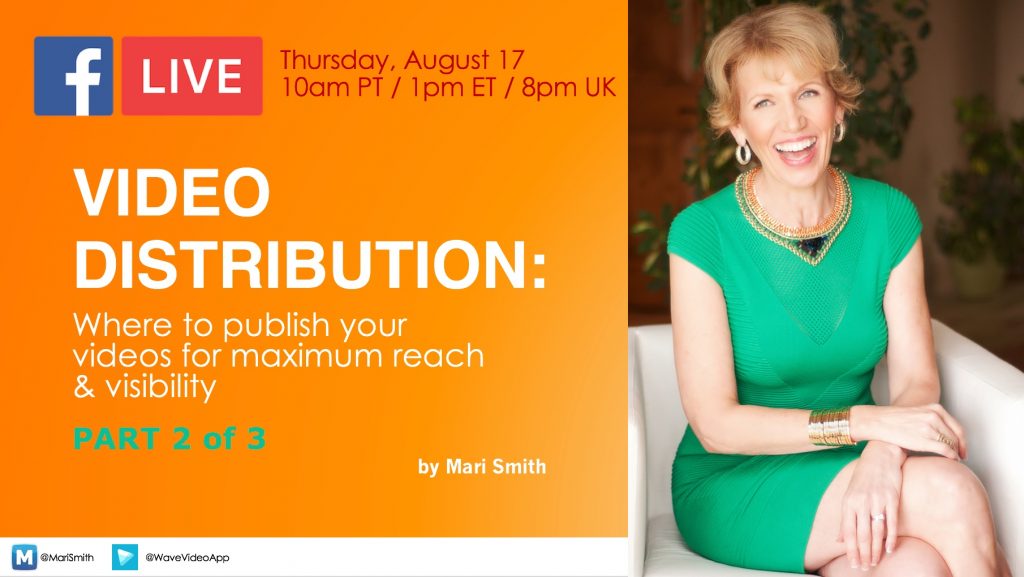 If you missed Part 1 about video creation, catch the replay here.
It's time to get your Facebook Live game on! If you haven't already, please let me know if you're interested in my upcoming Facebook Live + Facebook Ads courses here. (More info coming asap… we're a tad delayed now due to my healing!)
This Week's Top 3 Articles
1. Facebook's Hidden Gems: Underused Tools for Facebook Marketing via TheSocialMediaHat.com
We often hear about business Pages' reach declining and how Facebook is now pay-to-play. While this is true, in order to really cut through the clutter and succeed, your Facebook marketing needs to be top notch. This post has a great list of tools for creating campaigns that stand out from the rest. A few of my own faves are AdEspresso, Socialbakers and DrumUp. See also AgoraPulse. Also, side note: only use the Boost button for about 10% of your total Facebook ad budget. The other 90%, use Facebook Ads Manager as you'll get many more options and much better performance! 
2. How to Create Awesome Instagram Stories + 13 Exclusive Design Templates via Spark.Adobe.com
Instagram Stories are definitely something businesses need to consider. You can use Stories for limited-time offers, tutorials, behind the scenes look, and more. Adobe Spark and Buffer teamed up to provide beautiful suggestions and creative inspiration—plus free templates you can use to get started. Love that!
3. 10 Ways Your Business Can Use the New Facebook Cover Video Feature via SmallBizTrends.com
As video continues to grow in popularity so do the number of ways we can use video on social media. Facebook recently added the option to have a video as your page's cover and it's a great opportunity to improve the visibility of your page. Not sure what to post? Read on for ideas!
That's a wrap for this issue of The Social Scoop. I hope you have an amazing rest of your week and I look forward to connecting again very soon.
On a personal note…
Thank you so much to my fabulous community for your support as I heal from this hepatitis A virus — I'm getting better each day and feeling my energy and strength coming back. What a gift to be able to take over two weeks off to rest, recuperate, regenerate. I'm focused on a fully vegan diet just now, about 85% raw and it's helping immensely. I'm grateful for this opportunity to really exam my self-care choices! See more in this update below… also, on August 12th, I celebrated my birthday … by doing absolutely nothing. Ha! I'll postpone celebrations to much later in the month. 😉