Facebook Is More Small Business-Friendly Than You Thought
Facebook's latest efforts to support the education and empowerment of small- and medium- size businesses is a series of LIVE events around the U.S. called the 2015 Boost Your Business Program, just announced this week.
There are over 40 million active small business Pages on Facebook and the company is more committed than ever to helping these small businesses to grow and succeed.
In this week's featured article, WebProNews takes a deep dive into the Boost Your Business Program, as well as additional Facebook training initiatives, products and tools.
Yes, Facebook really is more small business-friendly than you may realize! And, here we are on the cusp of the annual National Small Business Week! (May 4-18). Perfect timing.
Plus, my huge news this week that I can finally share is: Facebook has hired me to help teach at the series of live Boost Your Business events.
The Boost Your Business tour will land in San Diego, Minneapolis, Nashville and Boston. There are also a series of "pop-up" events at other cities; however, I will be presenting at the two half-day events in each of the four main cities. At the main events, attendees can also meet with Facebook's partners Visa, Mailchimp, Shopify, and Zenefits. For more info and to register, go here.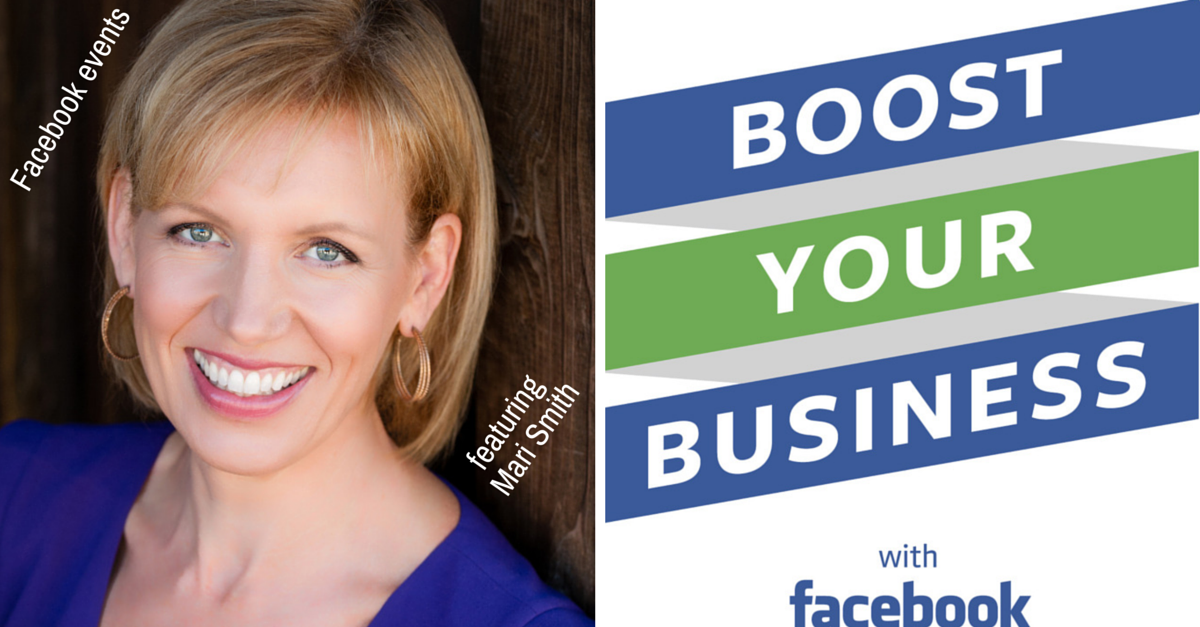 I'm SO excited and honored; I've envisioned this day ever since I first joined Facebook on May 4th, 2007 (my 8 year anniversary is coming up!).
Huge thanks to my online community for all your loving support and encouragement this week – truly appreciated! Special shoutout to Kimberly Hunt, news anchor on ABC 10News for this wonderful TV segment featuring yours truly!
The blog version of this week's edition of THE SOCIAL SCOOP weekly newsletter follows below! If you're already subscribed, you'll continue to receive The Social Scoop via email on Fridays. If you're not yet signed up and would like to be, please enter your name and email in the box to the right (desktop) or below the post (mobile). Thank you!
Mari's Top Social Media Picks – May 1, 2015
Issue #147
Greetings!
Please enjoy this week's top articles we've picked for you!
via WebProNews
On the back of Facebook's announcement this week about the Boost Your Business live event tour, as well as having 40 million active small business Pages on the site, this article is one of the most in-depth discussions I've seen. Two thumbs up!
via Twelveskip.com
Excellent read with so many practical tips here. Many you'll be familiar with already… but some I'm thinking not. #9 and #10 can definitely help you boost your sales results!
via VisualInspiration.com
Solopreneurs need to be as efficient as possible to accomplish business goals. If you're the only one creating your marketing content, that can be a challenge. So, check out these ten tips to help you manage your content. I especially love #5 and #8.
That's all for this issue of The Social Scoop. Here's wishing you a fabulous weekend and yummy week ahead!
On a personal note, I've been on a high all week about the Facebook news, as you can imagine! I plan to continue celebrations with friends this weekend! After eight years of raving about the power of Facebook, to now actually be hired by the world's #1 social network is truly one of the highlights of my career. Whee!
Also, on an even more personal note, many of my dear readers noticed that I mentioned my "honey" in last week's newsletter. Yep, it's true! I typically keep my personal life super private (after divorcing in 2009, which I blogged about back then!). But, now I am so happy to share that I have a wonderful partner in my life. I chose "Partnership" as my one-word theme in 2015 and it's just amazing how the power of intention works like magic! Here I am partnering with Facebook (the company literally call it that!), I have several amazing new business partnerships in place now, and a fabulous personal partner. Yay! *clink clink*
Cheers!
Mari
Free webinar – May 19th
SAVE THE DATE! My next FREE Facebook marketing webinar is coming up on Tuesday, May 19th at 12pm PT / 3pm ET. I'll be sharing the Top Ten Mistakes Businesses Are Making On Facebook… and How To Fix Them! Stay tuned for more details. Register below to get on the early bird list!