How Companies are Succeeding with Video on Facebook – #CMWorld Session
I just had the great pleasure of leading a Facebook video marketing best practices session at my longtime friend, Joe Pulizzi's annual conference, Content Marketing World in Cleveland, Ohio. This powerful event features many of the brightest brains in marketing, and offers plenty opportunity to connect with influencers.
My popular session, "Social Video: How Companies are Succeeding with Videos on Facebook," was sponsored by Animoto.
The session was jam-packed with facts, stats, the latest Facebook features and the very best practices around social video marketing. In this post, I'll walk you through some of the key points and highlights from the session, along with additional pertinent information.
First, here's an informative interview about video marketing I did with Animoto back in April at the 2016 Social Media Marketing World annual event:
Animoto is a powerful video creation tool — you can create high quality, professional videos literally within minutes, and typically using content you already have.
Good news! Animoto has generously extended their Content Marketing World special offer to Mari's peeps! Go to animoto.com and enter CMW2016. The code is good for 20% off Animoto Professional or Business plans for new subscribers only, and is valid through September 30, 2016.
Okay, let's get down to the business of social video.
Facebook: Becoming the TV in Your Pocket
If you've spent any time on Facebook within the last year, you know that video is everywhere. This is no coincidence; Facebook has made a big push to prioritize video in News Feed. By giving more weight to natively uploaded videos and Facebook Live video broadcasts, the company is encouraging you not only to spend more time watching video on Facebook, but also to go behind the camera. And, it's working! Over 100 million hours of video are being watched on Facebook every day.
Why the big push toward video? Well, TV viewership is down in practically every age group, but digital video consumption continues to grow. Here are some stats that illustrate the shift:
Time spent watching:
• Digital = 47% (up from 32% in 2011)
• TV = 35% (down from 41% in 2011)
TV watching, change by age group:
• Age 65+ = 7% increase
• Age 35-49 = 10% decrease
• Age 18-24 = 38% decrease
Earlier this year, Facebook CEO Mark Zuckerberg
stated
that Live is like having a TV camera in your pocket.
Social Video Is On the Rise
Between April 2015 and November 2015, the amount of average
daily video views on Facebook doubled from 4 billion video views per day to 8 billion
. (via
Flixel
)
It's estimated that by 2018, 
79% of all global consumer internet traffic will come from video
. (via
Cisco
)
Not only are digital videos getting ever-increasing eyeballs, they're getting serious engagement: 
Social Video generates 1200% more shares than text and image combined.
(via
Brightcove
)
Still not convinced that video is a good fit in your marketing strategy? 
Animoto
 shared that a whopping 
96% of consumers find videos helpful when making purchase decisions. 
And all those blog posts you're taking hours to create? Your customers would rather watch than read. According to a survey by
Animoto
, 4x as many customers would rather watch a video about a product than read about it.
Create Stellar Social Video Content
Now that you know you must include video in your marketing plans, it's time to get to work. When creating video for your social media audiences, it's important to keep a few things in mind. First: the platform. Facebook, Twitter and Instagram all serve video a little differently.
Facebook
Start with a clear visual hook. Use bright colors, quick cut, and lots of motion to capture viewers' attention as they scroll past. It'll help your video stand out from still photos, text, and link posts surrounding it.
Tell a story with text. Using text can help with grabbing attention silently. But you should also remember that in many cases your viewer may not be able to click to listen to your audio (they may be at work or in a loud public place). For this reason, using captions and titles throughout can be an effective way to tell your story and keep viewers watching.
Twitter
Upload native video. Similarly to Facebook and Instagram, native videos will auto-play silently on Twitter. This is great for grabbing attention and, according to Socialbakers, brands are sharing more native video on Twitter due to higher engagement on tweets with this native content.
Leave viewers wanting more. When making a teaser to share on Twitter, give viewers a taste that'll leave them wanting more. After all, the ultimate objective is to entice them to click through to the real content.
Instagram
Loop your videos. On Instagram, videos don't just play from beginning to end and then stop. They loop over and over again. You can create a fun seamless effect by making a video that starts and ends on the same frame.
Slow it down or speed it up. Slow motion and time-lapse are also fun ways to capture attention in the Instagram feed.
Use multiple clips. Instagram recently began allowing users to upload or shoot multiple clips to create their videos. This opens the door for more complex video creation, in app.
Mari's #1 Content Tip
It's also extremely important to create video content that your audience feels COMPELLED to share. This is what I call "thumb stopping" content – given over 90% of Facebook users access the platform via their mobile device, imagine they are scrolling through their News Feed and your content grabs their attention, stops their scrolling and draws them in.
And, when your viewers and extended audience (e.g. friends of friends, Lookalike Audiences), see your content you want to make them instantly feel they simply MUST share with their friends, fans and followers. Do this by sharing content that is helpful, useful, educational, timely, relevant, inspirational and/or entertaining!
Here's an example of a short video post I created recently to help address one of the major News Feed algorithm changes, where Facebook stated posts by friends would be favored and that the change "may cause reach and referral traffic to decline for some Pages."
This caused a great deal of panic and frustration among the business community on Facebook. My intent with this video was to provide creative ways for Page owners to maximize reach and engagement.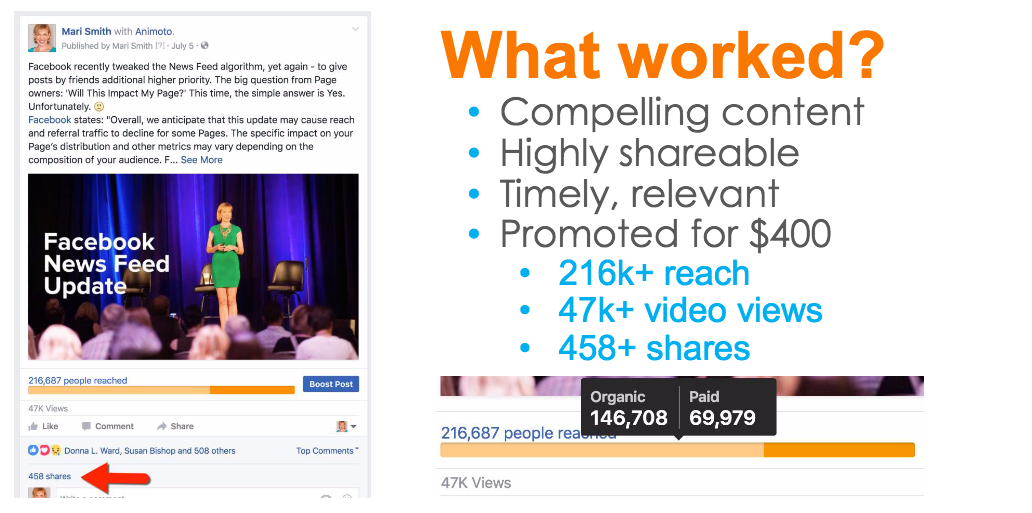 Social Video Is A Must-Have
It's also important to note that creating incredible social video is not just for the big guys.
As quoted in FierceCMO, Brad Jefferson, CEO of Animoto, said: "Social video has become a must-have for businesses of all sizes. While professional marketers are leading the charge in terms of where and how much to invest, small business owners are not far behind. That is a testament to the growing ease and affordability of video distribution on social media platforms, as well as consumers' inclination towards video content."
Thankfully, tools like Animoto make it easy to create professional looking videos without a technical learning curve.
What About Advertising?
 Video ads are important to mention, and for a few reasons. First, check out this stat:
video ads have an average CTR of 1.84%, the highest click-through rate of all digital ad formats. 
(via
Business Insider
)
That said, according to Mary Meeker in her 2016 Internet Trends
Report
, social video ads have a ways to go in order to be even more effective.
"If there's ever been a call to arms to create better video ads, this is it." ~Mary Meeker, 2016 Code Conference
Here are elements that make a video ad great:
Quality from the first frame
Authentic
High energy, entertaining
Evoke emotion
Personal, relatable
Useful

Designed for sound off – add titling and/or captions (SRT file)
Video Ad Success Story – West Virginia Skydivers
Fellow Animoto users, West Virginia Skydivers created a simple, fun and compelling video montage using photo and video clips they already had.

Just check out these amazing before and after results – this is average weekly.
The company went from about 20 calls per week to 94 after the video ad ran. And from 6 bookings a week to 49.
And the total cost West Virginia Skydivers invested in promoting their video ad on Facebook? Just $115. Not too bad for generating over $10,000 revenue.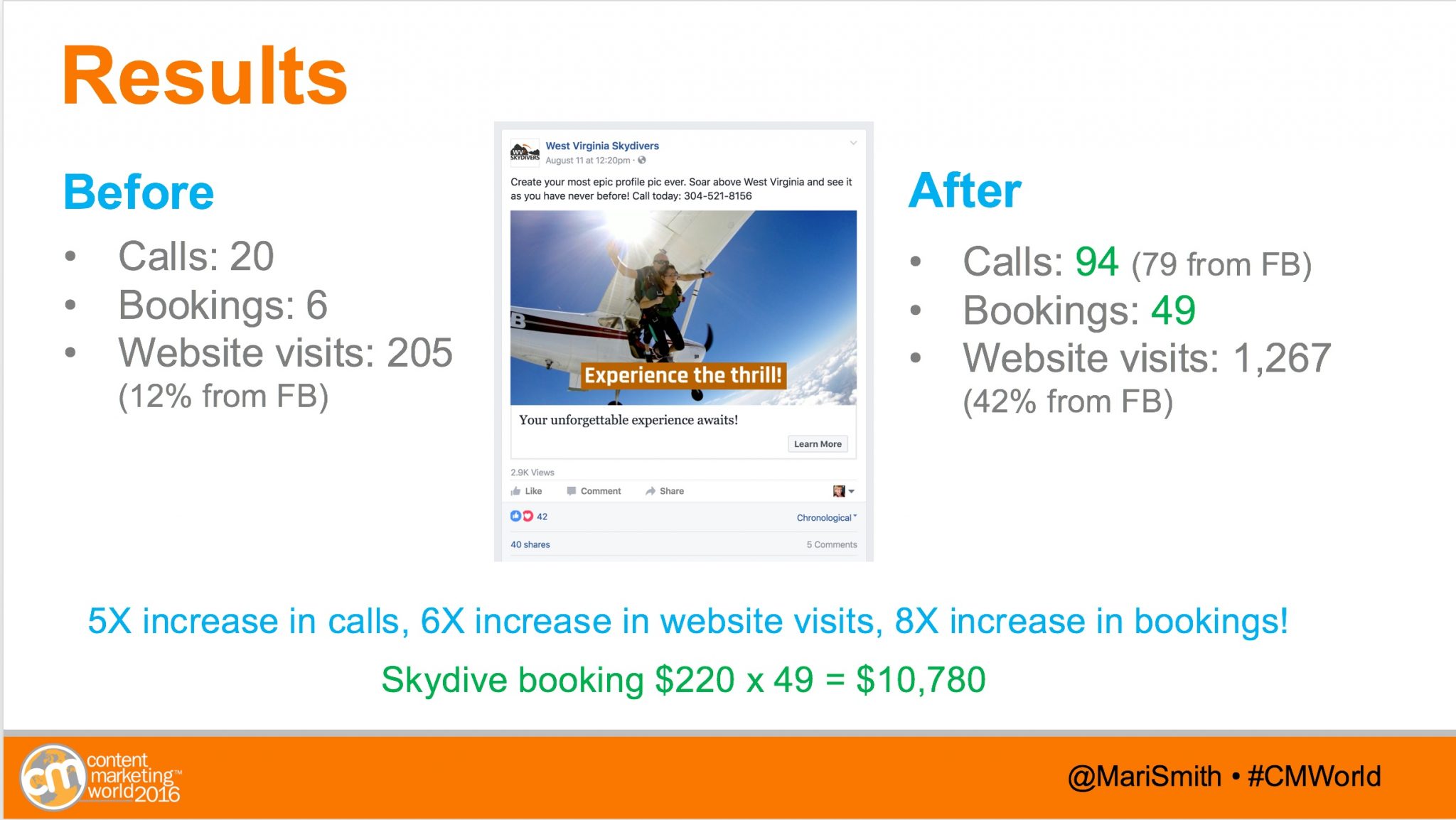 Conclusion
Hopefully at this point, you're excited about creating lots of amazing video content for your social media audiences. What companies have you seen do videos on Facebook well?
Do you have any questions? Let us know in the comments below. And please do share this on your social channels – thank you!