Mari Smith: Social Media Speaking Engagements 2010 – Let's Meet Up!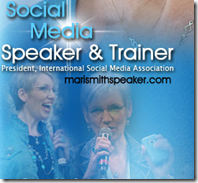 My favorite events on my calendar are giving social media talks to all sizes of audiences, across many industries and a variety of formats. Whether it's an opening keynote on social media success in general, an in-depth Facebook and/or Twitter breakout session or a full day training.
My 2010 calendar is filling up nicely, and this year I'm intent on pacing myself a tad more, and also allow a bit of extra time in each city to a) sightsee and b) connect with Twitter peeps at local Tweetups. Yay!
My public calendar can be found here, which is always current. Meantime, I thought I'd put together this post with a smidge more detail of what I have booked for 2010 so far and I'll update it as more events are added. and add some video content too!! [If you'd like to hire me to speak at your event, hop over here.]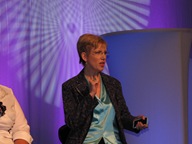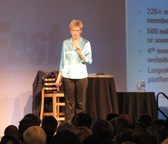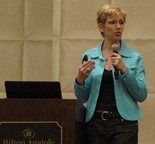 2010 Events – Let's Tweet Up!
Here are my travels for 2010 so far; as more are confirmed I'll add to this post and also to my public Google calendar. Most all of these are speaking engagements; a few I'm attending as a participant.
If you live in any of these cities – or will be at these events – please do tweet/DM me!! 😉
January – Hollywood CA
January 28 – February 1: The GRAMMYS! Hollywood, CA. (I'll be in a mastermind all day Jan 30 and at the GRAMMYS Jan 31; I'm going up a couple days early and staying an extra day for a mix of pampering plus business meetings!) Special mention of my dear friend, Amy Michelson, designer of my Grammy gown. pics coming!
February – San Diego, Orange County, Los Angeles CA | Nashville TN
February 4: Keynoting the California Restaurant Association (CRA) San Diego meeting, San Diego, CA
February 6 & 7: Social Marketing Mastery IMMERSION – retreat at Casa de Mari, San Diego, CA
February 10: Guest lecture on Facebook marketing for UCSD at Becky Carroll's class.
February 11: An Evening With Seth Godin – Dana Point, CA
February 12 to 14: NSA, National Speakers Association Winter Conference – Nashville, TN [Valentine's tweetup Feb 13!]
February 19 – 20: Program Director Grad School, Los Angeles, CA
February 19 – 21: David Finkel's 2010 Business Owners Success Conference – San Diego, CA
March – Seattle WA | San Diego, Los Angeles CA
March 5: Girls' Night Out – Total Networking Event, Seattle, WA (I'm giving the main keynote)
March 3: LIVE Conference – Social/Mobile Media at its Best by Qittle, San Diego, CA (I'll be here as an attendee)
March 8: Free WEBINAR – How Social Media is Changing the Face of Local Business Marketing featuring Mari Smith and Erik Qualman, hosted by @EgbertOostburg
March 9: Free WEBINAR – Maximizing Facebook: How To Effectively Use The #1 Social Network To Explode Your Business! (for ISMA members – free membership)
March 11: Private CLASS – Guest lecture on social media marketing for Grossmont College at Steve Eisenberg's class.
March 13 & 14: LIVE event – Women, Power & Purpose – The Live Experience, San Diego, CA [Also on this weekend: South by Southwest #SXSWi, Austin, TX; Yanik Silver's Ungerground6 in Washington DC with @garyvee keynoting; Mastering Your Life with Esperanza in San Diego, CA]
March 19 – 21: LIVE event – Ken McArthur's IMPACT Event, San Diego, CA
March 24 – 27: LIVE event – T. Harv Eker's Guerilla Business School, Garden Grove (LA), CA
March 26 – 28: LIVE event – Christian Mickelsen's JV Networking Mixer, San Diego, CA
April – Loveland CO | Albuquerque NM | Ottawa Canada | San Diego CA
April 8: Spring Northern Colorado Social Media Social, Loveland Chamber of Commerce & Visitor Center (details being firmed up)
April 13: American Marketing Association New Mexico, Albuquerque, NM (details being firmed up)
April 13 – 16: Private Conference, Albuquerque, NM
April 16 – 17: Ultimate Success Event with Peggy McColl, Ottawa, Canada
April 23 – 24: Social Marketing Mastery IMMERSION – retreat at Casa de Mari, San Diego, CA
April 30 & May 1: Wisdom 2.0 Summit – Sillicon Valley, CA
May – San Diego, Los Angeles CA
June – Los Angeles, CA
June 21-23: SANG IV, Los Angeles, CA (invite-only mastermind).
July – Dallas TX
July 15 – 18: eWomenNetwork 10th Annual Conference, Dallas, TX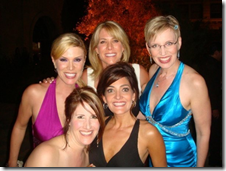 Ali Brown, JJ Virgin, Mari Smith, Baeth Davis, Tamara Gold at Richard Branson & Eve Branson's Rock the Kasbah fundraiser in Hollywood.
Review of Speaking in 2009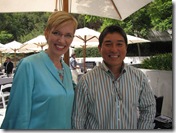 I was most fortunate to have an extremely full speaking schedule throughout last year. Among my 2009 highlights were speaking at all these incredible events and getting to share the stage with other amazing speakers, leaders and luminaries including:
SANG – Speakers & Authors Networking Group
Larry Benet's SANGII and SANGIII in Las Vegas and Hollywood, with Tony Robbins, Paula Abdul, Brian Tracy, Jay Abraham and Jeffrey Hayzlett (CMO of Kodak);
Engage Today
Engage Today in Calgary, Canada with Sir Richard Branson (pic!) His Holiness The Dalai Lama, President F W deKlerk, Stephen R Covey and Wyland.
Underground Seminar
Yanik Silver's Underground5 in Washington DC, with GoDaddy CEO & Founder Bob Parsons and former James Bond George Lazenby. (See you at Underground6 in March with Gary Vaynerchuk keynoting!)
eWomenNetwork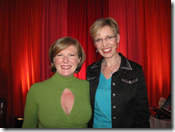 eWomenNetwork in Dallas TX, with Judge Glenda Hatchett, Lisa Nichols, Roxanne Emmerich, Loral Langemeier, Debbie Meyer and many more fine speakers and leaders. and 3500 attendees!
Blog World Expo
Blog World Expo 2009 in Las Vegas, NV with Matt Goss, Scott Monty, Jeremiah Owyang, Brian Solis, Frank Eliason, Laura Fitton, Sarah Evans, Wendy Piersall and many, many more fine professionals! (Check out Blog World Expo's home page with fab video widgets from my fave Yubby!)
MarketingProfs
Marketing Profs Digital Marketing Mixer in Chicago, IL with Dr. BJ Fogg, Ann Handley, Amber Nusland, Jay Baer, and many more top notch marketing pros!
Twitter Conference
140 | The Twitter Conference in Los Angeles with Twitter Co-Founder Biz Stone, Dr. Drew, Tyrese Gibson, LaVar Burton, Guy Kawasaki, Robert Scoble and many more fine folks!
PLUS.!
Other awesome highlights included: speaking for Fabienne Fredrickson, Arielle Ford and Mike Koenigs, Adam Urbanski, John Assaraf, Jack Canfield, James Malinchak, Dan Kennedy and Bill Glazer, Jim Bunch, Christian Mickelsen, and Craig Duswalt.
.and a few fave pics!
Mari with Sir Richard Branson, Frank Kern, Dan Kennedy, Scott Monty, Wyland and Robert Scoble.
Group pic: L-R: Ellie Drake, founder of BraveHeartWomen; Karina Smirnoff from Dancing With the Stars; me; actress Tava Smiley from TLC's Cleansweep; talk show host Rolonda Watts.
Feel free to leave your comments/questions below about any of these events, my travels/whereabouts, and your own events. I look forward to connecting soon! And, to book me as a speaker at your next event, please check out this page.