Facebook Phonebook – How Safe Is Your Cell Number?
For some time, the "Facebook Phonebook" feature has caused quite a bit of confusion (and, in some cases, panic!). A viral message has been going around alerting friends that there is a security threat, when in fact, the Facebook Phonebook is a feature that every user on Facebook gets as part of our personal profile.
However, there could well be cause for concern if you're not aware of how your own privacy settings affect your phone number/contact information, and it's possible you may have inadvertently loaded all your mobile phone contacts to Facebook. 🙁
This video tutorial helps to dispel all the "urban legends" out there and clear up any confusion.
Your Facebook Phonebook consists of:
ALL your friends who have their Privacy Settings set to reveal their contact info [at least their phone number(s)] to their friends, PLUS
ANY contacts from your cell phone IF you have synced your mobile phone address book on the Facebook mobile app.
The part I personally find disconcerting is the fact the contacts you have in your own mobile phone will become "subject to Facebook's Privacy Policy" should you choose to use the sync feature on the Facebook mobile app.
Controlling how and what you share
From Facebook's Privacy Explanation page:
Facebook is about sharing. Our privacy controls give you the power to decide what and how much you share.
Indeed, YOU have the power. Of all social networks, Facebook has the most granular privacy settings. The sad part is, most members are blissfully unaware of exactly what private information and posts they are revealing to their friends and to the world at large every single day. (Just visit OpenBook and look up a few searches – it's heartbreaking to see what gets shared. OpenBook only shows updates from profiles set to be viewed by Everyone).
Regards your Facebook Phonebook privacy settings, here's the relevant excerpt from Facebook's Privacy Policy (highlights added by me):
Exporting Information. You (and those you make your information available to) may use tools like RSS feeds, mobile phone address book applications, or copy and paste functions, to capture, export (and in some cases, import) information from Facebook, including your information and information about you.  For example, if you share your phone number with your friends, they may use third party applications to sync that information with the address book on their mobile phone.
How to remove your mobile contacts from Facebook
Navigate to your Phonebook by clicking on Account at the top right of any page when logged into Facebook > then click Edit Friends > then look to the top left column and click Phonebook. On that page, you'll see a blurb on the top right with a small link to "visit this page." See screenshot below.
NOTE: you may find that the link is temperamental and does not open right way; you may need to come back to it, hit refresh, try again. It seems to be intermittent whether it works or not, which is rather disconcerting.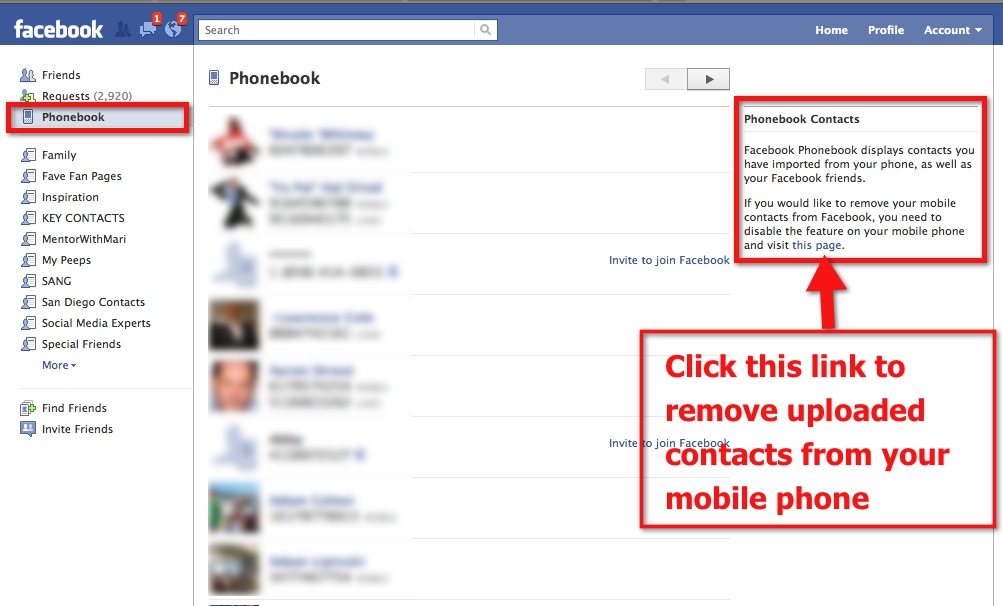 It used to be that once your mobile phone contacts were synced with Facebook, you couldn't delete them. A slew of groups sprung up like "Facebook stole my phonebook" and, fortunately, the option does now exist to remove any contacts you may have unknowingly uploaded to Facebook as explained above.
How to unsync your mobile phonebook
If you've never synced your mobile phone contacts with Facebook, this won't apply to you.
Even though ONLY you can actually see and access your Facebook Phonebook, in my opinion, it's best *not* to sync your mobile phone contacts for the best security and privacy purposes. Besides, even the idea that personal contacts of mine are susceptible to Facebook's Privacy Policy gives me cause for concern.
Plus, when I'm teaching an online class via webinar, for example, I would not want to accidentally expose my super PRIVATE rolodex of cell phone numbers because they happened to be sitting in my Facebook Phonebook.
There will be different instructions for other mobile devices through which you access the Facebook mobile app. Following are screenshots from the iPhone app:
1) Tap the Friends icon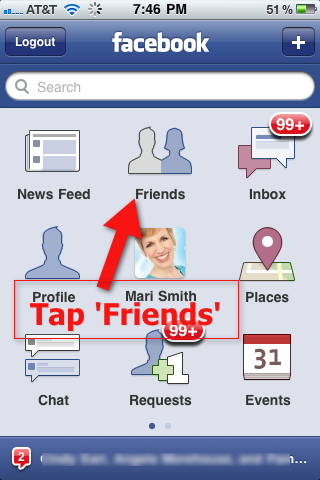 2) Tap the Sync button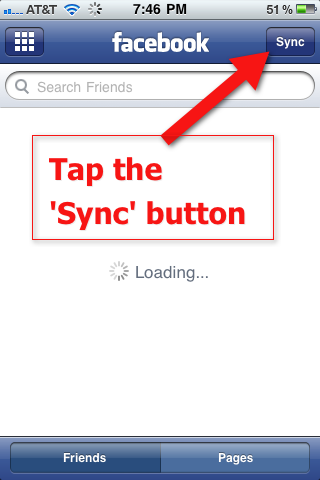 3) Make sure your Syncing button is in the OFF position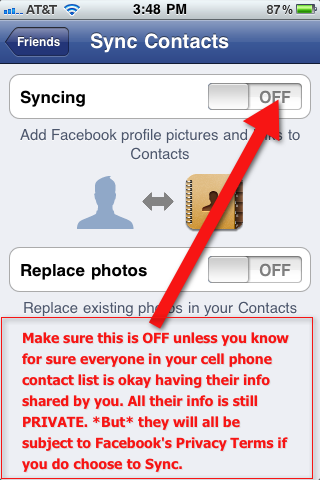 If you DO choose to sync contacts, you'll be shown this warning before proceeding further: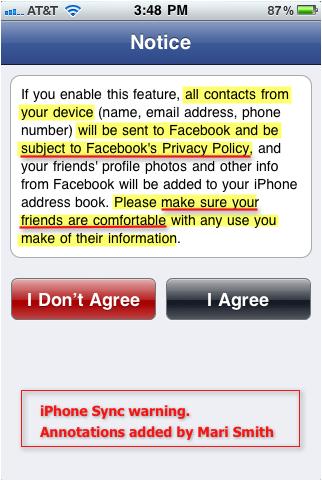 By the way, if you have questions for Facebook about their Privacy Policy, you'll need to use this form. (For a directory of over 120 Facebook contact forms, see this post.)
How do you feel about this issue of the Facebook Phonebook and synced mobile phone contacts? Do leave your comments/questions about this topic below. And/or come write on my Facebook wall at http://facebook.com/marismith.
Recommended reading: