Facebook Marketing at Ali Brown's Online Success Blueprint Workshop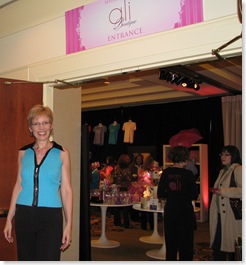 Ali Brown is a dynamic, successful business woman and internet marketer that I've admired for many, many years.
You may be familiar with Ali's former brand "The Ezine Queen." Her new brand of Ali has blossomed into an incredible venture, complete with the Ali Magazine and, launching in January, the Ali Boutique! See pic right – taken today at Ali Boutique pre-launch at her mega event. Ali's line includes clothing, jewelry, fashion accessories, even branded flip cameras! Love it!
I'm writing this post from my hotel room at Ali's last ever Online Success Blueprint Workshop in LA. I am truly honored to be a guest speaker at the event, teaching about marketing your business on Facebook. 500 attendees will be here – 90% women! I'm launching the next phase of my own brand and product line. Stay tuned! 😉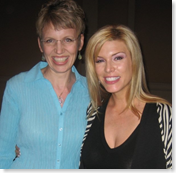 Though Ali and I had known one another peripherally for years, it wasn't until (a) we connected further via Facebook and (b) we met face-to-face at a special event with David Neagle earlier this year. (Plus, we discovered that my hubby and I are actually in the same real estate investment club as Ali's brother and sister-in-law! Neato, small world, eh!)
Pic left: taken at David Neagle's "Just Believe" event in April.
Ali's tagline is "Live your good fortune." What would you do if you knew you could truly live your dreams? If money and time were no object, what would you be doing with your life, your business, your brand? I'd love to know. And if there's any way I can support you, do let me know!