NEW! Facebook Live Video Streaming App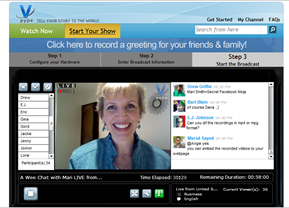 I was recently approached by the team at Vpype to test out their brand new Facebook app that allows you to stream LIVE video directly from your Facebook profile or fan page to your friends and fans!
This app is a gamechanger! Live video streaming meets Facebook. and the best part? It's FREE!
Vpype allows you to:
Schedule regular shows
Broadcast live anytime
Broadcast as yourself or broadcast as your fan page
Select specific friends to broadcast to (think private conferencing, trainings, etc!)
Archive your shows
Embed any show
Browse through your Facebook friends' show recordings
.and more. 😉
So, last night around 7:30pm PST, I put out a tweet, updated my Facebook profile status and began broadcasting – within a few minutes, we had over 40 participants view the show (ultimately 247 live views) and engage in the chat room from around the U.S. and as far as Singapore, Iceland and Gold Coast, Australia! (See this prompt recap of my Vpype debut by Marianna Fridjonsdottir in Iceland!)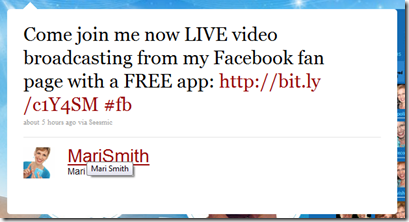 The Vpype Facebook app displays on your Fan Page as a tab called "Shows."
By the way, here's a hot Facebook fan page tip: All tabs to the left of Wall and Info can be reordered by dragging and dropping. In the screenshot below, I've placed my Shows tab inbetween my Blog and Welcome tabs: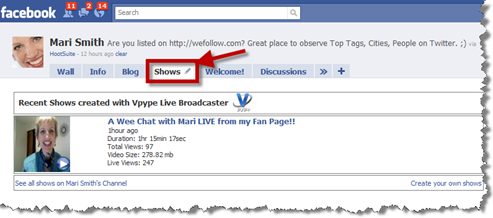 Possible uses of the Vpype Facebook app – some are my ideas, some I asked my peeps in the chat room:
Live Q&A for fans on your fan page
Private conferences
Family chats
Daily/weekly show with guest experts
Short tips/tutorial videos – live or pre-recorded
New product demos
Classes
Video book reviews
Virtual party
Cooking demonstration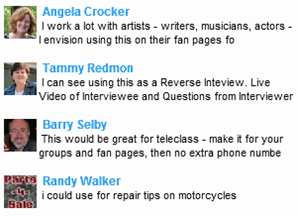 And a few excerpted enthusiastic comments:





We only ran into just a couple hiccups; for some viewers the stream was sticking from time to time (but that depends on variables such as internet speed on the viewer end, of course). Also, the chat area froze one time and I ended up hitting refresh – which temporarily stopped my live broadcast, but the users stayed connected and we ended up picking right back up where we left off. However, the second part didn't seem to record.
Also, I first published this post with the video embedded – but was a wee bit alarmed to see the video plays on load! So, I took it out. 😉
You can watch the show here. And, I've pasted below a screenshot of what the embed looks like. (Btw, the default width is 750px which is rather wide and needs to be sized).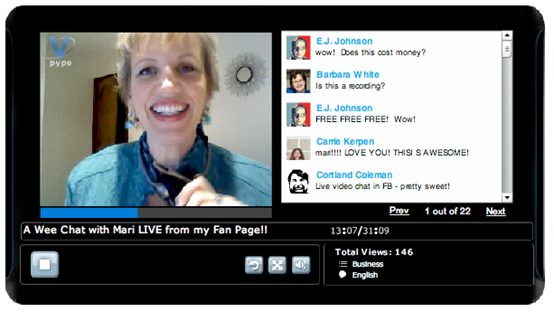 A few items on our features wishlist as a result of this debut show:
Embedded player does NOT play on load
Default embed size is 600px
Notification of who joined/left
Participants' names/avatars linked to their Facebook profile
Ability to pause the chat area (similar to Tweetchat)
Broadcast inside the "frame" of a fan page tab
Ability to assign mic/webcam rights to others for live video interview
Vpype officially launches on Monday, March 15, 2010 at the Social Media World Forum in London.
So, what do you think? How will you use live video broadcasting on Facebook? Let me know in the comments below!