Create a Facebook Ad Checklist, Align Content Marketing with Social Media & More: The Social Scoop 2/3/17
Another big week for Facebook! The company held its fourth quarter and full year 2016 earnings call on February 1st. And, whew, the numbers are incredible: Facebook is approaching 2 billion users and generated $10 billion in profit last year.
CEO, Mark Zuckerberg, is proud to lead the world's largest community with almost 1.9 billion people and 65 million small businesses using Facebook to connect with their customers. Zuck stated in his status update, "Our biggest focus continues to be putting video first across our family of apps."
NEW Facebook Stats & Facts
Shortly after Facebook's earnings call with CEO Mark Zuckerberg, COO Sheryl Sandberg and CFO David Wehner, I lead this fun Facebook Live on my Page to walk through some of the highlights, facts, stats and Q&A.
I used the BeLive.tv platform in Q&A mode, which allows you to feature viewer questions right on your screen! Super cool, love that!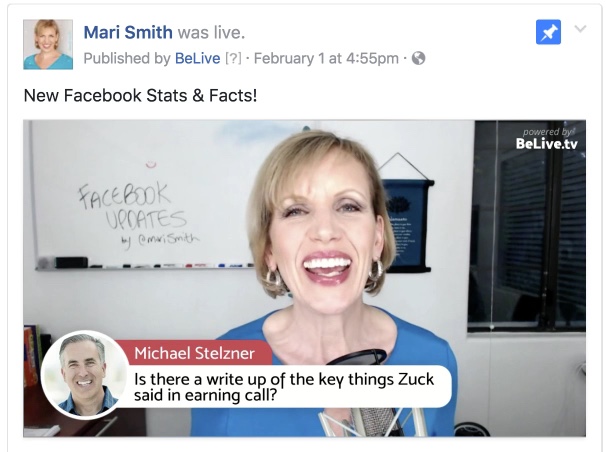 As you can see in this frame above, my good friend Michael Stelzner hopped on the broadcast. Also, BeLive has another mode that allows you to bring on a guest for a side by side interview.
This Week's Top 3 Articles
Next, here are this week's top three articles that my team and I selected for you!

1. How to Create a Facebook Advertising Checklist in 4 Easy Steps via PRNewsOnline.com

It might be tempting to jump right into creating ads on Facebook, but to make your budget go further, and to keep the process from being overwhelming, it's best to spend some time planning first. A checklist can help you create and optimize your ads ahead of time.
2. How to Align Content Marketing & Social Media Strategies for the Most Effective Amplification via ScribbleLive.com
Content marketing and social media go together like peanut butter and jelly. You need content to share on social media, and you need social media as a way to engage with your community and to share your content. That's why planning for both should occur at the same time. As my buddy Andy Crestodino said at Content Marketing World last year, "It's not the best content that wins. It's the best promoted content." Yes, sad but true… sad that it's not the best quality. But, the idea is to aim for the ideal combo of QUALITY + AMPLIFICATION. This article walks you through a proven process for how to keep the two working well together!
"It's not the best content that wins, it's the best promoted content." @crestodina #CMWorld ???? pic.twitter.com/CpwsVKuOAE

— Mari Smith ?? (@MariSmith) September 7, 2016
3. Welcome to Marketing In The Engagement Economy via Marketo.com

The Engagement Economy is essentially a change in how we do business. Regardless of whether we are consumers, business owners, or employees, there is an expectation of experiences rather than simply a transaction. Companies now need to listen to and engage with customers and marketing has definitely changed.
That's a wrap for this week's issue of The Social Scoop. I hope you have an amazing weekend and week ahead!
By the way, I had a fabulous time keynoting at the San Diego HubSpot User Group Inbound Marketing Conference "HUG17" yesterday! It was great to meet Neil Patel and hear his brilliant marketing insights. And, HubSpot's CMO, Kipp Bodnar gave an excellent and informative closing keynote on The Future Of Social Media, which I was able to broadcast live on my Facebook Page.  
Cheers,