Content Marketing in 2017, Traffic Driving Imagery and More: The Social Scoop 11/24/16
Greetings!
Here's wishing a very HAPPY THANKSGIVING to all my U.S. friends. 🙂
On Facebook, have you seen the newest layout on your Page with sections in the middle column?
I recommend you double check the new layout on desktop and ensure the sections are all in the order that you prefer. For instance, the default might have put your videos, then reviews, then photos, then events all above your posts. Personally, I rather prefer my wall posts at the top.
I made this special video tutorial to help my peeps better understand the new layout and the options for adjusting.
Next, let's look at this week's top 3 articles we've selected for you:
1. Content Marketing: What to Expect in 2017 and Beyond via SocialMediaExplorer.com
What is the current state of content marketing, what challenges do marketers face and where are things heading in 2017? These are just a few of the topics discussed in this in-depth interview with Michael Brenner. It's definitely one to read as you prepare your plans for next year.
PLUS, be sure to check out my friends at the Altimeter Group and their brand new report '2016 State of Social Business: Social's Shift from Innovator to Integrator.' I was honored to be one of the interviewees for the comprehensive report alongside contributions by FedEx, IBM, Adobe, Oracle, HootSuite and Sprinklr to name a few!
2. 6 Kinds of Images to Get Traffic from Social Media (That Aren't Stock Photos) via LeadPages.net
In this visual world we live in, stock photos or those available for free are a quick and easy solution. But chances are that the image won't be in tune with your brand and it's also likely you will see it used elsewhere. There are a few ways to avoid using stock photos and to create good social media images… read on to find out how!
3. How TOMS Uses Live Video to Broadcast Its Mission via Sprinklr.com
TOMS' mission is about giving and they have built a passionate community of supporters who want to contribute to their efforts. Live video on Facebook, Instagram, and Snapchat is an important part of how they get new and existing fans excited about what they do.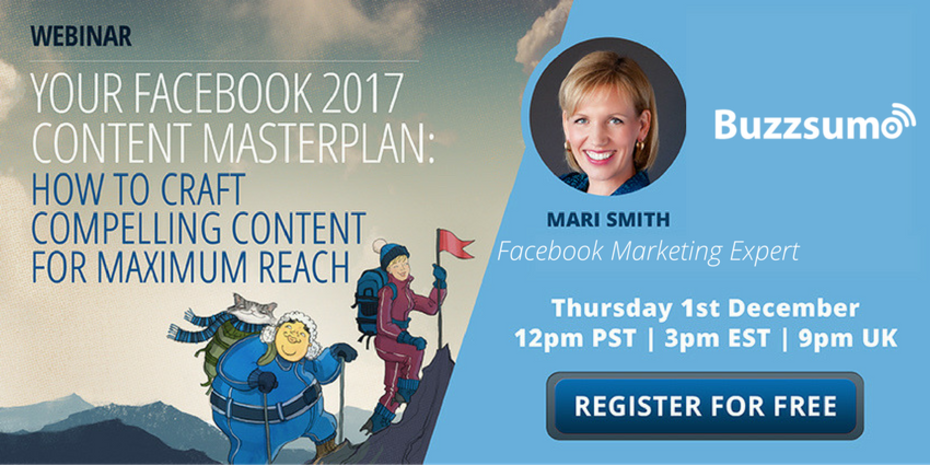 Free Facebook Webinar – December 1st
Your Facebook 2017 Content Masterplan: How To Craft Compelling Content for Maximum Reach. I'm teaming up with my friends at BuzzSumo again to bring you the very latest research-based recommendations for winning on Facebook! Join BuzzSumo and me on this free webinar, as we share the posts that performed best during 2016 + specific strategies for your optimal Facebook content in 2017.
Meet me in San Diego?
Discover social media insights from over 180 subject-matter experts at the largest in-person social media marketing conference. Meet me and my team in glorious sunny San Diego, California on March 22nd to 24th, 2017 and learn about the best ways to build your business using Facebook, Instagram, YouTube, Twitter, LinkedIn, and much more! Click here for details.
That's all for this week's issue of The Social Scoop. Have an awesome weekend and week ahead.
I hope that you're able to enjoy a very special time with loved ones… and maybe score a good deal or two on Black Friday, Small Business Saturday, (show your love, shop small!), or Cyber Monday! And, let's not forget #GivingTuesday!!
Cheers,