8 Facebook Engagement Stats Every Marketer Needs To Know
Does publishing Facebook posts through a third party tool affect your reach and engagement? What types of Facebook posts get the most interactions? What is the best time of day to publish Facebook business posts? Which day of the week is best for publishing posts? These are all questions I hear regularly from businesses using Facebook.
Good news! Our friends at content discovery tool, BuzzSumo, analyzed 500 million Facebook posts to discover what types of posts create the most likes, comments and shares. The results may surprise you!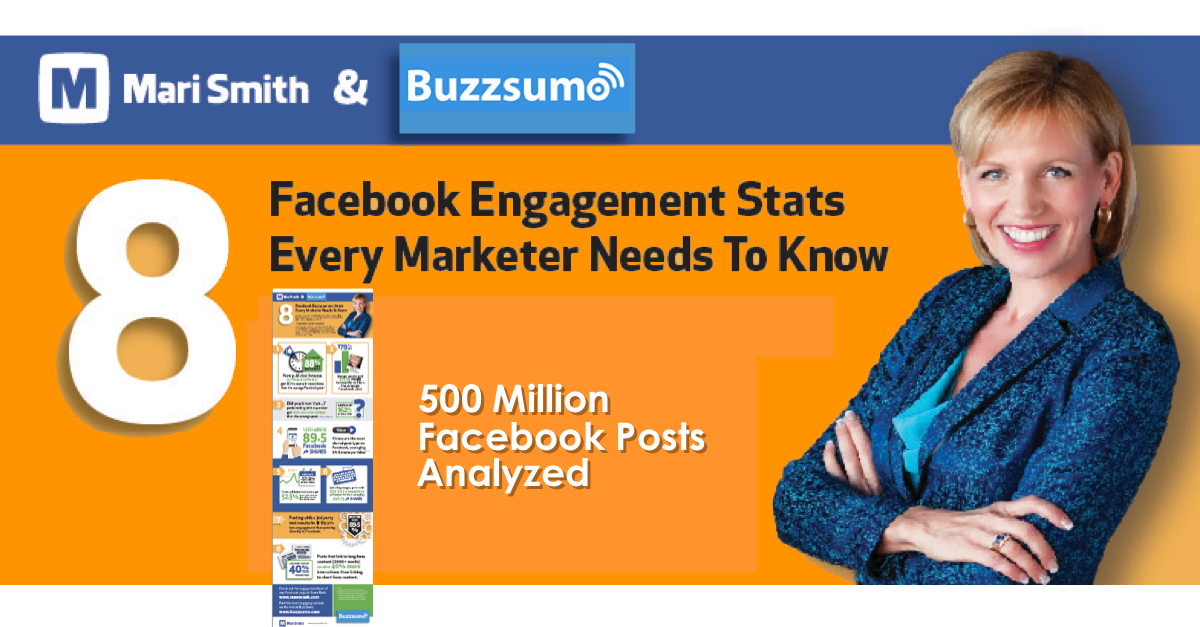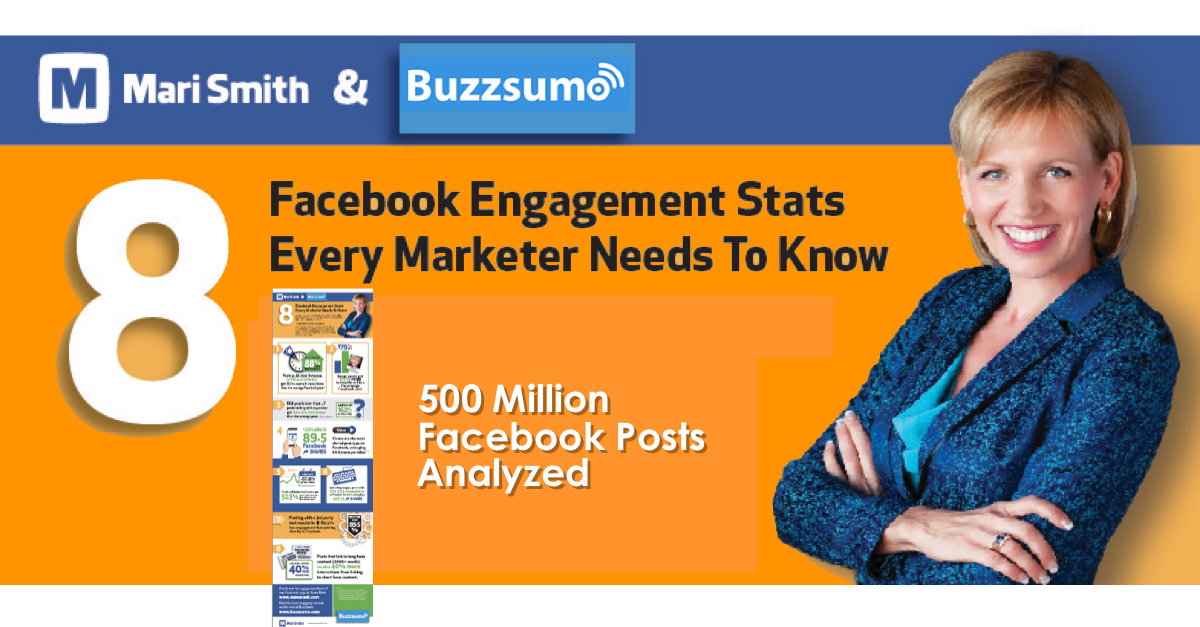 8 Eye-Opening Facebook Engagement Stats
Posts published from 10 – 11 PM EST get 88% more interactions than the average Facebook post. *
Image posts get 179% more interactions than the average Facebook post.
Posts ending with a question get 162% more interactions than the average post.
Videos are the most shared post type, with 89.5 average Facebook shares. **
Posts published on Sunday get 52.9% more interactions than the average Facebook post.
Excluding images, posts with 150-200 characters performed the best, averaging 238.75 shares.
Posting with a 3rd party tool results in 89.5% less engagement than directly posting to Facebook.
Posts that link to long form content (2000+ words) receive 40% more interactions than linking to short form content.
FOONOTE:
* Interactions = likes + shares + comments
** BuzzSumo counted only shares, not likes + comments.
Use these facts and stats to adjust your Facebook content publishing strategy and you may start to see an increase in engagement. Remember, each Page and audience is different – experiment to find your own sweet spot.


Share this Image On Your Site
Content discovery tool, includes trends
Find the most engaging content on the web at BuzzSumo. (I recently started using this tool and totally LOVE it! Stay tuned for even more awesome Facebook-related features coming from BuzzSumo!). 
NEW Free Facebook Tool!
BuzzSumo just released a brand new tool today, called Sumo Rank! You can check the engagement of any Facebook page for free! Go to: www.sumorank.com
Let's hear from you…
Did you find value in this post and the infographic? Any questions or comments, let us know below – we'd love to hear from you.
Please do share this post on your social profiles, too. Feel free to embed the infographic on your website/blog as well — use the code above! 🙂
UPDATE – 1.21.16
First, please do watch this video:
Does Posting to Facebook Using a Third Party App Lower Reach &…Does Posting on Facebook via 3rd Party Tools Lower Your Reach?! BuzzSumo analyzed 500 Million Facebook Posts and discovered that publishing through 3rd party tools *may* lower engagement and, as such, possibly reach, too. See this blog post with infographic: http://www.marismith.com/8-facebook-engagement-stats-every-marketer-needs-to-know/ and this post as well: https://blog.bufferapp.com/facebook-data-study-insightsHowever, Buffer also conducted their own analysis of 500 Million Facebook posts and show that 3rd party posts are not 'penalized' in any way on Facebook. See: https://blog.bufferapp.com/3rd-party-facebookSee also this conversation thread on Buffer cofounder, Leo Widrich's profile: https://www.facebook.com/leonhardwidrich/posts/1152218541457892 Your thoughts?! #FacebookApps #SocialMedia #ContentScheduling #ThirdPartyApps

Posted by Mari Smith on Thursday, January 21, 2016
To explain further, Buffer App conducted its own research of 500 million Facebook posts and "debunked the age old social media myth that posting via third party tools get penalized by Facebook." As a result of that blog post on Buffer + this comment thread on Leo Widrich's (Buffer App cofounder) Facebook profile, along with ensuing discussion between Joshua Parker (Post Planner cofounder) and Steve Rayson (Director at BuzzSumo) and myself, I wanted to clear up any misunderstanding about this topic of using third party tools.
Personally, I'm a big fan of third party tools. I use HootSuite every day for scheduling my posts on Twitter and LinkedIn. My own personal preference is to publish natively (directly) on Facebook. However, it's really important that Facebook Page Admins conduct their own experiments to see what works for you. There is no prescriptive, one-size-fits all approach here.
BuzzSumo's analysis of 500M Facebook posts did not reveal that posts via third party apps get 'penalized.'  The data does not mean that using a tool actually lessens engagement of itself. Rather, some possible reasons for lower engagement when posting via third party apps include:
people creating less engaging content when using a tool
cross-posting content from other platforms such as Twitter, rather than crafting a post specific to the platform which will perform better
not optimizing images for Facebook
scheduling content for later, which simply gets posted after a story has already gone viral or is no longer as relevant
no one wanting to engage with a post that looks automated, which could explain why tools like IFTTT performed particularly badly in terms of engagement
See Buffer's post for more on this topic, as well: