4 Things your Facebook Ad Visuals Must Have, Leveraging UGC & More: The Social Scoop 5/31/17
Facebook rolled out a few new features on Pages and in Groups recently. Check out these three:
1) You can now add Units in Facebook Groups to help organize content, possibly into e-learning modules. This feature appears to only be for the School or Class type.
Is Facebook stepping up to compete with Google's Classroom? And/or other e-learning platforms. Hm, we shall see!
Check this out: in terms of the SIZE of the e-learning industry from this Forbes article: 10 Platforms You Can Use To Host Your Online Courses.
"E-learning market size was valued over $165 billion in 2015 and is likely to grow at over 5% from 2016 to 2023, exceeding USD 240 billion."
Amazing. I'm a big fan of Thinkific, Udemy, Ruzuku among others.
On the high end but super affordable, have you seen MasterClass? Take online courses from super celebs!! Great way to leverage their knowledge.
2) On Pages, it seems Facebook is testing replacing the Likes tab with Community, which has been the case on mobile for awhile. I have this on my Page now and some features are missing, including the public-facing PTAT (people talking about this). Hm! Find out more here.
3) Plus, along with the new combined notifications for Messenger & Instagram on the Facebook mobile app that I got last week, today Facebook announced that advertisers can now place ads on Instagram with a Messenger CTA call-to-action button.
Facebook Mobile Video: What Marketers Need To Know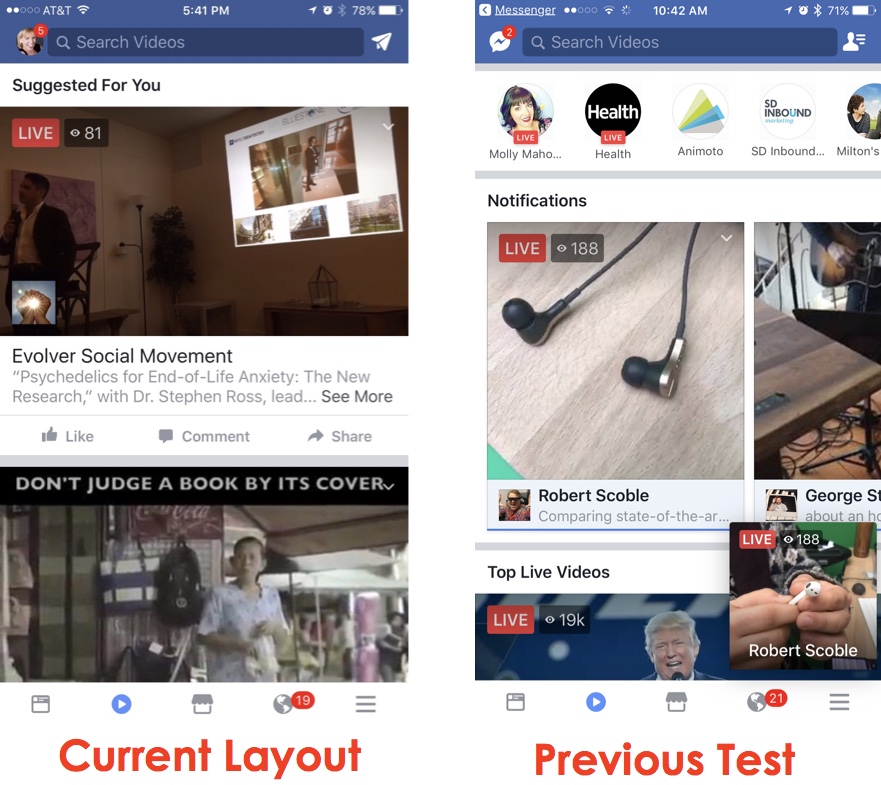 My newest article published this week on Social Media Examiner — take a look to find out what's coming with Facebook Live, video and especially on mobile. The blog post includes 14 Ways To Optimize Your Visibility in Facebook's New Mobile Video Tab.
In the screenshots above, you can see on the left this is the current layout Facebook is testing for the new dedicated video tab on mobile. I rather liked the previous iteration with the 'bubbles' up top, similar to the pervasive Stories! 🙂
This Week's Top 3 Articles
1. 4 Things your Facebook Ad Visuals Must Have via SmartInsights.com
To stop someone from scrolling past (especially on mobile devices), your Facebook ad needs the right balance of visuals and text. Both have to be good. The visuals get seen first, but then the text is what draws people in. I really enjoyed the examples in this post! I'm sure you'll also find them a great source of inspiration and a way to learn more about what goes into that recipe for success!
2. How to Leverage User-Generated Content in Your Marketing Strategy via HubSpot.com
Two of the most important parts of a content marketing strategy are creating high-quality content and doing so consistently. But sometimes that's easier said than done, right? User-Generated Content, or UGC for short, can help generate more content without adding more to your to-do list. Woohoo, love that! 
3. Is Facebook Replacing LinkedIn as the New Professional Network? via JOSIC.com
The short answer to this question is no. Whew! BUT, there's more to it than that. When you consider the amount of people using Facebook for professional reasons, it's easy to see why B2B marketers need to add Facebook to the mix. 
Facebook TV Is Coming: Get Ready!
If you already  joined the notification list for this exciting new course, thank you! And, thank you also for your kind patience in receiving the latest update from me! My team and I continue to work hard behind the scenes to complete the outline, speakers, format, delivery, timing and more on my exciting and long-awaited new program: Facebook Live Video Success Secrets + Facebook Ads Strategy Training (FAST!) We'll have further details to you ASAP!
If you haven't already, do join the early bird notification list to be among the first to know when we go live! If you're already signed up, stay tuned!
Find out more here… or click the button below to be among the first to know when we go live with this combo course! (Plus, get special bonuses!)
Get on the Early Bird Notification List here!