100+ Brilliant Insights From Social Media Marketing World 2015 #SMMW15
The world's top marketing experts shared excellent educational content at the recent Social Media Marketing World mega conference in sunny San Diego, California with 2,200 attendees from all corners of the world! This is the third annual event of its kind and I'm honored to have presented at all three events.
This year, I lead not one but two Facebook marketing sessions and co-lead a keynote panel alongside my friends Guy Kawasaki and Christopher Penn, moderated by the fabulous Mark Schaefer.
We've rounded up some of the best articles containing #SMMW15 highlights so you can benefit from the cliff notes! Our featured article below contains 50 brilliant social media insights; plus, we've included several more of my favorite #SMMW15 summary posts! See also this gorgeous highlight reel:
(Psst – there's still time to get a virtual ticket and access the replays for all presentations!)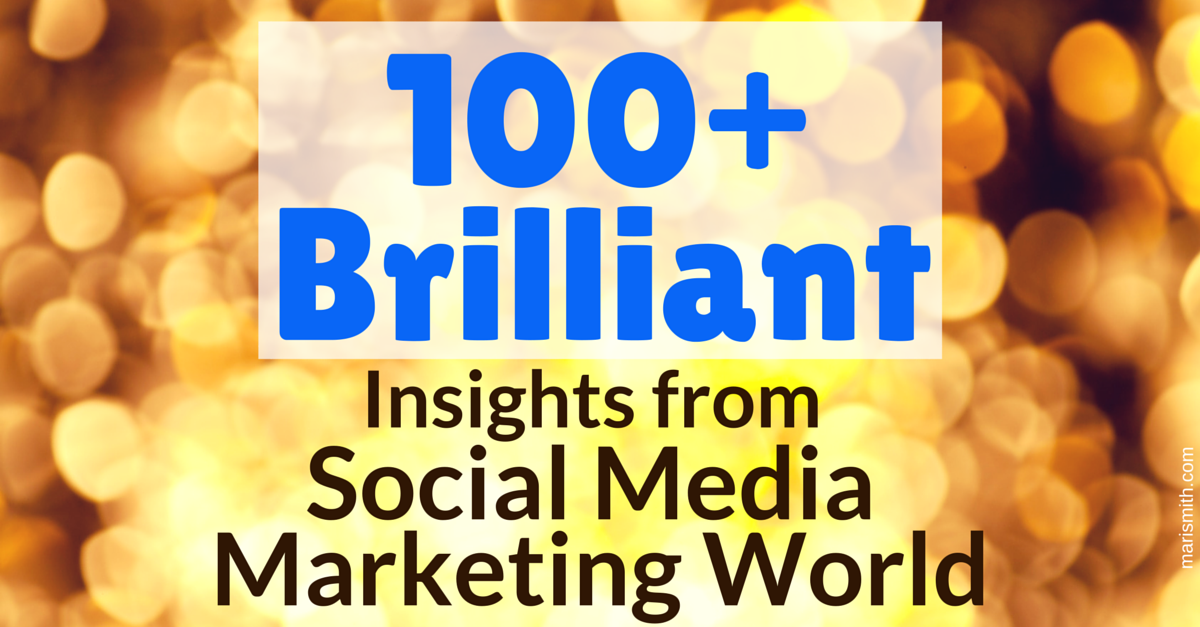 The blog version of this week's edition of THE SOCIAL SCOOP weekly newsletter follows below! If you're already subscribed, you'll continue to receive The Social Scoop via email on Fridays. If you're not yet signed up and would like to be, please enter your name and email in the box to the right (desktop) or below the post (mobile). Thank you!
Mari's Top Social Media Picks – April 10, 2015
Issue #144
Greetings!
Please enjoy this week's top articles we've selected for you!
via TopDogSocialMedia.com
I just love the way my friend Melonie Dodaro complied this post with "ready to tweet" nuggets. Genius. We've also rounded up a few more recommended #SMMW15 summary posts below:
50 Brilliant Social Media Insights From #SMMW15 http://t.co/0Fyt8wfKxJ via @meloniedodaro | Excellent compilation!

— Mari Smith (@MariSmith) April 6, 2015
Excellent roundup from the recent MEGA conference, Social Media Marketing World!! Kudos Kristy Schnabel at It's Virtually Done!! #SMMW15 #SocialMedia

Posted by Mari Smith on Thursday, April 2, 2015
via Bufferapp.com
Facebook put the 'face' on the map! Plus, it's in our DNA to recognize faces. So, your profile photo is a super important part of your social media branding… but how do you decide which photo is best? Check out this post with fascinating science, research and psychology!
via Entrepreneur.com
Service is the new social! That was a resounding theme throughout Social Media Marketing World. In order to provide stellar customer service, the first place to start is inside your organization. When your employees are happy and engaged they serve as your best brand ambassadors!
Treat Your Employees Well — They Are Your Best Brand Ambassadors http://t.co/17tW4qQ0Y7 via @entmagazine | Yes!

— Mari Smith (@MariSmith) April 3, 2015
That's a wrap for this weeks' issue of The Social Scoop. Here's wishing you a relaxing weekend and super-productive week ahead!
On a personal note, I'm striving to lead a very balanced life with plenty time away from my desk at weekends… evenings, too. Yay, a new 2015 habit for me!
I also recently started using my old iPhone 5 as my bedside phone – after removing all apps: no Facebook, Twitter, email or texting. Just my music for meditations and my Sonos controller! I now keep my everyday business iPhone 6 Plus outside the bedroom and, let me tell you, it's having a profound impact on my sleep quality. Woohoo! Highly recommended.
Cheers!
Mari