10 Secrets To Making Your Social Media Marketing Much Easier
Managing your social media activities every single day, staying on top of the latest tech trends, and ensuring you get a decent ROI from the time and money you invest can be a great big headache for so many busy business owners, entrepreneurs and social media managers.
Whether you take care of most of your own social media marketing, or you have a team, our featured article this week is an exceptional read.
The author, Katerina Petropoulou at TwitterCounter walks you through ten clear steps that will help you get your social media way more organized, save time and make your life much easier. Love that!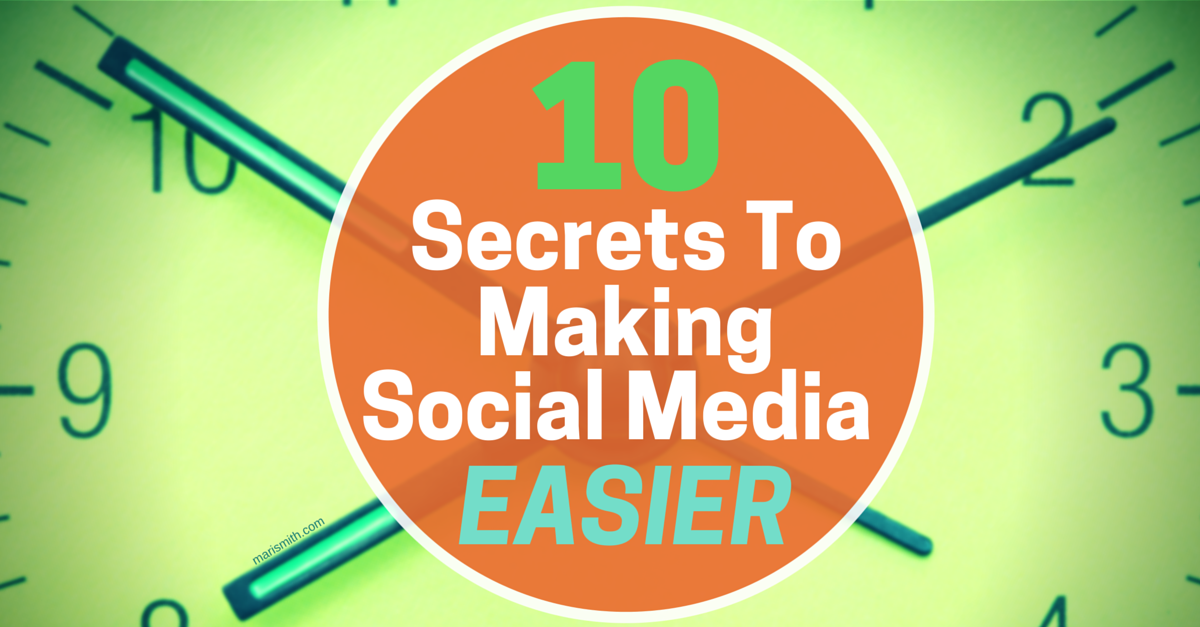 The blog version of this week's edition of THE SOCIAL SCOOP weekly newsletter follows below! If you're already subscribed, you'll continue to receive The Social Scoop via email on Fridays. If you're not yet signed up and would like to be, please enter your name and email in the box to the right (desktop) or below the post (mobile). Thank you!
Mari's Top Social Media Picks – June 12, 2015 Issue #153
Greetings! Please do enjoy this week's top articles we've hand-picked for you!
via TwitterCounter.com
More than likely managing your social media is just one of the many things on your to-do list. Check out the tips here to see where you can save time and effort. One of my favorites? Number 4!
10 Secrets That Will Make Your Life Easier as a Social Media Manager http://t.co/CRnby0zioR via @thecounter | So helpful!

— Mari Smith (@MariSmith) June 2, 2015
via BufferApp.com Our brains can identify images seen in as little as 13 milliseconds. In a recent study observing 100 million Facebook updates, BuzzSumo found that updates with images had 2.3x more engagement than those without. But not all visuals are created equal. Find out why people react to certain visuals more than others with this in-depth post.
In a recent study observing 100 million Facebook updates, BuzzSumo found that updates with images had 2.3x more…

Posted by Mari Smith on Tuesday, June 9, 2015
via SocialMediaExplorer.com
In order to achieve consistent results on Facebook, it's important to set aside a budget for ads and to invest wisely. Along with getting proper help and education, the four tactics described in this article will help you vastly improve your ads strategy.
4 Advanced Facebook Advertising Tactics that Need to be a Part of Your Strategy http://t.co/BRRcJuYD3n via @smxplorer | LIKE! #fbboost

— Mari Smith (@MariSmith) June 4, 2015
That's a wrap for this week's issue of The Social Scoop. Here's wishing you a perfect weekend and productive week ahead.
On a personal note, I'm super duper excited to finalize details of my UK trip next month! My partner and I will be buzzing around England, Scotland and Ireland for two weeks in July. Wowee!! I'm keynoting this mega event in Manchester. Then on to Edinburgh and Dunfermline to visit my dad, two younger sisters and niece/nephews. Ireland plans firming up, stay tuned. 🙂 See my full calendar of events, travels and speaking — I look forward to meeting many more of my peeps around the world.
Cheers!
Mari
P.S. Did you know? 90% of Fortune 500 brands are not properly optimizing their Facebook marketing and advertising. Yikes. Thing is, Facebook has rapidly evolved into a big challenge for businesses of all sizes, with several major changes to the News Feed in April this year and also last fall. Organic reach is down to 1-6%. Don't get left behind – stay on the leading edge of Facebook marketing best practices when you attend my newest online training course. I'll be sharing insider secrets from my own business and directly from Facebook on how to attract more fans, leads, and sales! Save $200 when you register today.