What's Your Friending Policy?
Do you have a clearly defined personal policy for requesting and accepting friends on Facebook? I sure hope so.
Over-friending can get your profile shut down in a heartbeat by the FB police (this happened to two of my buddies recently).
The bad news is you'll lose ALL your accepted friends, posts, emails, installed apps – the works. You gotta start from ground zero again. (To my knowledge, there is not yet a reliable way to back up all your FB data).
The good news? Well, you can pretty much restart right away. And, if you somehow manage to get Facebook to respond favorably, they might even reinstate your original account. Who knows.
Tripping someone's hot button can get you plastered all over their blog in a very negative way. Sorry to say, this happened to a good buddy of mine this week.
There really is a certain etiquette on Facebook. I believe I heard it called "fetiquette" once.
Here's the thing: you only have one reputation. I like to live by the credo, "do unto others as you would have done unto yourself." Also, "How you do anything is how you do everything." Everything counts.
I approach potential new contacts with a WIIFT attitude. (They're really contacts to me, not friends – unless we do personally know one another). You've probably heard of WIIFM – what's in it for me. WIIFT is what's in it for them.
I cannot reiterate this enough: whenever requesting a new friend, always, always use the "[add a personal message]" link.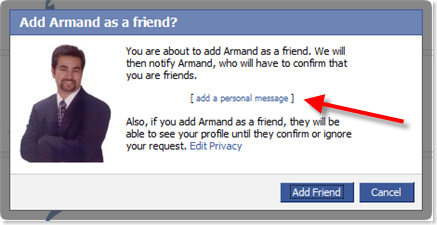 When you click on the link, a text box opens up where you can insert a private message to this person. Best you can, write the note to include:
How you found, met, or know this person.
Why you want to friend them.
What's in it for them.
You might include a compliment as well, though keep it brief as you have a limited amount of characters.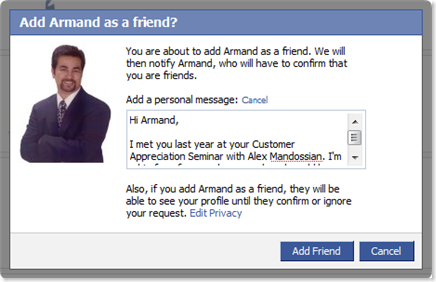 Here's my own friending policy:
Requesting:
Do I personally know them? Are they someone I want to get to know better? Is this a person whose work I know, like and admire? Do we have similar interests? Is there some way we could collaborate? Do I have something that could help or benefit them? Are they offering a product or service I'd like to help promote?
Accepting:
Is their profile photo warm and friendly? Do I recognize their name? Can I view their Friends?* Do we have mutual friends? Have they included an acceptable personal message? Do I like their "vibe"?
*This is not always a prerequisite, as some Facebook members set their privacy settings to hide their Friends from non-friends which is fine.
By the way, something to keep in mind whenever you're unsure about accepting someone you don't know: there's always unfriend, see less of, and block altogether.
Also, be respectful of the fact some FB members only accept friends who they personally know and have met.
What's your Facebook friending policy?
UPDATE: Just wanted to let you know, Armand accepted my friend request. I'll be watching him and Alex Mandossian, among others (like Joel Comm), on their Facebook strategies over the coming months into 2008!