Social Network Business Cards – Found Fab Printer On Twitter!
I just had the most awesome social network business cards designed and printed… in record time. And, I found the designer/printer via Twitter!
The gal I've been using for my business cards for years suddenly became unreachable for some reason. I was in a pinch. I needed new cards for an upcoming event (jvAlertLive in Las Vegas!).
I thought about sending a general tweet as I've done in the past when looking for a specific product or service provider. However, oftentimes that strategy can yield a lot of results which is great in most circumstances. But, in the interests of time, I tapped my mental rolodex for who I knew on Twitter in San Diego who might be able to refer me to a great designer/printer.
Tues @ 11:14am – I reached out to my friend @AmyMiyamoto via DM (direct message. By the way, you can only send direct messages to people on Twitter where you both follow each other – one of the primary reasons I like to follow peeps back).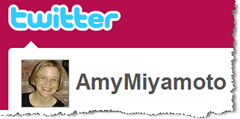 Tues @ 11:25am – Amy responded very promptly and suggested I contact Laura Beulke @VPG_Printing. She mentioned that our mutual friend Angie Swartz of the SixFigureMomsClub (@aaswartz on Twitter) had used Laura's services and was very happy with the results.
I loved that Laura was a fellow Twitterer! I checked out Laura and saw she was already following me. So, I quickly followed her back so I could DM (direct message) her. (Though my policy is to always follow peeps back who follow me, at times I get behind on my following back).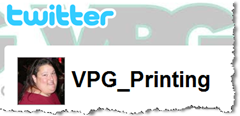 Tues @ 11:39 – Laura responded with "I would LOVE to help. Do you want to email me your artwork? [email address]."
Wow. I was IMPRESSED already! I sent Laura my design mockup and high resolution artwork. Within a few hours, Laura had a proof to me and after just a couple tweaks I had my fabulous new biz cards in my hand in LESS THAN 24 HOURS from sending that first tweet to Amy!! I just new it was possible with a little help from the Law of Attraction and the power of Twitter. I'm excited to give out my new cards here at Ken McArthur's jvAlertLive in Las Vegas now!
Go look at your own business cards now – if they don't reflect your current branding or you don't have links to your favorite social networking sites, then for sure go connect with Laura on Twitter. She's @VPG_Printing. Her customer service is exemplary.
And, get this – when you connect with Laura via Twitter and mention you were referred by @MariSmith, Laura tells me she'll give you a nice discount to boot!
Let me know what you think of my new biz cards::
FRONT: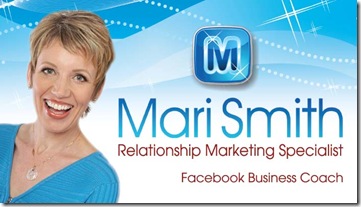 BACK: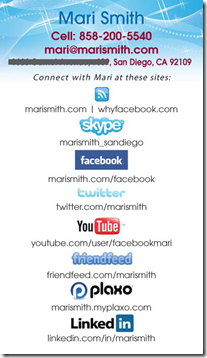 (I've x'd out my mailing address on the backside image; due to my mobile lifestyle, I go to great efforts to receive *very* little paper mail so I don't publish my snail mail addy online).