New Year 2015: One-Word Theme of PARTNERSHIP
It's that time of year to announce our one-word theme! Every January 1st, I love to pick just one word as an overarching theme for my professional and personal life that governs a lot of my goals and decisions throughout the year. I've done this practice for the past nine years and it's always amazing how the word serves me so well throughout the entire year.
The word can be used as a daily mantra, or a simple touchstone to remind you to stay on track. Even if you pick a word, then "set and forget," you may be amazed by the end of the year just how much your word was a thread throughout so many of your experiences and accomplishments! You don't have to stick with one word, by the way; my buddy Chris Brogan chooses three words for his annual theme.
2014:  The Impact of Selective
In 2014, my word was SELECTIVE – my intention was to be very particular about where I chose to put my focus, to what invitations and projects I said yes and no, in which events I invested energy, and with whom I spent my time.
Selective was the perfect word for my 2014. Throughout the year, I was very particular about striking a balance between how much I worked and taking time to pursue personal passions. It was another wonderfully fulfilling and profitable year for my business.
Along with launching a number of online training courses, I'm blessed to work with major clients such as AAA and NAMM, providing social media and Facebook marketing consulting and training. I got to enjoy several business trips, speak at major events and found time to attend an investment workshop in Atlanta by one of my favorite experts (and I'm now in an ongoing course getting a "PhD" in investing!)
Also, I'm delighted to share that I've been taking weekly singing and piano lessons for most of 2014, and will continue for some time to come! (I played the accordion and keyboards age 12-14 and have always wanted to take up music practice again. The voice lessons are primarily to hone my speaking skills even further, but I do really love to sing – it's all the same apparatus and techniques! Just don't be expecting to see me on The Voice or American Idol. Haha!)
In addition, I've attended art classes, traveled a fair bit including enjoying a glorious vacation in Canada with my sister where we attended a Quaker school reunion and took a great trip down memory lane at our childhood home (teeny log cabin that our father built!) in Argenta, BC.
2015: Focus on Partnership
And so, here we go on to a brand new year!! I usually start ruminating on what word makes most sense to me in early December. Often, the word doesn't come to me 'til close to the very end of the year. I like to see where and what I'm growing IN to, what I want MORE of in my life — personally and professionally — and, what might've been missing in the previous year that I want to manifest. Previous year's words have included Focus, Abundance, Growth, and Influence.
"YOU ARE CO-CREATING WITHIN A MAGNIFICENTLY DIVERSE UNIVERSE – Every physical Being on your planet is your partner in co-creation, and if you would accept that and appreciate the diversity of beliefs and desires — all of you would have more expansive, satisfying, and fulfilling experiences." ~Abraham (Excerpted from Ask and It Is Given by Esther and Jerry Hicks)
Partnership came to me for my 2015 theme, as I'm already deep in the throes of negotiating several major business collaborations, which I'm super excited to unveil early this year. I'm also teaming up with close female friends to host regular soul sister "Goddess gatherings!" (We just enjoyed a fabulous New Year's Eve celebration together.) And, I'm getting more involved volunteering with my local community.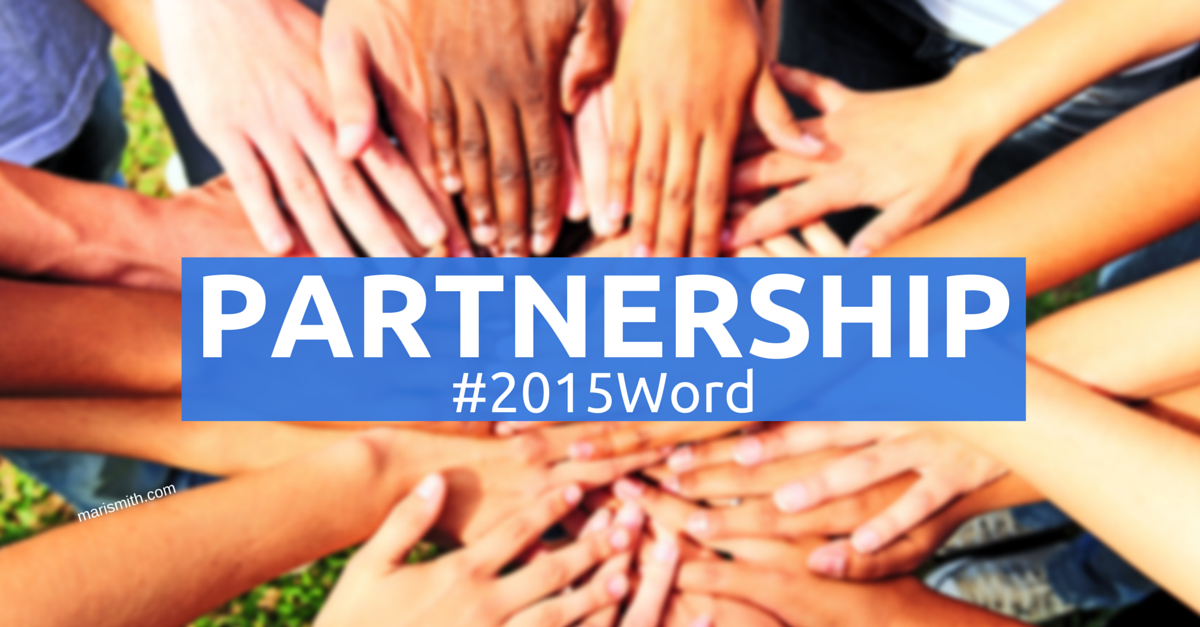 I intend to make co-creating, collaborating, joint ventures, strategic alliances, and continuing to shine the spotlight on others even more of a mainstream theme in my life and business this year.
"Our success has really been based on partnerships from the very beginning." Bill Gates
What's Your Word?
Now, it's your turn – what one word do you feel is the best one to reflect your theme for 2015? Please share in the comments below! I'd love to hear from you.