How to Increase Your Online Reviews Using Facebook
Do you have the Reviews feature enabled on your Facebook Page? Are you proactively building your online reviews? Do you have questions about reviews?

In this special Facebook Live, brought to you by the Bank of America Small Business Community, I share what you can do online and in stores to get better online reviews, improve your reputation and help your business thrive.
Online ratings and reviews are a powerful form of user-generated content to help grow your business.
Key stats
Data from BrightLocal's 2017 Local Consumer Review Survey.
90% of shoppers' purchasing decisions is influenced by user-generated content.
76% of consumers believe the content everyday people share is more honest than advertising from brands.
87% of consumers say that a business needs a rating of 3-5 stars before they will use them
Reviews and other user-generated content can often be even more influential than advertising.
Facebook and Yelp are local consumers' most trusted review sites, followed by Google & BBB.org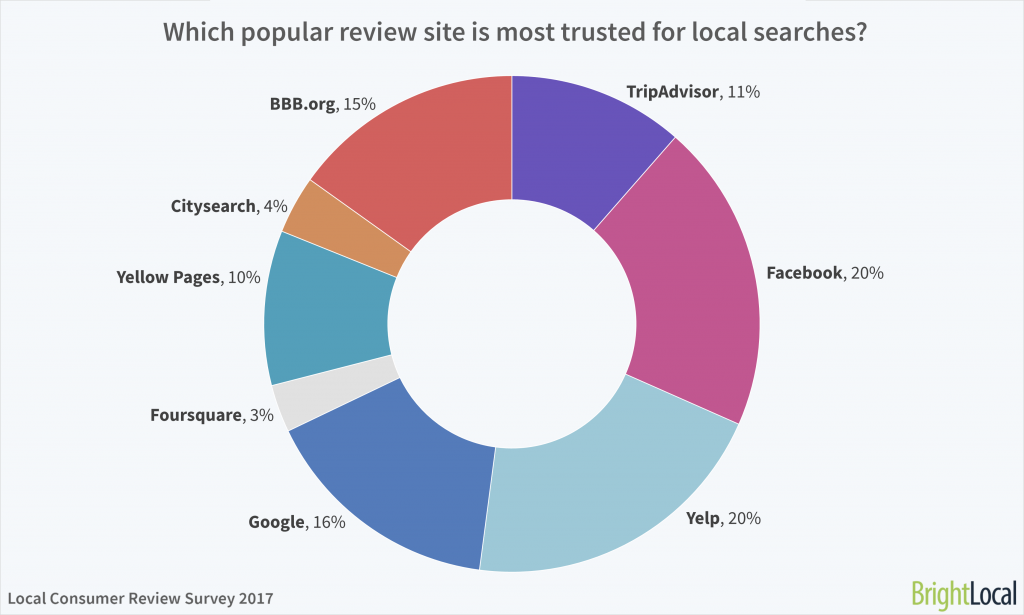 Facebook Live
Slides
See also the companion slide deck with all these fabulous facts and stats:
Tips for requesting reviews
ASK! Always ask. It's okay to ask!
Give clear direction to your customers – do not assume they know what to do, where to go and what you're looking for.
Include the URL for your Facebook Reviews tab whenever possible: www.facebook.com/pageusername/reviews
Monitor comments and posts on your Facebook Page and look for potential reviewers; follow up with positive commenters and request that they write you a Review
Follow up with customers via email with a direct link to your Facebook Reviews tab
Include communication via Messenger chat bot – see www.mari.chat
Request in-store – ask customers if they would be willing to write you a review on the spot via their mobile phone. Tell them where to find your page and ask if they could write a quick comment, not just tap the stars. (Of course, just the stars is better than no review!)
If you ship physical product, include a card inside packages with the URL of your Facebook Reviews tab
In some cases, consider crafting a draft review for your customer to edit in her own words so she can then copy and paste
Ask if you can follow up via phone or video chat (e.g. Skype, Zoom, etc.) and record a very short post-sales interview to see how your customer is enjoying your product/service — ask for permission, of course, to use their comments as a testimonial, in addition to asking if they would write you a Facebook Review.
Enable Facebook Reviews
If you look down the left side of tabs you have on your Facebook Page and you don't see the Reviews, here's what to do:
Go to Settings > Edit Page > scroll to the bottom and select Add a Tab. From there, select Reviews. Then, drag and drop the order of your tabs to position them the way you want on your Facebook Page.
See instructions here during my recent Facebook Live.
Twitter Chat – May 22, 2018
Plus, save the date all ye Twitter fans! On Tuesday, May 22 at 1:30pm PT / 4:30pm ET, I will be hosting a Twitter Chat about connecting with your community through social media. Follow the hashtag #SmallBizCommunity.
My special Facebook Live on 5/15 and Twitter Chat on 5/22 is brought to you by the Bank of America Business Advantage Small Business Community.
Recommended reading
On the Bank of America Small Business Community website: