Facebook: Personal, Professional… and Private!
It's true the lines between personal and professional get real blurry in the online world with all the blogs and social networking sites. Especially for us self-employed peeps, when who we are as a person is also our business.
I'm all for revealing information about my personal life, my personal thoughts and opinions. I think it does my business good; my community gets to see (most) all of me. They get to know me on a deeper level, and see my habits, interests and quirks.
However, here's what I also know for sure: just because personal spills into professional, doesn't mean we can't also have a third element – and that is private. Each of us has a private life too and that's where the line should be drawn.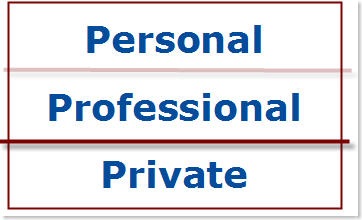 Thing is, even in password protected, membership only type sites and communities, I'm of the opinion that anything you don't want the whole world to know about you should not be posted online.
So, it's up to you, but I think you can let your hair down a bit and choose to be as transparent as you wish, yet not be in fear of totally exposing yourself online!
On my next post, I'll share a short how-to guide on adjusting your Privacy settings.