Facebook Live – Top Tips and Predictions from Mari Smith
Facebook Live is growing in leaps and bounds. Companies that want to be on the leading edge would do well to integrate Facebook Live video into their marketing strategies. Not just content marketing, but also looking ahead into the not too distant future for how you can integrate live video into your social customer care.
Check out this fun highlight reel with several of my recent Facebook Live videos, along with golden nuggets tweeted from my live video keynote panel at Social Media Marketing World 2016 #SMMW16:
Ideas for using Facebook Live
Weekly show: my friend Scott Monty uses Facebook Live on his profile every Sunday to provide a sneak preview of his weekly social media and tech industry roundup.
Q&A: You could do regular live Q&A sessions to provide valuable content for your audience, whether on your page or inside specific groups, for example. Our good friend Gary Vaynerchuk regular does #AskGaryVee Facebook Live sessions.
Breaking news
How to
Behind the scenes
Unboxing
Product demos
Customer spotlight
Meet the staff
'Man on the street'
'Where in the world is…': I've just been traveling and speaking extensively from San Diego, California to Rome, Italy and Scotland, then Las Vegas next week. I love to provide a glimpse of fun sights and landmarks as I travel. Your audience might love to live vicariously through you if you also travel, or even experiencing fun local activities.
If you are extremely uncomfortable being on camera, you might consider identifying someone else on your team/in your company who is a natural on camera. And/or join your local Toastmasters or Speaking Circles to improve your comfort level in front of audiences. Plus, check out my lovely friend Jaeny Baik's excellent on-camera training. I'm seeing a big need for on-camera training with the popularity of live video these days!
Facebook Live Tips
Give your audience advance notice of when you'll be broadcasting live by publishing a post with details of the day and time you'll go live. This is optional. You may want to be more spontaneous… for now at least.
Create a short, compelling title. Consider including an emoji or two. The title is the only part people see in their notifications to decide whether to join you or not.
Focus on quality from the first frame. Once your Live video is a recording on your wall (and/or you boost the post), you want to draw the viewer in within the first three seconds.
Use good lighting. Simply positioning yourself by a window can work great. Not glaring sunshine, though, as it's too harsh. And/or, invest in simple lighting. Take a look at the list of inexpensive gear from my friends at Films About Me.
Use good audio. People will forgive wobbly/grainy video long before they'll forgive bad audio. If your sound quality isn't good (e.g. too far away from your phone, too much ambient noise), for sure invest in a simple microphone for your smartphone. I love the gear my buddy Dave Basulto at iOgrapher offers.
Stabilize your phone. To create a higher quality video shoot, and save you holding your phone the whole time, check out the variety of awesome cases offered by iOgrapher as well as tripods. (I used this one for my iPhone 6PLUS throughout my recent travels in Rome; tourists kept coming up to me asking where I got it!) You might even consider a gimbal for a super smooth video. My good friend Guy Kawasaki uses this one by Ikan.
Broadcast for a minimum of five minutes, if possible. Shoot for twenty minutes if you can. Facebook recently tweaked the news feed algorithm to favor Live videos whilst they are broadcasting live.
People spend more than 3x more time watching a Facebook Live video on average compared to a video that's no longer live. This is because Facebook Live videos are more interesting in the moment than after the fact.  ~Facebook
Engage with your community while broadcasting. A person's first name is the sweetest sounding word in their entire vocabulary. Plus, everyone loves to be seen, heard and acknowledged. Give your viewers–and especially your commenters–a shoutout on the Live video.
Encourage your viewers to tap the Subscribe button so they will be notified each time you go live.
Always edit your Live videos once the broadcast ends
Whenever possible, immediately you finish your Live video, hop on to your desktop computer and edit. This feature seems to keep moving! Currently, it's under the gray arrow at top right of the post, then click Edit Post. Previously, this would only open up the narrative area. Now, this opens up the full edit video panel.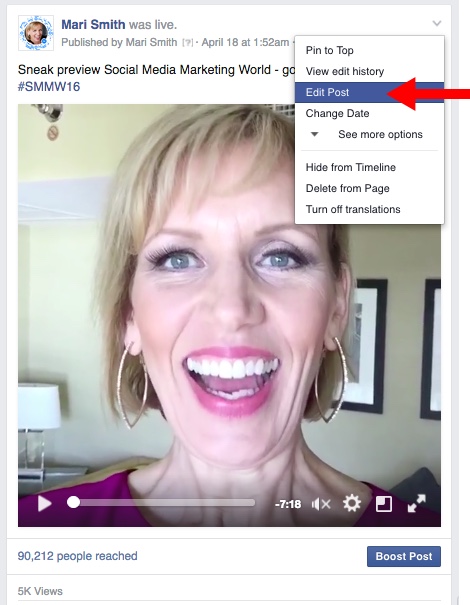 Important areas to edit include:
Select from one of ten thumbnails, or upload your own custom one. You definitely should choose an appealing thumbnail, even though videos are always autoplay on Facebook desktop or mobile (unless a user has disabled this, but it's a hard setting to find and most leave it enabled by default).
Add a call to action and a link. Ideally, you've also mentioned your call to action verbally whilst broadcasting live.
I've actually identified ten areas that you can edit (this is for all your videos on Facebook, whether uploaded natively or recorded Live):
Narrative/description
Video title
Thumbnail
Video tags (only visible to you, helps makes your video more 'discoverable')
Call to action button*
URL for CTA*
Link description
Captions (upload your own SRT file – automatic captions are coming/available for video ads but likely coming to all video at some point)
Advanced = currently just to prohibit embedding
Branded content tag (if you have a blue checkmark verified Facebook page, and you are being paid to publish the content/video, you'll need to use the handshake icon to tag your sponsor.)
*[UPDATE: Note these two fields are no longer available. Be sure to include your CTA and link in the description. You can go back to edit your Facebook Live videos as needed.]
#SMMW16 @MariSmith gets it. Put call to actions in your Live video so you can measure actual business results. Buttons. Links. URLs.

— Christopher Penn (@cspenn) April 19, 2016
What is the ROI of Facebook Live?
To maximize your live video efforts, here are the specific steps I recommend:
Start out with strategic intent.
Always think about what your CTA (call to action) is going to be before going live.
Focus on being warm, personal, authentic, human.
Whether you are B2B or B2C, it's all P2P: people to people.
Consider storyboarding your content ahead of time so you have a roadmap.
Remember to integrate your video content into your overall marketing strategy and editorial calendar.
Begin with the end in mind.
Think repurpose, repurpose, repurpose!
Download your Facebook Live HD video file.
Use an awesome video tool like Animoto in order to create a highlight reel, such as I've done with the video in this post above! Animoto makes it super easy to upload video clips, edit, add still images and text, select a great theme and choose from a wide variety of royalty free music.
Create a 30 second clip for Twitter.
Create a 60 second clips for Instagram.
Amplify the reach of your video content with ads (boosted posts) on Facebook and Instagram.
Consider using the audio only for a podcast (or both audio & video podcast!)
Embed your Facebook Live video (video only or include the post) in a blog post.
You might even try having an Admin on your page embed your Facebook Live video on your blog/website while you are broadcasting live. One of my fans asked me this question the other day — about whether people could watch Facebook Live as an embedded post on an external site without being logged into Facebook! 🙂
And, each time you end your Facebook Live video, be sure to go in and edit on desktop per the instructions above.
Facebook Live video predictions
What is the future of Facebook Live?
Here are a few of my best predictions that businesses would do well to keep an eye on:
Multi person Facebook Live — will this be coming? I'm fairly sure it will, at some point! Facebook recently introduced group calling in Messenger. All the company has to do is add group video calling and the technology leap to offer multi-person Live would be next.
Facebook Live broadcast via desktop — this is a much desired feature, particularly for news anchors to be able to have a better setup than mobile phone sitting on a desk. Even with a tripod, the ability to broadcast Live via desktop–similar to Blab, or Google Hangouts, or any webinar platform–would bring another layer of awesomeness. 🙂
Facebook Live and Messenger integration — companies could offer live video chat support to dramatically improve social customer care.
FB messenger chat bots + human interaction via live video will be unprecedented for cust service @MariSmith predicting the future #SMMW16 — business.com (@businessdotcom) April 19, 2016
That's it!
What did I miss? Do you have any questions about optimizing Facebook Live video? What creative uses have you seen of Facebook Live video (or other live video, such as Blab, Periscope, or Google Hangout)? Please share in the comments below, I'd love to hear from you.