10 Ways To Stay Safe On Facebook
With the latest trojans, phishers, hackers and imposters floating around cyberspace, especially on Facebook, it's no wonder members have cause for concern. I've put the following suggestions together for you to help protect yourself from identity theft, hacking and the likes:
1. Monitor suspicious activity/links.
Be vigilant in watching for suspicious activity in your News Feed, your Wall and your Inbox. Never, ever click suspicious links. They can often look innocuous, even enticing – e.g. "Hey come look at your photo on this blog." Before you click, look closely! Do you recognize the blog?
2. Remove friends as appropriate.
Remove any friends immediately who post suspicious links on your wall and/or in emails (especially if they are multiple-recipient emails). (Sadly, these friends may not even be aware they're posting phishing links – someone may have hacked their account.)
I also recommend removing friends who send you app requests that you do not resonate with. This is usually a sign they're not quite on the same wavelength as you and may not be someone you care to network with. For me, I do not care to receive invites for apps such as kidnap, or mob wars.
To remove a friend who posted suspicious links on your wall, for example, right click their name from the wall post, open in a new tab/window, scroll towards the bottom right and click "Remove from Friends." Related post: Annoying Facebook Friends? Give 'em the FaceBOOT!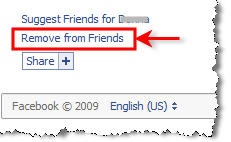 3. Keep your wall clean.
Once you've removed the friend who posted the bad links, be sure to delete the offending wall post (just in case another person should happen to click on the link). Removing wall posts isn't so obvious since the Facebook design changed in July 2007. What to do: mouseover the post and the little Edit pencil shows up; click X Delete.

4. Turn off Facebook Chat.
Never, ever chat with people you don't know at all. (Of course, ideally you actually know all your Facebook friends!) In fact, I recommend turning off Facebook chat completely. I find this feature too distracting and prefer Skype for private instant messaging.
You may have read/heard about the imposters who've been watching a member's activity, then they jump in and start a real familiar chat – ultimately asking for financial help of some sorts. Ugh! See: Fears of impostors increase on Facebook [CNN.com] and Latest Facebook Scam: Phishers Hit Up "Friends" for Cash [TechCrunch].
To turn off Facebook Chat, click the teeny silhouette icon at the very bottom right of your browser when logged into Facebook. If you're online (online Chat) the dot will be green next to the icon and when you click the icon, in the window that pops up, click "Go Offline" as shown in the screenshot below. Your dot should turn to red.
5. Change your password often.
Don't use the same easy-to-remember password on all your social networking sites. For the ones you use daily – like Facebook and Twitter – make the passwords obscure with 8 characters or more using a mixture of upper, lower, numbers and characters. The more obscure the better. Yes, it's tough to remember. But I use the excellent software Roboform to manage passwords. [And, my Mac friends tell me they swear by 1Password].
6. Be careful who you share your password with.
Many super busy professionals use the services of a virtual assistant to help with managing their social networking accounts. If you do so, be sure to do your due diligence when hiring support. There are many, many incredible virtual assistants – and this is a topic for a whole other post, but bottom line is just use your discretion if/when sharing your Facebook password.
7. Hide your year of birth.
Don't show your year of birth. This may or may not make a difference. I'm not one to be coy about my age/year of birth… however, some time ago I heard from a reliable source that not disclosing your year of birth was just one small step towards protecting yourself from identity theft.
Here's how: on your Facebook Profile, click the "Info" tab, then click "Edit Information" (or mouseover the Basic Information section and click the little pencil. From the drop down menu next to Birthday, select "Show only month & day in my profile."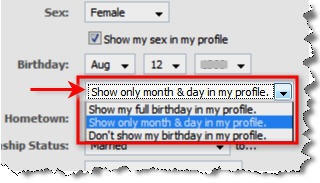 8. Keep your private info private.
Many folks think you have to live in a glass house once you get online and use social networks. My take on this is the lines are for sure blurred between personal and professional. However, you still get to maintain a private life and don't have to reveal all.
9. Adjust your privacy settings.
Facebook have done well over the past 18 months or so to really tighten up their privacy settings. You can get quite granular with a variety o
f settings. I choose mine to be fairly open as I'm okay with anyone being able to see my Facebook Profile and content I add. [For some peeps though, I do choose to block them completely – thus making myself practically invisible to them.] Refer to my bud, Nick O'Neil's great post: 10 Privacy Settings Every Facebook User Should Know.
10. Protect your mobile device.
Given most apps keep you logged in on your mobile device, as with #6 above, just be mindful about who might have access to your phone. And, yes, it's a nuisance to have to change passwords across multiple sites and platforms but at least you'll have more peace of mind!
Sage advice from Facebook:
"Remember that although using fake names is a violation of the Facebook Terms of Use, people are not always who they say they are. You should always be careful when sending friend requests to, or accepting friend requests from people you do not know in the real world. And it is always risky to meet anyone in person whom you don't know through real world friends."
See: Facebook safety – from Facebook.com
What's your experience with Facebook safety and privacy? Have you had some challenges and concerns to deal with?
[UPDATE: Wow, just since writing this blog post, I received this email:

You'll notice this guy's name is not hyperlinked – meaning I can't click through to his profile. This shows me his privacy settings are set very tight; you can't look at his profile unless you're his friend. But he can still receive email.
Best course of action:
Add this person's name to your BLOCK list: Click Settings > then Privacy Settings. And you'll see a field at the bottom – type the person's name then click the big blue BLOCK button. Facebook will identify the person's profile; click block again.
Click Report Message (just under the person's name in the message). Facebook gives you two choices: "advertisement/spam" or "harassment." I chose the latter.
Delete the message.