Annoying Facebook Friends? Give 'em the FaceBOOT!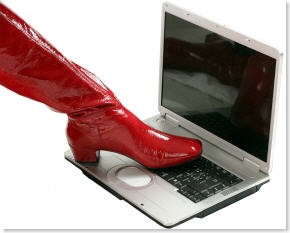 How do you feel about Facebook members on a mission to amass the max number of 'friends' in record time… for no apparent reason? Certain Facebook peeps have been getting right up my nose with this approach lately.
I mean, if your name is John Reese, fair enough! John has a record of getting to the 5000 limit in the shortest time… but these were all people on his optin subscriber list and/or that he personally knows. Go John! Btw, have you heard the 5000 limit may get lifted?!
I've been known to remove friends – even block a couple folks who really stepped out of line with me. But, it wasn't until I read gal pal Liz Lynch's recent post Breaking Up with the Lazy Networker that I had a "duh!" moment.
Here I was griping to my hubby tonight for the umpteenth time about a few dudes whose friending strategy really doesn't align with mine. And, Ty, in his infinite wisdom says to me, "Why don't you just unfriend them?" Um, hello? Clever hubby… and he's totally not into Facebook. I can't get him to budge into the social media world. hehe
If you've heard me speak lately, one of the pieces of advice I frequently give is everyone needs to have their own friending policy on Facebook. I used to be more rigorous about checking out the profiles of each incoming friend request. Now, to better manage my time, my policy is to go ahead and accept around 90%… and then remove those who aren't quite a fit for my style.
My criteria for removal may include:
duplicate accounts (against Facebook's Terms of Use),
a profile that takes forever to load due to all the graphic-rich apps (this could change with the launch of Facebook's new profile design),
spammy content on their profile and/or posting spammy content elsewhere,
sending me solicitous multiple-recipient emails when I have scant relationship with the person (yet) nor any of their other recipients,
focusing on quantity vs. quality (e.g. thinking it's a competition to get the highest number of friends no matter who they are, as opposed to focusing on deliberately friending hand-picked people who align with your values and match your target market and reaching out to build rapport and nurture a win:win relationship with them).
By the way, I totally acknowledge that this post could upset a few peeps. So be it. There's no point in trying to please all the people all the time. The more clarity you have about yourself, your message, your branding and your target market, the more you can be lovingly ruthless with your standards!
To delete a Facebook friend: go to their profile, scroll to the bottom and click on Remove from Friends.
How about you? Do you have a friending policy? And what action do you take when you find one of your Facebook friends isn't someone you want to include in your community afterall?