My New Email Autoresponse: Inspired by Tim Ferriss & Gary Vee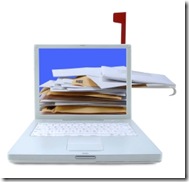 Whether you've read Timothy Ferriss' Four Hour Workweek or not, I'm sure you're familiar with "vacation responders." Essentially, whenever someone emails you, your email program automatically triggers a canned response to that person.
In his book, one of the many lifehacks Tim Ferriss describes is dramatically decreasing the amount of time you spend reading/responding to email. Tim suggests limiting email checking to two times per day and setting up an autoresponse message such as the following:
"In an effort to be more effective and productive, I'm now only checking email two times per day at 10:00am PT and 4:00pm PT. If you need a response outside of these times, please call my assistant at xxx-xxx-xxxx."
I went through a period of time attempting to implement Tim's email system. But it just didn't work for me. It was too structured and I found I couldn't just check twice a day.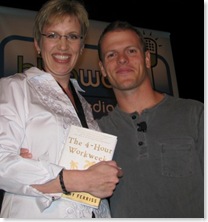 However, meantime, my email inbox continued to bulge with incoming messages and I frequently found myself challenged to keep up with the volume.
Not to mention there is now Facebook email (and the more friends you have the more email you'll receive!), emails on other sites like LinkedIn, Plaxo, YouTube, etc. Plus Twitter @ messages and DM's (direct messages). Whew, time to declare email bankruptcy? Not so fast.
Though I certainly subscribe to Tim's "low information diet" philosophy (I never read newspapers online or offline, nor on TV) – I also happen to be a raving fan of Gary Vaynerchuk's "respond to every single email for the rest of your freakin' life" philosophy!!! 😉
So, here's what I came up with as my new and improved autoresonder. You're more than welcome to emulate the style (please don't copy it verbatim though!)
Greetings!
Thank you so much for your message.

If I could clone myself or give up sleep, I'd personally answer every single legit email. Ha!

Given neither is a viable option, just know that I've received and read your email and will be doing my level best to respond as quickly as I can.

If your matter is urgent and important (and especially if you'd like to chat with me about an interview, joint venture, or being a guest on your radio show, teleseminar or workshop), you're welcome to reach me any of these alternative ways:

Skype: marismith_sandiego
Cell: 858-xxx-xxxx (leave a voicemail)
Twitter DM: http://twitter.com/marismith (if I'm not yet following you back, send me an @ message asking me to follow you!) 😉
Contact my assistant, Christina: xxx@xxxx.com

If your matter is non-urgent, non-important, and non-private – how about writing on my Facebook wall instead? I read all my wall posts.

Go to: https://marismith.com/facebook – I'm almost at the 5,000 friend limit though. So, if we're not yet friends, please go to my Facebook Page and become a fan, then write on my wall there. Thanks! https://marismith.com/fanpage

Also, follow me on Twitter and send me an @ message: http://twitter.com/marismith. I do my best to respond to all @ messages.

Please also check out my Facebook blog for how-to tips & strategies: https://www.marismith.com.

Thanks heaps for understanding!!

Cheers,
Mari

Mari Smith
Relationship Specialist | Internet Marketing Consultant
Facebook Business Coach
https://www.marismith.com | mari [at] marismith.com
858-xxx-xxxx (home/office) | 858-xxx-xxxx (cell)
Skype: marismith_sandiego
Facebook: https://marismith.com/facebook
Twitter: http://twitter.com/marismith

* Facebook for Professionals:
http://facebook4pros.com

* Facebook Coaching Services:
http://facebookcoach.com

* Blogs:
http://www.befreegomobile.com
I have this set up as a rule in Outlook – with a ton of exceptions as I don't need this AR going out to every single person who emails me. (Note all contact numbers and email address are formatted properly in the AR; I tweaked for this blog post.)
Here's a fun response I just received from one of my buds:

What do you think? Do you use an autoresponder system to manage your email relationships? Are you more of a Tim Ferriss low-information type, or are you a Gary Vaynerchuk nose-to-the-grindstone answer all type? 😉