I Heart my Facebook and Twitter Communities!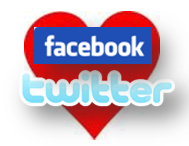 As a raving people-person*, I absolutely adore my online social networks! Okay, the secret is out. Ha! As if it was a secret.
*I'm an Extravert on Myers-Briggs, High I on Disc, High Social Contact on Reiss, and Connector in Malcolm Gladwell's The Tipping Point.
I treated myself to a professional makeover and photoshoot last weekend, in preparation for my mega Facebook for Professionals product launch, and I'm also gearing up for the next level of my consulting and training business.
I uploaded my new headshot to Twitter and Facebook and… within minutes, my awesome community began sending praise and acknowledgment. [I've included a selection below by way of acknowledgement back! Hehe, we're the mutual appreciation society!]
Now, I'm not the type to let all this go to my head… too much. Ha! But I thought this was a powerful demonstration of what I teach my clients and students: that just by being out there and being yourself, bringing joy, adding value, uplifting people's spirits with no "agenda" – people will remember you and want to connect with you.
Even if you're not a natural-born Connector, there are certain steps you can take to maintain terrific visibility and exposure. And, authentically commenting, congratulating, and acknowledging others is certainly one of those steps.
We must keep in mind–regards online social networks, in particular–it's relationships first, business second. This is my mantra (and title of my next book!).
By the way, of all the feedback, I must say this comment by Kevin Nations on a Skype chat really got me.

I went to the photoshoot with my gal pal, Carol Dysart. Our photographer, CeCe Canton, has a remarkable ability to really "get" her subjects. In fact, there's a word "grok", which means to really be gotten at a deep level.

I think investing in a professional photoshoot is a wonderful way to really feel grokked. Seeing yourself through the eyes of others can actually move you to tears… it did me!
On Facebook:



On Twitter:
ChrisShouse : @marismith love the new photos:) << (2008-03-30 04:22:47)
KimDushinski : @marismith One word…WOW! You look awesome. Beee—yoooo—-teee—ful. << (2008-03-29 23:31:09)
coachlaura : @marismith Your picture is outstanding. You are a beautiful goddess of the internet. Hugs, Laura << (2008-03-29 19:32:18)

susanreynolds : @marismith MARI! Holy hannah you look terriffic << (2008-03-29 18:47:58)

Camyden : @marismith Very Nice! << (2008-03-29 18:40:46)
Merlene : @marismith oh lovely! << (2008-03-29 18:39:08)
lizstrauss : @marismith Congrats on a wonderful photo shoot. << (2008-03-29 18:18:09)

oemperor : @marismith are you off to cannes now? << (2008-03-29 18:13:06)
---
Be sure to visit my Photo Album on Facebook and add your own comment. If we're not friends yet, send me a request.