You have a friend suggestion!
Since I joined Facebook in July last year, one of my favorite third party apps has been Introduce Me. With the click of a button, I can introduce two friends who I believe should meet for specific reasons, typically business-related.
However, now there's a new feature from Facebook: Friend Suggestion.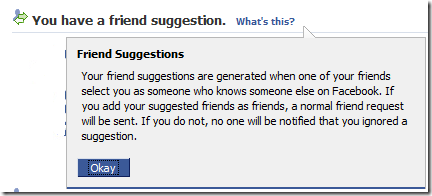 Here's how it works:
How do I suggest a friend to someone?

After you confirm a friend request from a new user, you can suggest to your friends that they also send a friend request to the user.

Clicking "Suggest friends that [Name] may know" will bring up a window of all of your confirmed friends.
You can use the search bar to find a particular person, filter all of your friends by network or simply scroll through your complete friends list.
Clicking a friend's picture will add them to the "Selected" tab.

Once you've made all of your selections, click "Send Suggestions" to send a suggestion to each user that they add the new user as a friend.
The suggestions will appear on your friends' home pages, and will allow them to quickly send a friend request to the new user.
Please take note that you currently cannot suggest friends for users who have been on Facebook for some time.
I'm a tad disappointed at this last point about not being able to suggest friends retroactively. This feature only applies to NEW Facebook users. Still, I can just use the Introduce Me app for "old" Facebook members! (Though I believe the introduced parties have to install the app. Bah.)
So, what do you think? "So-and-so is new on Facebook. To welcome him/her… suggest friends that he/she may know." Is that really to help new users get started on Facebook… so they keep using it and get excited about it and don't leave? 😉
I do recommend writing a warm greeting on new friends' Walls. Look for something in their Profile that you can make a positive comment about. Often the person will respond back and you can begin a new personal or professional relationship that way.