Facebook News Feed Tests: The Impact on Organic Reach, What Marketers Need To Know
Organic reach on Facebook is so 2012. This is unfortunate, but true. Facebook has long been a 'pay-to-play' platform for those businesses serious about optimizing all that the platform offers. Organic reach has been steadily declining from well over 100% on some pages (back pre-2012), to an average of 1-6% starting in 2014.
Any business page that achieves more than the average organic reach is an outlier.  Pages with consistently higher than average organic reach are likely due to many factors, such as:
the perfect mix of highly relevant content,
the right frequency of posting,
the best mix of content types, e.g. more video and Live broadcasts,
responding and connecting with fans,
…all of which can result in a highly engaged audience, many with notifications enabled.
There are also pages that have somehow cracked the code of crazy viral organic reach, for example, with content like recipe videos. Again, these are all the outliers.
Facebook's reachpocalypse
As a Facebook marketing expert since May 2007, I've always been a strong supporter of both Facebook and businesses. I have a 'foot in both camps,' so to speak. My passion for Facebook and all that it offers businesses, as well as personal use, has never waned in over ten years. Yet, at the same time, I really feel for the millions of SMBs who struggle to make Facebook work. It can be a steep educational curve for those 'stuck' back in 2012 still hoping for reasonable organic reach.
Back in April 2014, Social@Ogilvy released eye-opening analysis that predicted 'Facebook Zero' – that is, ZERO organic reach.
"Gasp!" you say. How are you supposed to reach your audience of customers and prospects now, particularly the people who have actually gone to the trouble of LIKING your page? First, this from Social@Ogilvy's 2014 article:
Facebook Zero is a reality now facing every brand and business with a presence on the platform. Action is required, and specific decisions will need to be made with regard to content planning, paid support for social media activities, audience targeting and much more. via Social@Ogilvy (April 2014)
This advice is even more relevant today. Plus, keep reading below – I have plenty tips for you to maximize your efforts on Facebook even with zero organic reach.
Is Facebook lowering organic reach in order to make more money?
When asked this question in June 2014, Facebook's VP of Advertising Technology, Brian Boland, answered:
No. Our goal is always to provide the best experience for the people that use Facebook. We believe that delivering the best experiences for people also benefits the businesses that use Facebook. If people are more active and engaged with stories that appear in News Feed, they are also more likely to be active and engaged with content from businesses. Brian Boland, VP Advertising Technology, Facebook (June 2014)
Granted, even three years later, there is still a lot of truth to Boland's answer, right? In order to thrive, Facebook has to keep multiple parties happy, namely i) personal users, ii) advertisers, iii) board of directors, iv) shareholders, v) third party developers, vi) management, vii) business (SMB) users. I've placed these seven groups loosely in what I see may be Facebook's priority order.
Users will typically always be #1 on this list because users can be somewhat fickle. If a better, more appealing platform comes along, users could jump ship. Of course, Facebook is way too long established and has way too many users (2.01 Billion and counting) for there ever to be a mass exodus. But, just look at how aggressively Facebook and Instagram continue to copy features from Snapchat, an obvious competitor for a younger demographic. Now, Instagram is winning the Stories game.
And, yes, I placed business users last on my own list above of how I see Facebook prioritizes its variety of audiences. To elevate priority, it's vital that businesses become advertisers. And that takes the right education to ensure your hard earned ad dollars get you the maximum ROI.
So, back to the question of whether Facebook is lowering reach to increase ad revenue. Shortly after the analysis released by Social@Ogilvy in April 2014, my good friend Jay Baer, founder of ConvinceandConvert.com created this eye-opening mashup graphic depicting the plummeting organic reach juxtaposed with Facebook's increase in stock price. (And kudos to Jay for the fun 'reachpocalypse' term back in 2014, which seems really rather apropos again, given the recent news feed tests in six countries. More on that below.)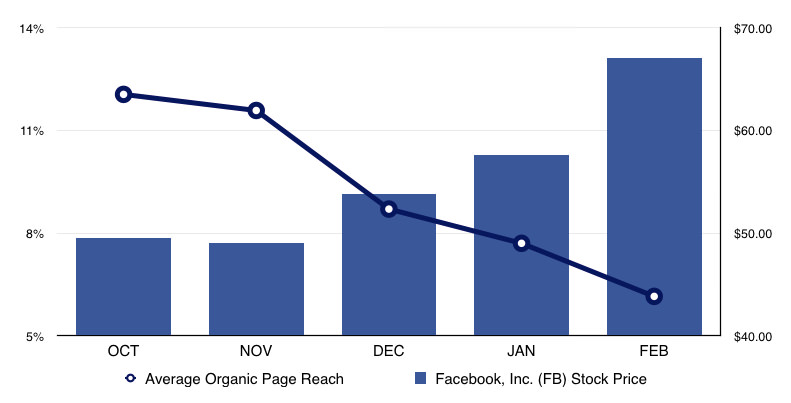 There are currently some 70 million businesses with pages on Facebook, only 5 million of which are currently advertisers. The 'free ride' has long been over. For businesses that got a head start on Facebook (2007-2012), we had a good run while it lasted. To optimize your business growth using Facebook now, you need a proper strategy. And, yes, you need a budget – but it doesn't have to break the bank. In fact, Facebook wants your #1 advertising goal to be to drive business. More on this further below.
Will Facebook remove all page posts from the main News Feed?
In a word, No.
Or, should I say, "not yet."
Recently, marketers on Facebook got into a right tizzy about Facebook's latest News Feed change with several posts claiming dramatic drops in reach, and the 'death to small businesses.'
Yes, it's true Facebook has been running tests on business page posts in six countries: Sri Lanka, Bolivia, Slovakia, Serbia, Guatemala, and Cambodia. Facebook says,
…the goal of this test is to understand if people prefer to have separate places for personal and public content. ~Adam Mosseri, Head of News Feed (October 23, 2017)
What is Facebook's new Explore Feed?
And, yes, it's true Facebook is now officially rolling out the new Explore Feed. This new feed is designed to help users discover a variety of content they may not otherwise have known about. The feed contains a mix of popular articles, videos and photos all customized for each Facebook user.
The stories in the new Explore Feed are ALL from pages that users have not yet liked. Selections are made algorithmically based on the social graph, pages and posts popular among your friends, and pages similar to ones you already liked. Part of the purpose is to give business pages a bit of an extra 'lift', if you will. Surely this extra visibility to a new audience could potentially be good news for some pages that may garner more likes through this new feed?
We've heard from people that they want an easy way to explore relevant content from Pages they haven't connected with yet. ~Adam Mosseri, Head of News Feed (October 23, 2017)
Unfortunately, Facebook was not very forthcoming while initially conducting the news feed tests in these six countries last week. Apparently, the company tested moving ALL page posts from the main News Feed to the new Explore Feed, which caused a significant drop in reach for some pages in these countries.
But, Facebook maintains this is not an indication of a site-wide plan. Hm, time will tell. 😉
Some have interpreted this test as a future product we plan to deliver globally. We currently have no plans to roll this test out further. ~Adam Mosseri, Head of News Feed (October 23, 2017)
Facebook rolled out the new Explore Feed to its mobile app back in April this year, and then to desktop just last week.
Why does Facebook need new feeds?
Zuck/Facebook have talked about 'running out' of ad inventory in the (mobile) news feed for about 18 months. This makes sense, right? With the very limited amount of real estate available on our small screens, as advertising demand grows, Facebook can only insert so many ads in-between posts by friends before users get frustrated. The D-day arrived this past summer and here we are past that now. It's inevitable Facebook will try to attract more user eyeballs to additional feeds, e.g. the new Watch Platform and now the new Explore Feed.
With each new feed or platform rolled out, depending on user uptake, Facebook can sell ads (eventually). Facebook literally 'needs' to create new destinations for eyeballs in order to keep monetizing.
Facebook's long list of
Facebook's main source of ad revenue is ads run on both the desktop platform and mobile app (mobile accounts for 87 percent of ad revenue). As Facebook Stories launched and are now on desktop as well as mobile, and are coming to business pages, we'll likely see ad units in Stories at some point.
Facebook Messenger ads (placed inside our inboxes, similar to Gmail) are rolling out.
Facebook-owned Instagram continues to add more ad types , including ads in Stories.
Facebook-owned WhatsApp is gearing up for monetization through ads and enterprise features.
Facebook ran limited tests for ads in Groups in Australia, Canada, Ireland and New Zealand about a year ago, but we haven't seen a lot more about these tests since. Facebook is instead focusing on adding more and more features to Groups, and even hosting a live summit for group leaders, to make Groups a strong destination and attract more users. Likely monetization of Groups is waiting in the wings once Facebook improves stickiness even more.
Add to all this the biggest potential ad money-maker and that is ad breaks in video content, including Live broadcasts and everything inside the Watch 'Facebook TV' platform.
Social VR – of course, not too far down the line is the monetization of social VR, starting with Facebook Spaces.
Augmented Reality – and, with the launch of the new Camera Effects Platform at this year's annual F8 developer conference, Facebook along with developers and brands have another place for monetization. Mark Zuckerberg mentioned in his F8 keynote back in March that what's coming includes the ability for users to point their phone at objects and an information card pops up that includes a buy button.
Projects created in Secret Building 8 – I love to include this one in many of my presentations, specifically about the future of Facebook. Projects Facebook is somewhat secretly working on including a Smart Speaker (similar to Amazon Echo), a 360° Camera, Brain-scanning tech, Futuristic Wearables and Disruptive shopping experiences. On that last one, I have seen realtime demos of Facebook Live with the ability for users to browse products for sale and make purchases all while the Live video is still playing and all without leaving the app.
UPDATE: Of course, how could I leave out Facebook Workplace!  Slack competitor, Workplace is Facebook's enterprise social network for communicating and collaborating with your colleagues. Launched a year ago in October 2016, Workplace has 30,000 businesses using the service now. Workplace is a source of subscription revenue for Facebook, not ad revenue. At the moment. 😉 
When you expand your understanding of all that the behemoth that is Facebook is working on, somehow it almost puts discussions about the news feed into a different perspective. Okay, it does for me, anyway!
How does Facebook's News Feed ranking algorithm work?
Let's get back to the main topic of this post – Facebook's News Feed. News Feed is a competitive place! Every time a user logs on, they could see anywhere from 15,000 to 150,000 pieces of content – depending on how many friends they have, how many people they follow, and how many Pages they've liked and follow. Out of that mass of content, Facebook passes each piece of it through the News Feed ranking algorithm – which contains as many as 100,000 weights – and then serves up around 300 stories in your News Feed. Amazing process, yes?
I wrote the paragraph above in November 2014 right when Facebook introduced a bunch of new changes to News Feed. There's still a ton of relevant and useful info in this post along with this post around the same timeframe about granular News Feed settings.
Facebook's Head of News Feed, Adam Mosseri, just published this update and video (embedded below) on October 24, 2017: News Feed FYI: Introducing News Feed Publisher Guidelines. See also this informative longer (9 minute) video by Moserri from April 2016 at Facebook's annual F8 developer conference.
https://www.facebook.com/facebook/videos/10156625242821729/
For my fellow readers who prefer to skim vs. take time to watch a video, here are several key excerpts from both Moserri's videos for you to know:
Facebook uses a fairly complex algorithm tool called 'Ranking' to decide which stories matter to you, each and every time you visit the platform. There are four components to Ranking:
Inventory = what's on the menu? In News Feed, these are stories that you have not yet seen from your friends and the publishers that you decided to follow.
Signals = information Facebook has available to make a decision, such as:

how old a story is (recency),
who posted the story and your relationship to them (whether a friend, someone you follow or a page),
how much engagement the post already has, particularly among friends (this is why News Feed is not always chronological; factors such as Story Bump and Last Actor can push older posts up the feed),
the type of content, e.g. if you typically interact more with photo posts than any other type of post, Facebook is more likely to show you more photo posts,
how often you engage with that publisher's stories,
how fast your internet connect is right now,
what phone you're on and more.
Facebook also takes into account feedback from the community regarding violent content, spam, clickbait or false news.

Predictions = using all of the signals, the algorithm makes informed predictions such as how likely you are to comment, share, hide or report a story.
Score = finally, the few dozen predictions are weighted and rolled up into a Relevance Score. Every single story on Facebook has a Relevance Score. And every single time you visit Facebook on desktop or mobile, the algorithms assess and reassess each story for you.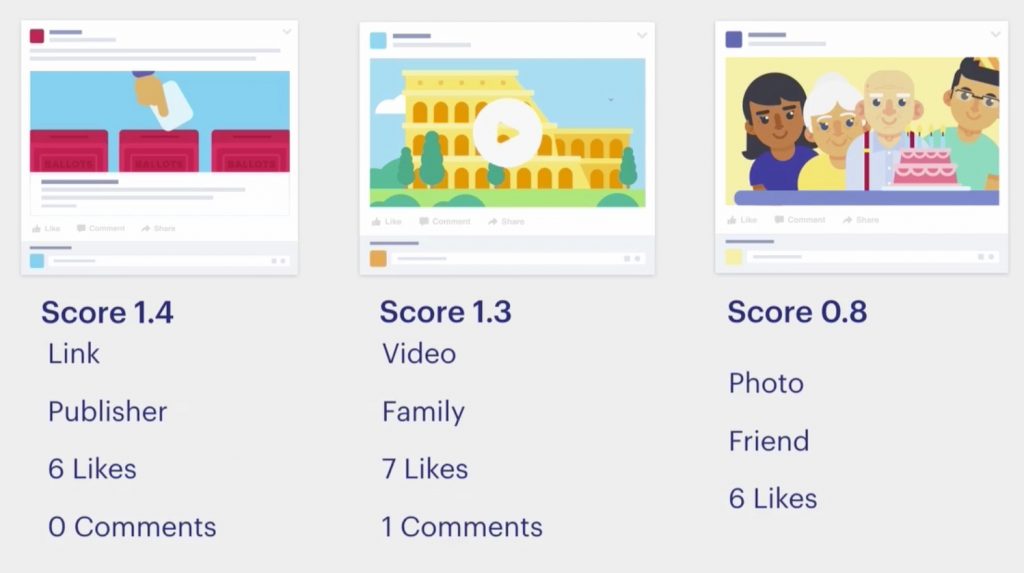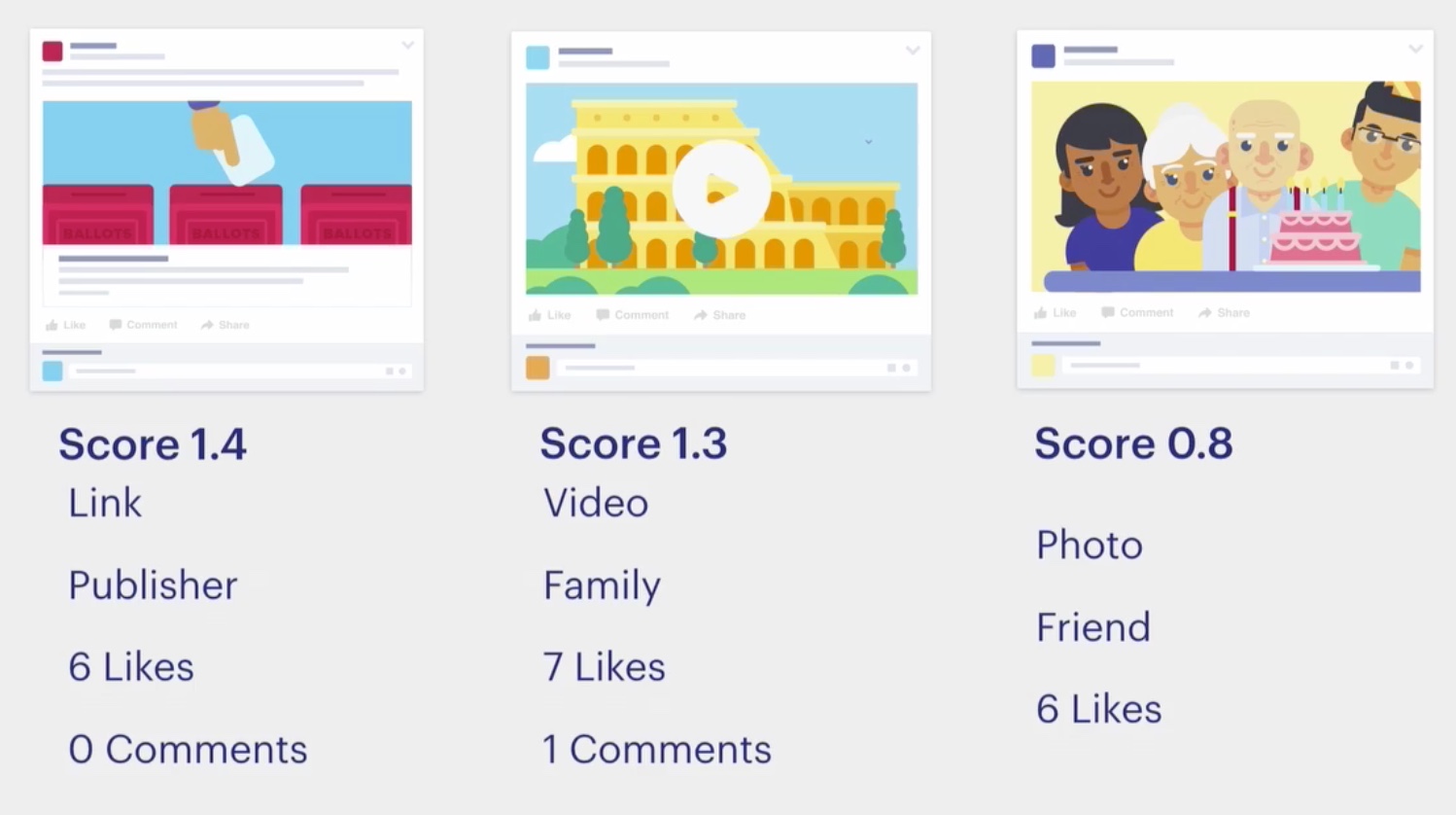 There's more and more information for us to consume every single day, but only so much time in which to do that. Facebook believes its role with News Feed is to help people connect with the stories that matter most to them.
When you first sign up for Facebook, your News Feed is a total blank slate. You then build your own personalized experience by the people and publishers whom you choose to friend and follow.
Focusing on the user experience means that over the long run, more and more people will use Facebook, spending more time on site — which is good for the users and good for publishers. (Not to mention advertisers!)
How does Facebook know if its News Feed algorithms and recent changes are working?
They look at a high level of two areas for improvement:
What people do, e.g. liking more, sharing more, spending more time on Facebook, commenting more with their friends. These activities is an indication that Facebook is creating value for you.
What people say, e.g. Facebook's Feed Quality Program comprises a panel of people who spend time organizing their stories manually from the ones they find most interesting to the ones they find least interesting. Facebook then compares the panelists' order to Facebook's order. Plus, the program includes 1:1 interviews and online surveys in over 30 languages around the world.
Taking into account user controls:
Follow/Friend
Unfollow
Hide
See First
These controls give users a way to correct Facebook when they get things wrong (with the story selections), and to make his/her own News Feed more relevant over time.
For a fully up-to-date list of of all Facebook's algorithm factors and changes, my friends at Buffer put together this epic post.
And, Who Controls Your Facebook Feed by Slate.com.
What can businesses do now to optimize Facebook?
Whether you're seeing organic reach in the average of 1-6%, or you want to plan now for zero reach, or even if you're an outlier with above-average organic reach, this section is for you.
1. Focus on video
First, with Facebook's big push to have users consume more and more video, marketers really ought to put video at the top of their content marketing plans in 2018. With the recent launch of Facebook's new Watch Platform—giving users the ability to consume television-quality shows ad nauseam on desktop, mobile and television—the company seems determined to end up becoming a merger of your first screen (TV) and second screen (phone, laptop, tablet). Not to mention tapping into the epic television advertising industry.
The 2016 TV advertising revenues in the US are over $70 billion and global TV ad spend is $175 billion. Facebook is determined to have a nice slice of those pies! It's not necessarily an either/or scenario for Facebook, though. The company claims Facebook ads and TV ads work better together.
Here's Facebook's chief operating officer, Sheryl Sandberg's input during the Q1 2017 earnings call:
I think increasingly, the question is not if you can do without TV, but it's if you can do without mobile. And we're working hard to help advertisers develop the video creative that really works for mobile because that really makes a really big difference. And we think the combination of the creative working for mobile but also the measurement and targeting we can do is a very powerful offer. Source: Sheryl Sandberg Shared Her Thoughts on TV Advertising by AdWeek
My friend Matt Navarra, Director of Social for TheNextWeb published an interesting post recently about Facebook's apparent creation of an escalated demand for video by simply showing users more video in the News Feed. Facebook's Head of News Feed, Adam Mosseri, added to the conversation.
2. Broadcast with Live video more
Facebook does appear to be rewarding business and personal users who use the Live video broadcasting feature regularly. I've been conducting my own tests and analysis pretty much all of this year in terms of what third party platforms get most organic reach compared to Facebook's native mobile and desktop Live tools, whether scheduling makes a difference or not, day of week, time of day, integrating Messenger bot notifications and regular email notifications. Although, like most of my colleagues, I'm seeing a decline in organic reach on Live videos, they still get more reach than any other type of post.
We've seen that people comment more than 10 times more on Facebook Live videos than on regular videos. ~Facebook
3. Create shortform 'snackable' videos
Sheryl Sandberg, Facebook chief operating officer recommends creating 'snackable' video content. That is, between 6-15 seconds. This is the ideal length to be used as ad breaks. On the Q2 2017 earnings call, Sandberg cited an example split test by juice company Tropicana where the ran 6 second and 15 second video ads, and the shorter one fared best.
4. Create longer videos
Okay, wait – I just told you to create very short videos! Aha, but if you end up turning those short videos into ads, Facebook still needs longer videos in which to insert the ad breaks. How long is longer? A minimum of 90 seconds. This allows for the insertion of short ad breaks. Mark Zuckerberg has always been adamant the company will never do forced pre-roll video as. However, mid-roll ad breaks are definitely rolling out.
For now, I would recommend experimenting with uploaded recorded video content anywhere from 6-15 seconds for potential short-form snackable video ads, up to 60 seconds for use on Instagram, and anywhere from 90 seconds to 30+ minutes for your regular Facebook videos. And, for your Live video broadcasts, a minimum of five minutes and up to four hours.
5. Add captions to your videos
With most users on Facebook leaving silent autoplay as the default, 85 percent of videos are watched with sound off. Have you ever watched an entire video in your own News Feed with no sound – just enjoying the story by reading the captions/lower thirds? I know I have. People are often in environments where it's preferable to have sound off. Although, Facebook has been running tests for autoplay sound on. Hm.
Facebook does included an automated captions generation tool for uploaded video and completed Live video broadcasts. Or, I recommend my favorite transcription service, Rev.com. (I often download my Facebook Live video once ended, upload to YouTube for extra SEO, go to Rev.com and order the captions to be added automatically to my YouTube video once ready; then I download the SRT file and upload to my Facebook Live.)
6. Create highly shareable videos
Share is the 'holy grail' on your Facebook business content. It's free viral marketing, when you can get it. Creating video content that is fun, entertaining, inspirational, and/or educational, with captions and/or lower thirds added, great visuals, and is extremely relevant/timely for your audience will increase the likelihood of optimal shares. Plus, get this:
Recommendations from friends are powerful: in fact, 48% of video watch time on Facebook comes from shares. ~Facebook
7. Create square videos
According to research from my friends at Animoto and Buffer, square videos perform better on Facebook, resulting in 28% more views, more likes, and shares, while leading to a 67% greater view-completion rate. Plus, square video (1:1) takes up 78% more real estate in a person's mobile newsfeed than does landscape video (16:9).
How do you create square videos?!
There are many simple apps available on mobile that allow you to quickly create slide-shows or add animated effects. Some of my favorites include Flipagram, PicPlayPost, Lumyer, Riple, LP Converter (turn your iOS Live photos into video clips), and Adobe Spark.
Then, for more robust solutions for creating professional videos, do check out Animoto and also Wave Video App. Animoto has terrific pre-built storyboards (templates) where you can quickly swap out the demo assets for your own. Wave includes access to over 2.5 million images and video clips and allows you to create six different video formats simultaneously including landscape, square, portrait, Facebook cover video and Instagram Story.
8. Monetize your own videos
Whether you're uploading recorded video or doing Live broadcasts, there are three primary ways to monetize:
Your own offer. Organic: Include your own offering with a link in the description of the video. Paid: turn the video into an ad using Ads Manager and add a call to action button for the link as well. Plus, consider integrating a Messenger bot tool such as ManyChat where you can set up 'comment triggers' on a scheduled Facebook Live or a published video post.
Sponsors. This is where a company provides you with a monetary incentive to talk about their brand/product/service on your video. You need to disclose this by using Facebook's Branded Content feature (handshake icon).
Ad breaks. For now, Facebook has the criteria set fairly high for most business pages. You need at least 2,000 followers and your live broadcast needs to have more than 300 people watching at the same time. Then, you'd qualify for ad breaks after you've been live for at least 4 minutes. You can take additional ad breaks every 5 minutes after your first break.
9. Stay away from the Boost button
Most savvy marketers on Facebook have long known that the Boost button is a 'lightweight' ad interface. The Facebook ad algorithms know that you are a somewhat novice advertiser if all you do is boost your posts, especially every post and especially if you're not using the Boost button in conjunction with Saved or Custom Audiences.
This year, Facebook is now encouraging more and more businesses to allocate a mere 10% of their advertising budget to using the Boost button. The remaining 90% needs to be allocated using the Ads Manager. It's a much more sophisticated tool.
10. Get more organic reach + better ad performance by showing Facebook you're a more sophisticated advertiser
Use Ads Manager + install the Facebook Pixel + Standard Event tracking + use Custom Audiences and Lookalike Audiences + do retargeting + choose Traffic, Conversions, Products or Leads for your ad objective. This combo shows the Facebook ad algorithms that you are a much more sophisticated advertiser, compared to a business that only hits the Boost button. Not only should your ads perform better (assuming they are relevant to the right target audience!), but you may find you'll get a nice lift in your organic reach as well.
Okay, that's a super comprehensive starter list of just ten suggestions. I have many more to follow! Be sure you're on my email list to receive my weekly updates, The Social Scoop. And do follow my Facebook Page or private message me and my team with questions.
Additional resources:
Get Facebook training by Mari Smith
I'm excited to launch my next Facebook training programs — take a peek here, or let me know you'd like more information by clicking the button below:
Get on the Early Bird Notification List & receive bonus goodies!