Why Facebook's Latest Algorithm Change Impacts Marketers, Customer Experiences & More: The Social Scoop 10/15/17
As mentioned in the last issue of The Social Scoop, Facebook continues to put massive emphasis on videos in the News Feed, including Live streaming video and video ads. Here are two great articles on this topic from my friends at AgoraPulse and AdEspresso:
Free Facebook LIVE Video Summit with BeLive.tv & 50 Hosts!

Tune in on Monday, October 16th all day on BeLive.tv's Facebook Page!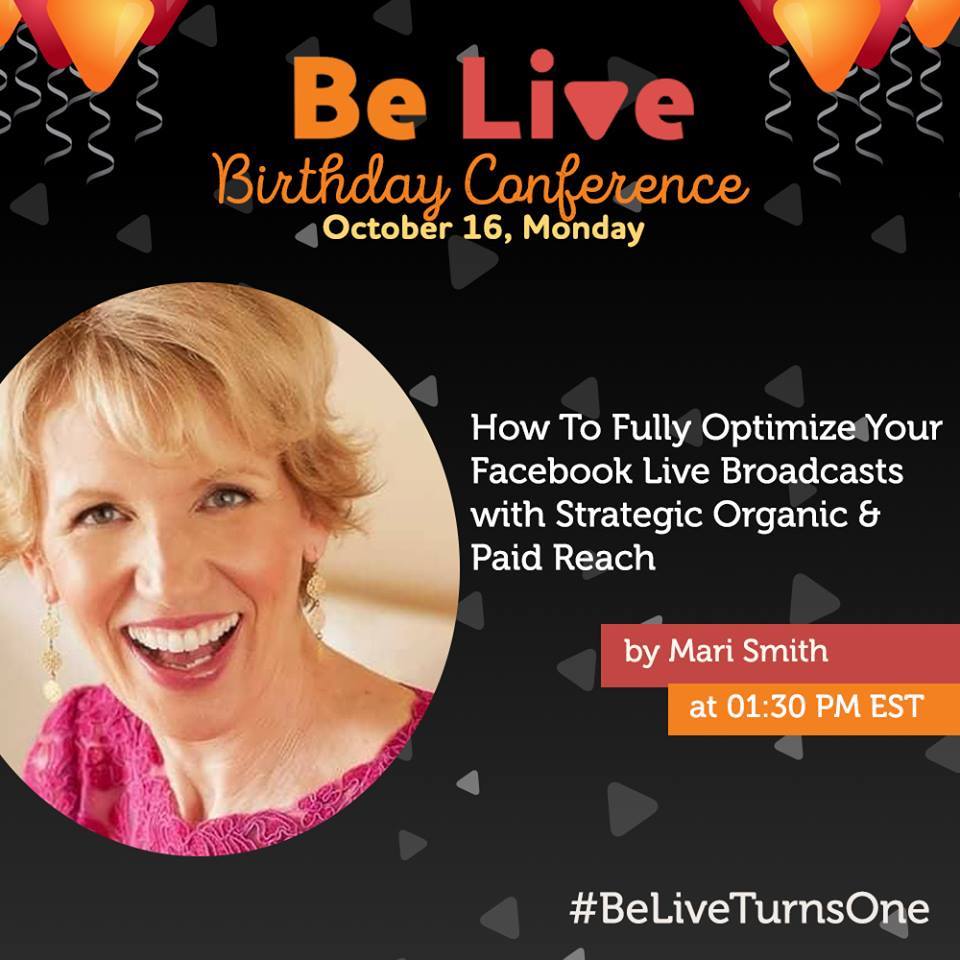 Speaking of video marketing, come join myself and over 50 other hosts celebrating the first birthday of Facebook Live app, BeLive.tv. We are all broadcasting on BeLive.tv's Facebook Page ALL day on Monday, October 16th, 2017 starting at 5am PT / 8am ET / 1pm UK / 11pm Sydney and ending at 9:30pm ET. Segments run from ten minutes to a full hour. I'll be broadcasting for thirty minutes starting at 10:30am PT / 1:30pm ET / 6:30pm UK / 4:30am Sydney +1. My topic is How To Fully Optimize Your Facebook Live Broadcasts with Strategic Organic & Paid Reach. 
This Week's Top 3 Articles
1. 2 Reasons Facebook's Latest Algorithm Change Will Impact Marketers via Contently.com
Facebook is constantly changing its algorithm… that's a fact we're all used to (mostly!). And sometimes those changes have more of an impact for marketers. Last month was the first time since August of 2015 that Facebook lost its spot as the top source of referral traffic. Learn why this last update is big news. (See also Facebook's best practices for improving your mobile site performance.)

2. Customer Experience Is Defined By The Experience Customer's Have, Remember And Share via BrianSolis.com
Experiences (good and not-so-good) are what customers will remember about their interaction with your business. Customer experience—CX—has become a popular buzzword. But what does it mean? How do you take your customers' perspective into consideration? Check out this article by my longtime friend, Brian Solis. (We recently shared the stage at the Future of Advertising event in the Dominican Republic.)
3. 48 Experts Share Their Top SEO Predictions for 2018 via ShaneBarker.com
The end of 2017 is on the horizon – oh my!! As you prepare your marketing plans for 2018 keep in mind that SEO is continuously evolving, just like all other forms of digital marketing. The predictions from these 48 experts provide useful ideas on what to expect and how to plan properly. 
---
I just got back from an epic event in Salt Lake City, Utah – speaking at the Nu Skin LIVE! global annual convention with 20,000+ attendees from 54 countries! What an incredible event and such a vibrant company and culture. I spoke on social selling trends and best practices. My sister was visiting for a week from Ottawa, Canada and came with me — we so enjoyed Maroon5's concert, too!