Email Marketing is Making a Comeback, Facebook Marketing KPI's & More: The Social Scoop 3/4/17
Have you tried the new multiple photo/video posts on Instagram? I'm seeing some cool and creative uses of this clever new feature. It's a carousel type of post, the same as on Facebook. You can use this type of post for organic (great for testing!), and then convert to an ad.
Carousel posts can showcase from two to 10 pieces of media. You can select the order you want the photos/videos to appear, or use dynamic ordering which will show the highest performing pieces of content first. Love that!
I tested a carousel post myself recently with a series of gorgeous flower shots taken in my garden with the Depth Effect camera on my iPhone 7 Plus! (I tend to post a mix of personal/inspirational + some business on IG.)
Share Up To 10 Photos/Videos In One Instagram Post
In this example, my friend John Assaraf shares 7 Affirmations for Success as a carousel image post on Instagram. You can spot a carousel post by the telltale dots below the image/video. However, many IG users may not be familiar with this feature yet. So, I like how John encourages engagement by asking his followers, "Swipe to see all 7, then leave a comment and let me know which one resonates with you most strongly." You can test out the swipe feature right in this embedded Instagram post… on mobile or desktop! 
1. Why Email Marketing Is Making a Comeback in 2017 – via DigitalCurrent.com
Email marketing is a tried and true form of marketing, and even though social media has been more exciting, email has remained consistently reliable. One of the reasons it's still a good tactic is the fact that most people check their emails on their phones. Is email part of your marketing plan? Maybe it should be! [Btw, one of the first e-books I wrote was in 2003 about email marketing, called Email That Sizzles!]

2. Top 10 Facebook Marketing KPI's (Key Performance Indicators) – via Krusecontrolinc.com
Have you determined what success looks like when it comes to your Facebook Marketing campaigns? Many folks jump into using Facebook without a clear plan and that can lead to overspending and/or poor results. Identifying clear Key Performance Indicators (KPI's) are the best way to know if your marketing efforts are paying off. My friend Kathi Kruse does a great job with these top ten here.

3. How Three Leading Retailers Created Successful Social Media Marketing Strategies – via Sprinklr.com
Whether you're in retail or not, learning from the social media strategies of other niches and businesses can provide extremely useful information and inspiration for your own plans. Check out this post for many creative ideas of what works.

Meet Mari Around The World!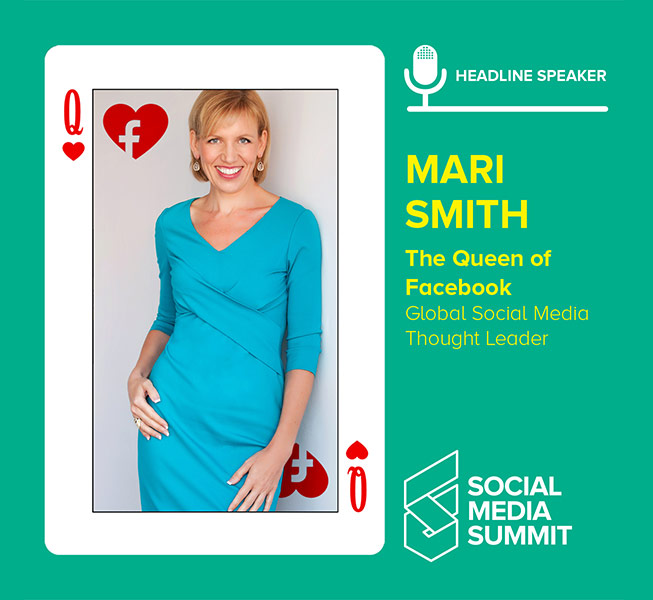 I'm delighted to be booked to speak at so many fabulous events around the country and the world. Several more events are now confirmed since last week; I'd love to meet you in person at any of these events!! 🙂
Digital Marketer's Traffic & Conversion Summit, San Diego, CA – March 10-12
Social Media Examiner's Social Media Marketing World 2017, San Diego, CA March 22-24 (Virtual Tickets also available)
International Bowl Expo, Nashville, TN – June 18-20
Social Media Summit, Dublin, Ireland – April 11-12
Marketo's Marketing Nation Summit, San Francisco, CA – April 23-26
Unbounce's Call To Action Conference, Vancouver, BC, Canada – June 25-27
…more dates and cities to follow!
That's all for this week's issue of The Social Scoop. I hope you have a fabulous and productive week ahead!
Cheers,
Mari